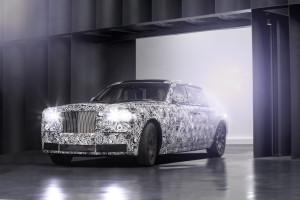 Shops curious about new materials trends might be interested to know Rolls-Royce has begun testing an all-aluminum frame architecture it plans to introduce fleetwide.
The company announced Tuesday the new phase of the "all-new aluminum space-frame architecture" development and reiterated that the frames would "underpin all future Rolls-Royce models" cars soon. The aluminum-framed cars should begin to appear on the market in 2018 for what on Rolls-Royce's website appears to be a bunch of models who got off runway work and hit the car dealership.
Rolls-Royce said it was testing the cars around the world to "ensure that the new space-frame structure perfectly delivers Rolls-Royce's trademark 'magic-carpet ride' on a variety of surfaces and that it is resilient to extreme weather conditions."
It said it would launch a new generation of Rolls-Royce cars starting in 2018 as well.
According to Car & Driver, only the Phantom has an aluminum body — on a steel frame. The magazine also noted that luxury OEM Audi has been doing the aluminum frame bit for a while. We emailed the London Rolls-Royce for any hints about body materials shifts, but the information is likely still under wraps — just like the test-model cars.
"Since 2003 and the commissioning of the new Home of Rolls-Royce at Goodwood, Rolls-Royce Motor Cars has reset the benchmark for luxury motoring," Rolls-Royce CEO Torsten Müller-Ötvös said in a statement. "Now it is time to take the next step in the luxury journey. This is why I am announcing today that on-road testing of our all-new proprietary architecture is beginning. This new architecture of pure luxury represents considerable investment in the future of our great brand."
Your odds of seeing a 2019 aluminum-framed Rolls in your shop are slim. (Right now, many shops haven't even seen their first aluminum F-150 repair order yet!)  But you should still care. Materials like aluminum which disrupt the lives of the average collision repairer seem to follow a path from aerospace to luxury OEMs to the mainstream.
More information:
"ROLLS-ROYCE MOTOR CARS ANNOUNCES FUTURE ENGINEERING DEVELOPMENTS"
Rolls-Royce, Jan. 5, 2016
Featured image: An example of the kind of aluminum-framed cars Rolls-Royce announced in January 2016 it had begun testing. (Provided by Rolls-Royce)
Share This: