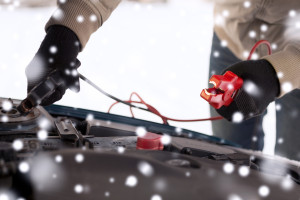 Collision repairers working on later-model cars (and perhaps some older ones) this winter might want to check out some recent Collision Diagnostic Services blog posts.
The company, which makes the acclaimed asTech remote diagnostic tool, points out a few interesting tidbits about today's sensor-heavy cars which if overlooked could result in an incomplete repair — as well as revenue left on the table from those omissions.
Some highlights follow, but give the originals a look to ensure best practices and to help demonstrate the need for the procedures to insurers unfamiliar with them.
Batteries and tires
One Dec. 13 post describes how the cold can lead to electronics issues. You probably knew that cold weather can drain a battery and lower tire pressure. But there's more to the story for some cars.
Disconnect the battery on a car with a computer-controlled engine, and not only is the clock reset, the Powertrain Control Module loses its Keep Alive Memory settings, CDS reminds repairers.
The latter, CDS writes, "includes all the results for the diagnostic self-tests the PCM places upon itself, including its sensors and the emission control components, plus any fault codes that may have been set."
---
More Repairer Driven News calibration/scanning coverage
---
And now, the car's might have just forgotten how to best control the engine and transmission, according to CDS. Though the car will work, the engine could run rough and the transmission could shift differently until somebody's driven the car for up to 100 miles to "reteach" the adaptive memory.
CDS describes a technique for keeping power to the module while you replace the battery, and it reminds shops that diagnostic still must be reset in those instances as well.
As for tires, it's not always cold-related deflation causing the tire pressure warning light. Sometimes, according to CDS, it's because whoever replaced or serviced the tires didn't reset the sensor correctly.
Read more on those topics here.
Bumpers
Bumper assemblies are connected to more systems these days, according to CDS in a Dec. 15 post — including some of the latest electronic vehicle safety features.
Blind-spot and lane-change monitoring, back-up sensors and cameras, and airbag sensors all can be found within a bumper assembly, CDS notes. Incorrect work (misalignment of the bumper, for example) or lack of proper calibration can put occupants at risk or just affect a convenience feature like park assist.
"All sensors must be safely removed before the repair or replacement process begins," CDS wrote. "Any sensor that may have withstood physical damage from the result of a collision or other damage should automatically be replaced, even if their appearance doesn't seem to warrant replacement. Also, any time a bumper cover has to be removed, the sensors must all be recalibrated once replaced."
That recalibration also could be needed for something simple, like putting on an aftermarket bumper cover — as otherwise the sensor could behave incorrectly, thinking the OEM cover remained. (CDS recommends only using OEM parts, though.)
Considering bumper-related items are among the most frequent items needing repair, according to one analysis a Mitchell expert performed with his company's data, you'll want to make sure you know your stuff.
Check the CDS article out here. 
More information:
"Winter's Effect on Automatic Electronic Systems"
Collision Diagnostic Services asTech News and Blog, Dec. 13, 2015
CDS asTech News and Blog, Dec. 15, 2015
Featured image: Disconnect the battery on a car with a computer-controlled engine, and not only is the clock reset, the Powertrain Control Module loses its Keep Alive Memory settings, Collision Diagnostic Services reminded repairers in a December 2015 blog post. (dolgachov/iStock)
Share This: