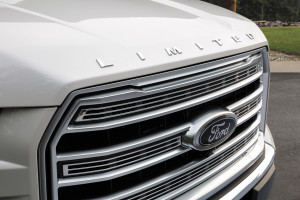 As the second model year of aluminum F-150s begins, Ford's breakdown of dealership and independent auto body shops certified to fix the truck has crept up slightly, but not dramatically since the summer.
Ford in June reported that 757 dealership and 750 independent/chain shops were certified by Assured Performance as ready to do body work on the aluminum F-150. Other shops of course had been doing cosmetic work on aluminum panels since 1997, the company noted then.
On Wednesday, Ford wrote to Repairer Driven News that it had 750 dealership shops and 800 other collision repairers in their certified Body Shop Network, up 2.9 percent from that June statistic.
Though up 2.9 percent from the June tally, Ford appears to be back where it started a year ago. A late 2014 Automotive News article quoted Ford powertrain and collision marketing manager Paul Massie as describing "over 750" dealerships and "well over 800" other repairers enrolled in its network. (It's unclear from the article if some were still in the application stage and not yet formally in the network.)
The size of the Ford aluminum network, which the OEM recommends to customers seeking repairs on other Ford models as well, matters to drivers as well as the repairers in and out of it.
Ford collision marketing manager Mark Mandl noted at a July NACE panel on OEM certification that customer interest in a service facility drops off quickly if the customer has to drive more than 10 minutes to reach it. If the trip exceeds 20 minutes, they're not going.
So with that in mind, we asked if Ford was concerned by the apparent levelling off of the number of shops.
"We feel we have good coverage among dealers and independent repairers across the country," Ford spokeswoman Elizabeth Weigandt wrote in an email. That said, Ford was "always open to inquiries from dealers and independents who want to explore training or join the network," she wrote.
Weigandt said Ford didn't plan any major changes to the aluminum certification program at this time.
For those dealership shops and other repairers interested in joining the network, here's the list of requirements from Assured Performance and all the required tool specifications from Ford's Rotunda site.
Ford ultimately sold 780,354 F-Series trucks in 2015, though a fair amount of these would have been steel 2014 F-150s (particularly in the first half of the year) or steel Super Duty models (typically about a third of F-Series sales).
The Super Duty F-Series will go aluminum starting in the 2017 model year, and those certified for aluminum F-150s now should be fine to fix it, Ford said in September.
Share This: