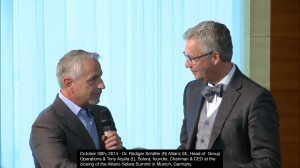 Just a quick update for those of you who'd asked us recently: Solera's $6.5 billion sale to Vista Equity Partners doesn't seem to have closed yet, and its three top executives remain with the company.
An SEC filing had put a potential merger closing date at Jan. 4, though the company has primarily only said it would happen this quarter.
"The completion of the Merger and settlement for the Notes tendered and not withdrawn is currently expected to occur in the first quarter of 2016," Solera said Jan. 7 in a news release intended to spur the final 0.09 percent of a group of Audatex senior noteholders to take it up on a cash tender offer by a Jan. 29 deadline.
Solera confirmed Thursday that founder and CEO Tony Aquila, Chief Financial Officer Renato Geiger and general counsel Jason Brady were still with the company, but would not provide an ETA on the merger closing date or even confirm the deal hadn't yet happened.
Investors approved the sale of the company in a landslide Dec. 8, with nearly 44 million shares cast in favor of the deal compared to only 7.3 million against. Another 2.3 million abstained, according to an 8-K.
Solera's sale could have an impact on collision repair given the company's broad automotive portfolio. Its products in America include APU, AutoPoint, AudaExplore, DST, Hollander, Identifix and LYNX Services. It also owns Audatex, which is used abroad.
Golden parachutes
According to financial documents, Aquila will make $26.5 million in cash, unvested stock and benefits should he be removed (except for cause) after the merger close date, including an $18 million incentive given him to stay through that date.
Aquila, Chief Financial Officer Renato Geiger and general counsel Jason Brady can also leave and collect "golden parachutes" should Vista Equity effectively force them out with factors like by moving the company, diminishing their job, or just not picking up their employment agreements.
Geiger will make $4.7 million, including $815,000 for not leaving before then, and general counsel Jason Brady will earn $6.4 million, including $3.5 million for staying to the merger.
The three men also own hundreds of thousands — in Aquila's case, more than 1.5 million — of shares in the form of stock or options, based on the company's details for shareholders.
That could translate into millions more depending on at what price the options allow the owner to buy the stock. (Based on Morningstar data, Solera has traded much higher than, for example, the $36.39 pre-announcement share price.)
Vista Equity will buy Solera's stock at $55.85 a share. Solera noted that in August 2015, prior to the buyout speculation and announcement, its stock was worth $36.39. In fact, the $6.5 billion purchase price is nearly double the company's late August estimate of a $3.255 billion market cap.
A few other interesting tidbits we noticed while looking into the update this week:
Solera estimates Vista Equity will ultimately end up paying $7.23 billion altogether for it if one factored in all of the buyer's expenses and financial dealings related to the merger.

The company's investor relations hotline appears Friday to have been disconnected. 

What appear to be some computer-generated news articles about the stock's price movement continued Friday

with the automated software dispensing templated investment advice unsuspecting of the merger's existence. Oops. Let's hope autonomous cars are smarter.
Featured image: Solera CEO Tony Aquila, left, and Allianz group operations head Dr. Rudiger Schafer are pictured Oct. 30, 2014, at the Allianz-Solera Summit in Munich, Germany. (Provided by Solera Holdings via PRNewsFoto/File)
Share This: