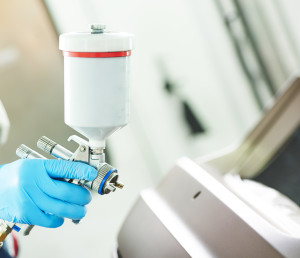 Sherwin-Williams has sought a new trial or a lower bill on a nearly $2.88 million judgement in favor of a California collision repairer who accused the paint manufacturer of stringing him along with unfulfilled promises to fix flawed waterborne paint supplied him.
Defendant John Tyczki, who owns fellow defendants JB Collision Services and JJT, actually was awarded $3.25 million in the claim-counterclaim dispute which combined two lawsuits and was settled by a jury. However, Sherwin-Williams, which originally sued Tyzcki and his companies for breaking a contract to exclusively buy from the paint OEM, also won part of the combined cases and a total of $374.448.70 from them.
That left a $2,875,551.30 net win for the body shop owner. Both sides have sought and received a stay of judgment (actually called a "stay of execution"), with California Southern District Judge Larry Burns agreeing with both partially. He backed Tyczki that Sherwin-Williams' attempt to collect the amount owed it before paying out the rest is unfair given Tyczki's finances and with Sherwin-Williams' argument that a new trial might plausibly yield a different outcome.
Perhaps that outcome would be a new trial or as low a judgement as only $106,000 for Tyczki, Sherwin-Williams argued, though District Judge Larry Burns said that wish wouldn't be decided until a Feb. 19 hearing. (Tyzcki has claimed that Sherwin-Williams is trying to "make an example" of him and bankrupt him with its request for a delay on only its half of the judgment.)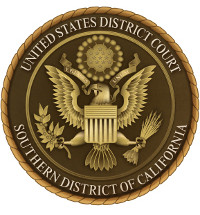 "We have been in litigation with a collision repair facility in California," Sherwin-Williams said in a statement dated Jan. 28. "We strongly disagree with the California trial Court ruling and intend to avail ourselves of all legal remedies.  We are encouraged by the Court's decision to grant a temporary stay in executing the verdict.  We cannot speculate on the eventual resolution of this lawsuit.  We are confident that one or more of our arguments are likely to result in a reduced verdict or new trial.
"Our history of leadership and ingenuity has provided the automotive refinish industry with quality products and service for 150 years. This legal matter will not impact company operations or our continued future success. "
A jury largely backed the repairer, however, which could make for an uphill battle for the paint manufacturer.
The orginal lawsuits were Sherwin-Williams v. JB Collision Services et al and Sherwin-Williams v. JJT et al. Following the cases' consolidation and a couple earlier attempts, including one in which a judge threw out a couple of his allegations, Tyczki countersued Sherwin-Williams with the ultimately successful (on the whole) JB Collision et al v. Sherwin-Williams, which resulted in the Nov. 23, 2015, verdict and Jan. 8 judgement.
The case
Tyczki, who anticipated stricter environmental regulations from San Diego, wanted to get ahead of the curve on waterborne paint at JB Collision's shops and train and equip his staff to apply it properly. In exchange for advances of $275,000 and $40,000 respectively to JB Collision in 2008 and JJT in 2011 (in a deal to outfit the new, JJT-controlled John's Collision Center), he agreed to buy exclusively from Sherwin-Williams $1.3 million and $250,000 worth of equipment and paint, respectively.
Sherwin-Williams would still give Tyczki discounts on those product, but they'd be less than that given to a typical customer so as to pay off his advances.
Tyczki's lawsuit stayes he did the deal in 2008 because a Sherwin-Williams representative told him something along the lines of "everything you buy from us is included to count toward the $1.3 million" (not solely paint), something Sherwin-Williams later disputed.
That representative and another from Sherwin-Williams also told him its waterborne paint would work as well as solvent paint, the suit states.
"Specifically, Sherwin-Williams … stated to John Tyczki that its water-based paint products provided a perfect color match and did not have any defects that would cause problematic physical characteristics such as 'dye back' (also sometimes referred to as 'loss of gloss'), 'sanding scratches,' 'color fading,' color match problems, 'solvent popping,' paint 'shrinkage,' and 'orange peel,' Tyczki's attorneys wrote in the lawsuit.
But the paint actually did all of those things, according to Tyczki. Nor was it possible to paint a car "prime to shine in 50 minutes," as the rep pledged, according to the lawsuit.
Also during initial discussions with (the Sherwin-Williams rep) in or about August 2008, John Tyczki told (the rep) that his intent was to comply with the imminent local regulations requiring use of water-based paints," his attorneys wrote. "John Tyczki further told (the rep) that he wanted to use a perfected water-based paint system, and that he did not want JB Collision's shops to be an experimental or "guinea pig" shop for Sherwin-Williams to test new technology. (The rep) stated John Tyczki that Sherwin-Williams's water-based paint had been perfected, and that JB Collision's shops would not be test shops."
A color match issue developed in the first week, upon which the rep (who comes across as the cliche of a used car salesman throughout the lawsuit) revealed that the problems had existed before the deal, according to the suit.
"(The rep) admitted that the problems were 'company-wide' and not due to JB Collision's workmanship, and that, contrary to (the rep's) prior representations that Sherwin-Williams's water-based products had been perfected, the problems existed before JB Collision and Sherwin-Williams entered into the JB Collision Agreement," Tyczki's attorneys wrote.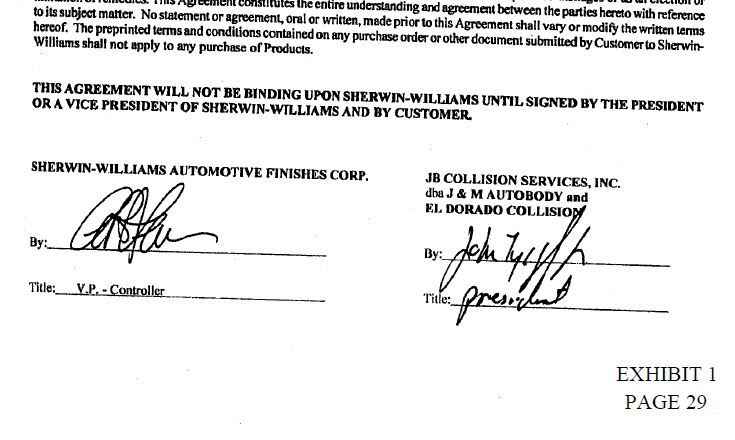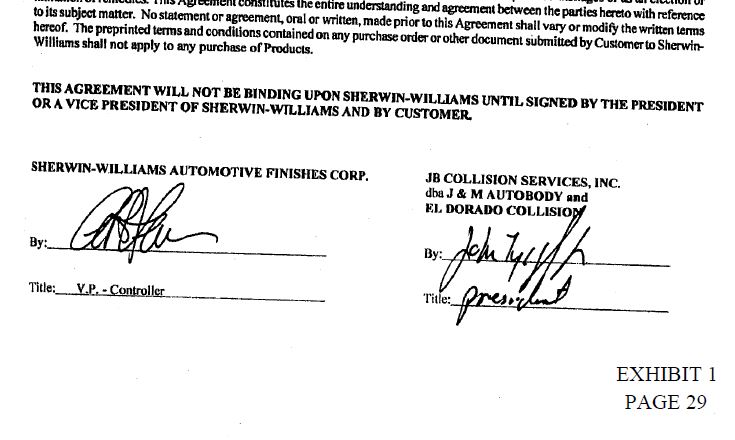 Go back to solvent paints for now, and as San Diego hasn't instituted rules requiring waterborne, please don't quit the agreement — we'll fix it, the rep said, according to the lawsuit.
After six months of JB Collision using solvent paints, Sherwin-Williams said they'd fixed the issue, the suit states. They hadn't, and Tyzcki then begun noticing all the other paint issues described above, his attorneys wrote. Every time, Sherwin-Williams reps allegedly pledged to fix the issue but didn't.
By 2010, San Diego mandated waterborne paint and JB Collision was stuck in the position of either breaking the law with solvent paints or breaking the contract and switching to a competitor, according to the lawsuit. Sherwin-Williams gave free paint products to make up for the repainting, though Tyczki had to eat the labor bill, his attorneys wrote. Tyczki estimated that labor came out to about $2,000 per vehicle, and that the total amount lost could be $20 million, though so far he'd only told Sherwin-Williams about 17 confirmed vehicles at a cost of $50,000, the lawsuit states.
In 2011, Tyczki said he wanted to open John's Collision Center, and the Sherwin-Williams rep told him it'd fall under the same deal, but  "promised that Sherwin-Williams was close to having the defects in their paint products resolved and thereby induced John Tyczki to enter into the JJT Agreement," the lawsuit stated.
"Counter-Claimants believe that (the representative) knew that Sherwin-Williams was not putting forth the effort, or did not have the ability, to correct the problems with Sherwin-Williams's water-based products," the attorneys later wrote. But still, Tyczki agreed to the $40,000/$250,000 JJT deal.
By 2012, Sherwin-Williams' paints were still having the problems, and two different representatives pledged to fix the issues, Tyczki alleged. By the first half of 2013, JB Collision would reach the $1.3 million threshold, his lawsuit claims, but one of the other representatives promised to have it ironed out by then — five years later.
On Feb. 6, 2013, another Sherwin-Williams representative proposed "a 30/60/90 day plan to purportedly correct the repeated problems about which the prior misrepresentations regarding the quality of Sherwin-Williams paint and corrections regarding the problems were made, which plan, in and of itself, is an admission as to the existence of the defective products," the lawsuit stated. "However, it appears that (the representative) did not implement the plan."
Sherwin-Williams later that month accused Tyczki of ceasing to use Sherwin-Williams products before the $1.3 million was reached, though Tyczki denied that. In April, he sent Sherwin-Williams a check for $40,000 to pay back the advance and end the JJT deal.
"Significantly, since the termination of the Agreements, Sherwin-Williams has authorized John Tyczki to rerepair customer vehicles using a competitor's products," Tyczki's attorneys wrote. It noted earlier in the lawsuit that Spies Heckler/Dupont waterborne paint used in 2013 worked just fine.
Burns agreed with Sherwin-Williams that any specific claim before Oct. 1, 2010, didn't count in the case dating back to 2008 — but the entire case could still proceed under the concept of "continuous accrual."
"Accordingly, each alleged breach must be treated as triggering a new statute of limitations," he wrote.
Verdict and judgment
As noted above, the jurors found fault with both sides on Nov. 23, 2015, They felt Sherwin-Williams upheld its end of the deals and JB Collision and JJT were in breach, calling for the manufacturer to receive the $265,970.49 and $108,478.21 described above. Sherwin-Williams, conversely, wasn't in breach.
But the jury also thought Sherwin-Williams committed fraud/concealment and intentional misrepresentation — but not "clear and convincing evidence" of "malice, oppression, or fraud" — awarding Tyczki $750,000 and $1.25 million respectively, but no punitive damages.
It also felt Sherwin-Williams committed negligent misrepresentation, awarding another $1.25 million. However, it absolved Sherwin-Williams of unjust enrichment.
Images:
Sherwin-Williams is seeking a new trial or a lower bill on a nearly $2.88 million judgement in favor of a California collision repairer who accused the paint manufacturer of stringing him along with unfulfilled promises to fix flawed waterborne paint supplied him. (kadmy/iStock/Thinkstock)
The Southern District Court of California seal. (Provided by Southern District Court of California)
Part of the deal between JB Collision Services and Sherwin-Williams is shown. (Provided by California Southern District Court)
Share This: