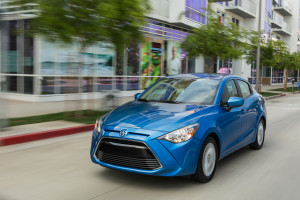 Not long after after "weird" celebrities Jaleel "Urkel" White and James Franco took the vehicles out for spins in ads, Toyota announced Wednesday it would kill its Scion brand.
But the 13-year-old make's vehicles will be mostly folded into Toyota, which combined with promises of repair and parts support for older models should make for an uneventful transition for auto body shops. (Remember to order new logo nameplates.)
Everything but the tC sports coupe will still exist after the 2016 model year — they'll just be called the 2017 Toyota FR-S, iA and iM. In a slightly embarrassing integration, the Scion C-HR unveiled in concept in November will just become the Toyota C-HR when the OEM builds it this year.
The shift will start in August. Mazda and Subaru will still be part of the manufacturing process going forward, Automotive News reported Wednesday.
Toyota promised Wednesday that Scion customers could still get service and repair support at the parent brand's dealerships. Automotive News reported that all the Scion showrooms were part of Toyota dealerships anyway.
"We appreciate our 1,004 Scion dealers and the support they've given the brand," Toyota automotive operations Senior Vice President Bob Carter said in a statement."We believe our dealers have gained valuable insights and have received a strong return on their investment. During this time of transition, we will work closely with them to support this process and help communicate this change to customers."
"I think everything is going to be good for customers," Scion communications manager Nancy Hubbell said Wednesday.
Toyota will continue to support Scion customers and collision repairers outside of dealerships with parts for older Scions, Hubbell said.
Repairer assistance (such as answering questions) from the corporate level wouldn't be affected either following the end of the Scion brand, she said.
"That's just part of Toyota," she said.
The history
The "laboratory" Scion make launched in 2003 had a good run, according to Toyota.
"Scion achieved its goals of developing unique products and processes, and bringing in new, younger customers to Toyota," Toyota wrote in a news release. "With more than a million cars sold, 70 percent of Scions were purchased by customers new to Toyota and 50 percent were under 35 years old."
"This isn't a step backward for Scion; it's a leap forward for Toyota. Scion has allowed us to fast track ideas that would have been challenging to test through the Toyota network," Toyota North America CEO Jim Lentz, a founding vice president of Scion, said in a statement. "I was there when we established Scion and our goal was to make Toyota and our dealers stronger by learning how to better attract and engage young customers. I'm very proud because that's exactly what we have accomplished.
"We could not have achieved the success we have had without the incredible support of Scion's customers, dealers and team members, so supporting them throughout this transition process will be one of our top priorities."
Toyota wrote that it felt that younger viewers "are also more practical" and want the Toyota reputation for quality and reliability. Since Toyotas also look cooler and handle as well as the kids these days like, the parent brand has been serving their needs and Scion wasn't needed, according to the OEM.
Scion launched in 2003 with the xB and XA, selling 10,898. It peaked in 2006 with 173,034 units. Last year, it was down to 56,167 vehicles.
More information:
"Scion Brand to Transition to Toyota"
Toyota, Feb. 3, 2016
"Toyota to scrap Scion brand, keep the cars"
Automotive News, Feb. 3, 2016
Featured image: The 2016 Scion iA, which costs less than $19,000, has automatic braking and a rearview camera. (Provided by Scion)
Share This: