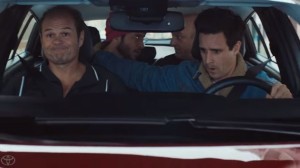 Super Bowl 50 has ended, and the water cooler talk of course extends beyond the game to the ads.
Though last year saw a barrage, including the weird Nationwide dead kid spot, we're not sure if any auto insurer had a presence this time. Automakers were out in force, though, and what they hawked with style or comedy during the 2016 Super Bowl might affect shops either with new body materials or anticrash technology.
Here's a few we noticed that are within the realm of the average Super Bowl watcher's pocketbook. (We skipped the Audi R8 and Acura NSX). Special thanks to the "Every Super Bowl Ad" YouTube channel for rounding them up for us:
2017 Honda Ridgeline
Honda hasn't disclosed all the details, but the OEM built the truck with its ACE format. That basically means a boatload of ultra-high-strength steel, and probably the gigapascal-steel door ring found on basically all next-generation Hondas.
Statements like Honda's "the segment's best handling, ride quality, cabin quietness and all-weather traction capabilities – courtesy of its unibody construction, sophisticated chassis, and available i-VTM4™ torque-vectoring AWD system" also indicate the kind of stiffer, lighter materials  and advanced joining methods used in next-generation mainstream vehicles. Plus, it's a truck, and Honda's going to want to shave weight for federal CAFE standards.
The Ridgeline also will offer an optional autobraking system, technology all but assured to reduce the number of Ridgeline crashes you'll see. This and other sensor/camera technology will continue to make system scans and likely calibration SOPs for Ridgeline repairers.
Honda led with the in-bed speakers, though:
Hyundai Elantra
While the exact megapascal ratings are unknown, the next-generation 2017 Hyundai Elantra includes 53 percent advanced-high-strength steel, far more than than the 2015 model, and more structural adhesive.
"In addition to the strengthened chassis, the 2017 Elantra makes structural improvements to the front side members that are now a hexagonal design and the dash-to-cowl connection has also been reinforced," Hyundai wrote in January. "The front apron to the A-pillar now features a straight and continuous load path and has hot stamping applied on the front side rear lower member. B-pillar assemblies feature partial softening hot stamping that start with a reinforcement section (150kgf grade) and then transition into a softening section (100kgf grade) to help absorb side impact."
Autobraking is an option, as you'll see demonstrated below. It also carries the potential for OEM steering of drivers with Blue Link to one of its certified repairers. (Hyundai partnered with Assured Performance last year to create the program.)
Hyundai Genesis
The next-generation Genesis appeared in 2015, and like the Elantra, it's mostly advanced-high-strength steel and has autobraking and Blue Link. The new model has HID headlights standard.
Kia Optima
The body of the 2016 Kia Optima is more than 50 percent advanced high-strength steel, which more than doubles the amount of the light, strong metal in the 2015 Optima.
Besides the 150 percent increase in advanced high-strength steel, Kia revealed that 3.5 times more structural adhesives and 4.5 times more hot-stamped parts are in the 2016 Optima. Also on the advanced materials front, the sunroof support structure is made out of carbon fiber.
Yep, autobraking is an option.
Toyota Prius
About 19 percent of the 2016 Toyota Prius' body appears to be ultra-high-strength steel — up from 3 percent in the 2015 Prius.
A Japanese edition of the news release describes that alloy as "strong, lightweight hot-stamp materials" of at least 980 megapascals, and it seems as though this applies in the U.S. as well.
The vehicle was the first to use Toyota's TNGA modular concept, which uses structural adhesive, "Laser Screw Welding" and more weld points, and new frame shapes in addition to the high-strength steel. Toyota says the Prius has 60 percent more torsional rigidity because of these factors, delivering a stiffer, sportier ride.
Also, autobraking is available cheap.
Buick Cascada
The 2016 Buick Cascada convertible only offers a forward collision alert option, not full-blown autobraking option; however, it still could cut into collisions.
The latest "not your father's Buick" offering should also have a lot of higher-strength steels, according to Buick and parent General Motors.
"A rigid body structure features high-strength steel in strategic areas, reinforced side sills and press-hardened steel in the A-pillars," Buick wrote." It is the foundation for the Cascada's driving experience, contributing to steering precision, ride quality and quietness – as well as safety. A 106.1-inch (2,695 mm) wheelbase enhances ride smoothness while enabling greater rear-seat legroom.
MINI Clubman
It's difficult to find specific details, but MINI describes a "torsionally stiff, rigid and also weight-optimized body structure" and collision warning as an option on the new Clubman. JD Power wrote that the car can brake itself.
So those are the cars and some of the ads for the Super Bowl. Be on your toes.
More information:
"Super Bowl '50' (2016) commercials"
"Every Super Bowl Ad" YouTube channel, February 2016
Featured image: The 2016 Toyota Prius was featured in this Super Bowl 50 ad. (Screenshot from Toyota USA YouTube footage)
Share This: