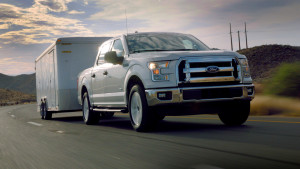 Recalling "hundreds and hundreds and hundreds" of vehicles over his long career where steel procedures were erroneously used on automotive aluminum, an expert urged repairers to understand the difference.
"It'll corrode away in less than twelve months" if you contaminate steel with aluminum, DOXA Enterprises Chief Operating Officer Larry Hults told a Guild 21 call last week. (See his presentation slides here.)
Hults recalled the Ford Escort, which he said Ford shipped with various combinations of steel and aluminum bumpers. "It was a crapshoot" which mix would enter a shop, he said.
Unfortunately, this led to shops replacing the noncorrosive bolts used for the Escort's aluminum bumpers with bolts intended for the steel parts, Hults said. About a year "almost to the day," the bumpers fell off.
Aluminum corrodes galvanized steel, which makes up about 80 percent of a vehicle's steel. That's one reason why adhesives look more and more attractive to join mixed-material vehicles; there's a coating between the two. But bare/mild steel corrode aluminum, which means that if you grind or scrape off the zinc galvanic patina on the steel or work on the ungalvanized stuff, you run the risk of the corrosion going the other way.
---
More RDN aluminum coverage
---
Considering the loss of vehicle integrity or vehicle value at stake, it behooves repairers to get it right and insurers to understand what's needed for them to do so, said Hults, an ASE Master auto body technician, former I-CAR teacher and former head of Allstate DRP severity.
Technically, aluminum isn't anything new on vehicles, he said.
"We've been repairing aluminum for generations," Hults said. "… We've been doing parts swapping, and it works."
But now, mass-market vehicles are introducing the metal outside of generally unrepairable cast parts (engines, wheels, etc.) and extrusions, he said. Hults estimated aluminum could grow to become 40 percent of a shop's business someday.
"You need to be looking at the future," he said. If you plan on repairing cars or owning a shop five years from now, it's time to pay attention today.
"Aluminum's coming at you like a ton of bricks," said Hults.
Now that it appears in hoods, panels and the like, "there's other opportunities to make a profit with aluminum," through repairs and refinishing — so long as you do it right, he said.
Paintless dent repair remains a "profit center," Hults said, but it's a more difficult procedure both because of aluminum's lack of memory and the need to avoid corrosion from steel PDR tools touching the surface without a coating between them.
"It's tough, but you can succeed with PDR," he said.
Shops can also repair aluminum panels — so long as you also follow OEM procedures and develop a repair plan up front, Hults said.
"We're gonna rely more heavily on the manufacturer's recommendations for repair than we ever had before," he said.
As the Escort drivers found out the hard way, a technician can't just root around in a toolbox for a replacement if he or she loses a bolt.
"The fasteners have to match the factory fastener identically," Hults said.
Besides the dedicated aluminum tools and area, Hults recommended shops keep the fasteners for aluminum vehicles in its original packaging and cover the entire drawer with plastic.
Refinishers likewise will need to consult with paint OEMs to ensure primers touching bare aluminum will be compatible, according to Hults.
And when the OEMs say bare, they mean bare.
"That bare aluminum must be clean of all of its oxides," Hults said. Even if you took care to keep all that corrosive steel dust away from the aluminum, aluminum will rapidly begin to oxidize on its own upon contact with the air.
"They begin to replenish their coatings immediately," Hults said. (PPG estimates it can happen as quickly as 15 minutes after exposure.)
So you can't wait — not that there's much time for sloth in a shop — and you'll still have to ensure oxides are gone "just before, immediately before you put down the primer"
All that said, Hults reassured listeners on the call that aluminum wasn't necessarily more difficult (except for PDR) than steel — technicians' steel skills will "transfer very nicely to aluminum."
Just make sure your aluminum and steel itself doesn't transfer, and you're on your way.
Featured image: A 2015 Ford F-150 tows a trailer up a steep slope in triple-digit heat. (Provided by Ford)
Share This: