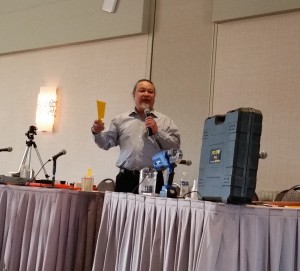 Collision repair technicians and owners might find a way to ease their particular pet peeve shop task through the latest tool showcase from the SCRS Education Committee.
Committee heads Toby Chess and Kye Yeung presented the technology to the Society of Collision Repair Specialists' open board meeting and to the entire Collision Industry Conference last month in Palm Springs, Calif.
The duo bought all but two of the items and stressed that while "we're not endorsing anything," the gear seemed cool ("Kool") or helpful.
Here's some picks along with commentary from the CIC presentation. See images of most of the gear with their PowerPoint presentation here. (Also, find the 2015 presentation coverage here.)
Dent Fix shunt pliers: In the past, you had to create your own to help join materials, Chess said. Now, you can just get Dent Fix's.
Dent Fix finger belt sander.
Dent Fix Magnetic COB LED Wand Lamp: "It is extremely bright," Chess said of the work light, and its magnetism also could come in handy.
Dent Fix Mini Blow Gun: Most shops resort to large air hoses to blow off a surface, Chess observed. But Dent Fix offers a pocket-size option.
Goop Scoop from GL Enterprises: Yeung said the glorified spatula helps you scrape the sides and bottom of a mixing container to prevent bottom line-hurting waste.
GL Enterprises Shiners: Disposable clear cards over a paddle are useful for doing a color-match of clearcoat, Yeung said.
SprayMax 2K epoxy primer: Epoxy primer can create a paint department bottleneck, Yeung said. But SprayMax's contains the catalyst inside.
Simply remove a button, turn the can, insert the button into the back, punch, shake the can and you're done. The material lasts for four days, and shops can discard the can in the trash, Yeung said.
Chess noted that Toyota wants shops to apply epoxy primer before body filler.
"Here is a product that makes it real easy for you," he said.
Reliable Automotive Equipment gap gauges.
WRD Spider glass kits: Yeung said he was "in love with" the WRD Glass Tools Spider glass removal kits, which used a line similar to a "fishing line" to cut glass without nicking or damaging carbon fiber, the pinchweld or paint.
Yeung said it made it possible to do glass replace and install procedures within his shops.
"This thing's just very, very easy to do," he said.
Kent Automotive high-build primer.
Short-wave heatlamps from Infratech.
Infratech color matching lamp. 
Steck aluminum Skin Zipper: Chess observed that it's easy to crack the aluminum door skin on the Ford F-150, but the Steck zipper lets you easily create a rope-hem flange.
"They have one for steel, also," Yeung said. Just don't mix them up and risk corrosion.
Dent Fix slot cutter.
Viper shop organization cart: "It's all modular," Yeung said.
Whistler boroscope: The snakey, extendible camera makes it easy to obtain images of welds, Chess said.
Collision Edge Dent Viewer: "A great tool" to visualize dent size by using a camera flash, Yeung said.
Collision Edge Dent Sizer and Blend Stick.
Collision Edge Tape Thing: "Very smooth, very handy," Yeung said. "Keeps everything in place."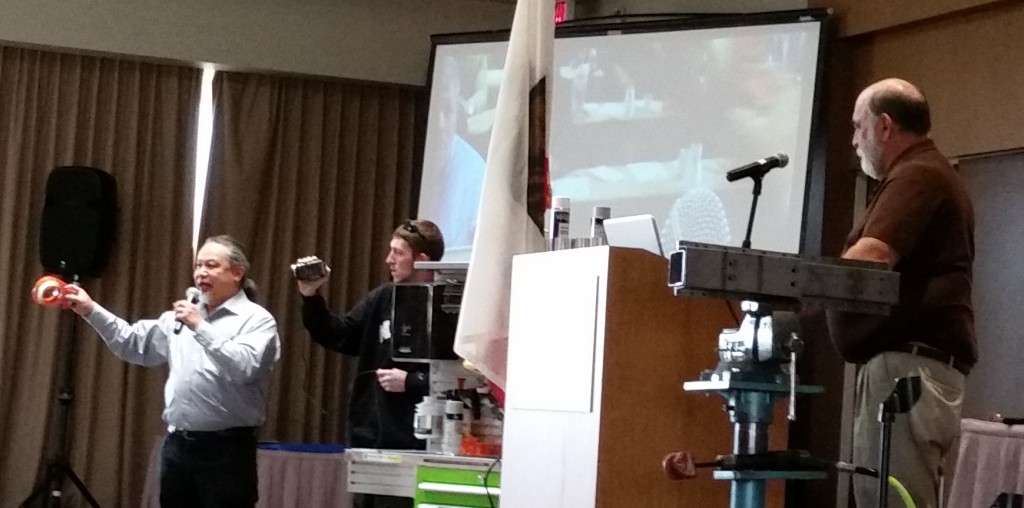 More information:
Society of Collision Repair Specialists, January 2016
Images:
Kye Yeung of the Society of Collision Repair Specialists Education Committee, right, shows the GL Enterprises Goop Scoop at the January 2016 Collision Industry Conference while Toby Chess of the committee looks on. (John Huetter/Repairer Driven News)
Kye Yeung of the Society of Collision Repair Specialists Education Committee, right, demonstrates a GL Enterprises Shiner at the January 2016 Collision Industry Conference while Toby Chess of the committee looks on. (John Huetter/Repairer Driven News)
Kye Yeung of the Society of Collision Repair Specialists Education Committee shows the Tape Thing at the January 2016 Collision Industry Conference while Toby Chess of the committee, far right, looks on. (John Huetter/Repairer Driven News)
Share This: