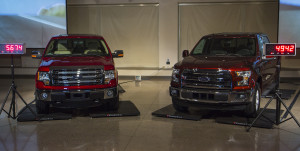 State Farm's rating the aluminum F-150 the same as the 2014 steel F-150 for premium-calculating purposes didn't appear to bode well for repairers seeking to charge higher labor rates for aluminum work.
If the insurer thought it'd cost more to repair aluminum F-150s, it presumably would have priced the risk differently on the 2015-16 F-150s. One factor in that severity would be how shops price work on the lighter trucks — or how State Farm thinks it can control those costs.
One ominous sign of the latter: Philadelphia-area shops reported a State Farm supervisor refused to pay a different rate than aluminum than steel for a late-2015 sublet F-150 repair. (A representative from another Top 10 insurer also took a similar line in November with a Louisiana shop.)
It's possible these are isolated incidents involving mistaken insurance representatives — that's happened on other issues with other insurers, such as Farmers and Nationwide — but shops should probably take note as they could very well represent corporate policy.
State Farm didn't respond to a request for comment on the Philadelphia case when we originally reported on it in 2015. A representative contacted Thursday about the ratings staying intact was searching for the right person to comment on that topic.
Goodchild's Repair Center said it handled cosmetic work for a customer's battered aluminum F-150 late last year, but sublet the structural aluminum work to fellow Philadelphia-based shop Alan's Collision Center.
Alan's Collision was Mercedes-certified — one of the few in the state endorsed by the luxury, aluminum-using OEM — and added to Ford's recognized aluminum F-150 network shortly after.
Alan's charges a higher aluminum rate than it does for steel work, and did so for the Goodchild's work. After Goodchild's submitted Alan's bill to State Farm, the insurer said it'd only pay the steel rate.
"They would not budge at all," Goodchild's manager Dave Seebacher said. " … They said fixing a car is fixing a car."
Seebacher said Goodchild's is not in State Farm's direct repair program, which might have contractually obligated it to take a particular rate. (Goodchild's is affiliated with Erie Insurance's DRP, but Erie hadn't made a decision on aluminum rates to Seebacher's knowledge.)
Alan's Collision isn't on State Farm's DRP either, general manager Jim Pfau said.
Rather than passing the additional cost on to customers, Goodchild's opted to eat the difference, Seebacher said.
"We don't do that to the customers," Seebacher said. "… It's not their fault either."
He said it seemed as though "State Farm's screwing everyone."
Seebacher didn't seem to begrudge Alan's Collision its rates. Indeed, there's a case supporting charging more for aluminum, and, if the insurer balks, passing it on to the customer. (Still, Goodchild's obviously deserves praise for its generosity here.)
Ford has estimated the cost of the equipment (assuming a shop didn't have any of it) for the F-150 at $30,000-$50,000, Crain's Detroit Business reported in 2014. A shop might want to charge more to recoup that expense and a potential loss of productivity as technicians slow their pace to ensure the unfamiliar aluminum repairs are done correctly.
A former severity manager for Allstate's DRP program even suggested as much on a Guild 21 call last week. (He didn't endorse or oppose the idea, merely float it.)
Insurers themselves — including State Farm, according to the Chicago Tribune — have been raising premiums to recoup expenses from higher collision frequency and severity.
"We discussed the costs and investment for the F-150 recognition program," wrote Pfau, whose shop also attempted to negotiate with State Farm on behalf of Alan's. "However at the end of the conversation I could not sway their position.
"Our shop has no choice but to pass the costs onto the consumer."
Some shops reported successfully charging more for aluminum repair, according to the latest "Who Pays for What? survey details.
The average rate was $92; the surveyors didn't release the median or lowest aluminum rate reported. That October study involved 800 shops, 130 of which reported being certified by at least one of nine OEMs to perform aluminum work.
Since luxury OEMs often restrict parts to certified networks, shops might have a better bargaining position in those instances. Ford also has a certified/recognized network for the aluminum Ford F-150, but it doesn't bar uncertified shops from doing repairs.
Alan's lack of Ford certification (as mentioned earlier, it obtained it shortly after doing the repair) didn't seem to have mattered to State Farm.
"State Farm was not aware of that during attempted negotiations and never brought it up," Pfau wrote in an email.
Besides, Alan's was and is certified for Mercedes aluminum work, and State Farm won't pay more for that either, according to Pfau.
Featured image: Ford's 2015 F-150 weighs 732 pounds less than the 2014 F-150, in large part because of the 2015's aluminum content. (Provided by Ford)
Share This: