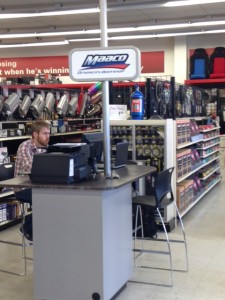 Maaco and Pep Boys announced Monday that the retail collision repair and refinishing chain will open five "satellite shops" in Pep Boys facilities.
Two Maaco shops will open in Atlanta-area Pep Boys, followed by a Maaco presence at three Los Angeles locations "in the coming weeks," according to a Maaco news release. Maaco plans to expand the concept nationwide.
"Easy access to Maaco's services will be a great addition for our customers," Pep Boys real estate and construction Senior Vice President Joe Cirelli said in a statement. "Maaco has a reputation for quality work, and Pep Boys customers now have a truly full-service automotive maintenance shop for all of their needs."
The Maaco-Pep Boys operations will include "digital merchandising boards that will save space and offer a unique customer experience," Maaco wrote in a news release.
A spokeswoman for Maaco parent Driven Brands clarified that the satellite shops will write estimates for work which would be ultimately done at a nearby full-production Maaco.
"These shops offer full-service automotive appearance services, including: auto painting, collision repair, insurance claims, fleet and industrial services, paintless dent repair, scratch repair, detailing, trim installation and decaling – with the support of local Maaco production shops," Maaco wrote.
The Pep Boys locations were meant to be more convenient for customers, who could leave and pick up vehicles there rather than drive to the full-production Maacos in industrial areas, according to Deborah Robinson, president of victory Management Group PR.
Maaco has more than 470 shops in the U.S. and Canada, and it wants 1,000 locations by 2020. Pep Boys has more than 800 facilities in the U.S.
"This unique opportunity could pave the way for a stronger Maaco system," Maaco president Jason Ryan said in a statement. "The success of this program depends heavily on both companies working together to deliver a positive overall experience to our shared customers, and I'm confident that together we'll continue to grow."
Driven Brands Paint and Collision President Jose Costa, the former CEO of Maaco who now oversees it, Drive N Style and CARSTAR, last week described a similar customer-outreach tactic paying off with "phenomenal" success.
Two years ago, Maaco started placing sales offices in high-traffic retail areas instead of housing them within the industrial-zone production centers, Costa wrote in Smart Business.
"We are now capturing more affluent female consumers who are willing to spend more for our services and MAACO is winning big," he wrote.
Franchising USA reported in October 2015 the chain followed its 2014 Maaco Retail Store introduction with Maaco Express, describing it as "a new, flexible concept that will offer same-day microrepairs," and the Maaco Pep Boys partnership.
The magazine noted the "more affluent customer base" Maaco could serve from such sites, which have low overhead and don't conflict with local zoning laws.
"The partnership with Maaco and Pep Boys is a natural fit and we look forward to maximizing this relationship," Costa said in a statement Monday. "Millions of people visit Pep Boys annually; these satellite locations will add to the continued growth of Maaco and allow us reach a much broader customer base."
More information:
"Five things CEOs should know on how to lead by being nimble, adaptive and taking controlled risks"
Jose Costa in Smart Business, Feb. 16, 2016
Franchising USA, Oct. 31, 2015
Featured image: Maaco and Pep Boys announced Monday that the retail collision repair and refinishing chain will open "satellite shops" in Pep Boys facilities nationwide. (Provided by Driven Brands, Maaco)
Share This: