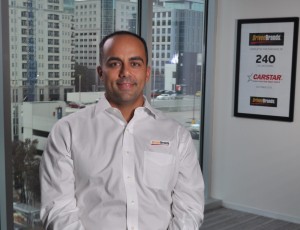 The accelerated merger of U.S. and Canadian CARSTAR operations could also accelerate the sharing of some Canadian business strategies with U.S. franchise owners, Driven Brands Paint and Collision President Jose Costa said Monday.
Driven Brands had planned to formally combine its two fourth-quarter 2015 acquisitions within 12-24 months, said Costa, who oversees both CARSTARs, Maaco and Drive N Style.
With the surprise resignation of U.S. CARSTAR President Dan Young on Thursday, the company put Canadian CARSTAR President Michael Macaluso in charge of both and moved full speed ahead with the merger, Costa said.
Macaluso technically holds the U.S. post on an interim basis, but he is expected to keep the job permanently, according to Costa.
Changes for both companies
The merger will consolidate some executive roles but leave three areas with their separate leaders, Costa said.
Operations: Chief Operations Officer Dean Fisher and Vice President Coulson Cole will keep their posts in America and Canada, respectively.
Insurance: Vice Presidents Arlo Johnson (U.S.) and John Harvey (Canada).
Marketing: Marketing Directors Hannah Ross (U.S.) and 

Chris Moore (Canada)
"All the other functions, you'll see one CARSTAR representative," Costa said.
In many cases, Canada will be teaching its southern neighbor the ropes, according to Costa.
"Canada is much more advanced than the U.S.," he said, describing CARSTAR's Canadian business as frequently much as 5-10 years ahead of America's.
"There's many, many things we'll bring over from Canada into the U.S.," he said.
One key introduction being considered was the CARSTAR Canada field structure for insurance, development and operations, Costa said.
For insurance, this involves a field structure in which a CARSTAR representative works with an insurer counterpart at the local, middle-management and corporate level.
"This gives you more control at the local level and more consistency," Costa said.
U.S. shops might also benefit from what Costa described as CARSTAR Canada's better insurer-, franchisee- and customer-facing IT platforms, another introduction he said was being considered.
Different types of shops
Prior to the news of the merger, Driven Brands had already expressed an interest in bringing the mild-repair Canadian Express auto body shop model to the U.S., but U.S. shops could also see Canada's appraisal-only satellite facilities, according to Costa.
"We're looking at both," he said.
The satellites are similar to the satellite Maacos placed in retail areas, giving it a brand presence in locations that would have been off-limits to a full-scale, industrial-zoned auto body shop. In a February guest column to Smart Business magazine, Costa reported the move grew revenues from affluent female consumers.
Last week, Maaco increased that presence by starting what could be a national series of Maaco kiosks inside of Pep Boys stores.
Delagating with the Express model has been shown to cut cycle time, Costa said.
OEM networks
Finally, Canadian shops were "in some respect, more advanced" than the U.S. with regards to joining OEM repair networks — a new wild card in auto body shop marketing.
Costa said CARSTAR has been in "advanced conversations" with other OEMs besides its rollout of aluminum F-150-certified shops, though he couldn't disclose which ones.
Featured image: Driven Brands Paint & Collision Group President Jose Costa. (Provided by CARSTAR)
Share This: