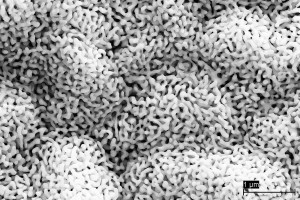 HID, LED and adaptive headlights already added complexity to what had been a relatively straightforward, easy-to-aftermarket product.
Now, researchers in Germany on Tuesday announced promising work on headlamps with 1,024 LED pixels for incredibly controllable, energy-efficient visibility. The effort was backed by a group including Daimler and Hella. (Find more about that consortium's work with this Automotive News coverage.)
Carnegie Mellon and Mazda researchers have worked to deliver similar technology, though Mazada's is far simpler and probably cheaper than Carnegie Mellon's, according to CNET.
Researchers at the Fraunhofer Institute for Reliability and Microintegration IZM connected four LED chips with 256 pixes only 125 microns (0.125 mm) in size.
"Due to this high resolution, we can control the light distribution to the smallest detail," Fraunhofer IZM wafer-level system integration Dr. Hermann Oppermann said in a statement.
According to the institute, a user can turn individual pixels on and off, curving the headlights around the road or reducing enough to make it easier on an oncoming driver's eyes.
"Only the pixels which are needed at the moment are turned on," the institute stated. "This is usually only around 30 percent of the total available light output of the entire system, so it is very energy efficient, since light is generated on the light source only where it is needed in the traffic area."
The institute criticizes existing LED lighting as being "relatively large and expensive: one LED is needed for each point of light." Each of what can be as many as 80 LEDs in a headlight today must have its own "precisely aligned optics," according to the institute.
Using a laser or LCD display with LEDs to modify light output, another option, still produces light "and is not very energy efficient." Covering up illuminated areas by mechanical means (think controllable blackout curtains), only works for "relatively large areas" and is also energy efficient too.
So what's the holdup for the new technology? It's hard for the teeny LED pixels to touch the chip, according to the institute."The connections have to be sturdy, and we need good thermal contact to ensure sufficient cooling of the chip," Oppermann said in a statement.
Researchers are trying two tricks to keep the two in contact. One involves a proven concept of a gold-tin alloy on the chip. Unfortunately, "fine grid structures with intermediate distances as small as 15 microns, as are required for the LED chip, have not previously been possible, though."
The other option involves creating a "gold nano-sponge" which by the nature of its sponginess fits wherever it's needed. This solves the gaps of a few micrometers (thousandths of a millimeter) which arise through normal use.
"This nanoporous gold structure has the advantage that it compresses like a real sponge and can be precisely adapted to the topography of the component," Oppermann said in a statement.
This tech isn't ready. But it seems as though if it were, it could be very difficult for an aftermarket producer to duplicate.
Aftermarket advocate Ed Salamy, executive director of the Quality Parts Coalition, was optimistic that generics could keep up as "cosmetic" collision parts becoming more advanced. (Adaptive headlamps or side-view mirrors with blind spot sensors, for example.)
He said it was a matter of reverse-engineering, giving the example of the aftermarket industry figuring out how to offer today's LED headlamps after OEMs introduced them.
"The aftermarket will also come up with a version," he said of advances in OEM parts.
More information:
"Better visibility when driving at night"
Fraunhofer Institute for Reliability and Microintegration IZM, March 1, 2016
"Hella and Osram join Daimler in high-definition headlamps venture"
Automotive News Europe, Feb. 19, 2016
Featured image: Researchers in Germany on Tuesday announced promising work on headlamps with 1,024 LED pixels for incredibly controllable, energy-efficient visibility. There's still an issue with chip-pixel contacts, and researchers are looking at a "gold nano-sponge" (pictured) as a possible solution. (Provided by Fraunhofer Institute for Reliability and Microintegration IZM)
Share This: