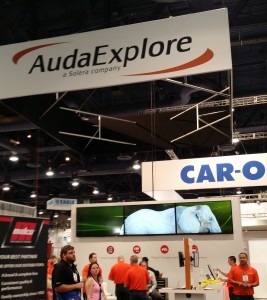 Calling it the "next phase of Solera's global expansion," AudaExplore parent company Solera announced Thursday that its $6.5 billion sale to Vista Equity had closed.
The sale could have an impact on collision repair given the company's broad automotive portfolio. Its products in America include APU, AutoPoint, AudaExplore, DST, Hollander, Identifix and LYNX Services, and it also owns the Audatex system used abroad. Solera has more than 195,000 customers in 75 countries and tallies 230 million digital interactions, the company said Friday.
Solera observed that the purchase gave it access to "Vista's technology-focused operational and financial expertise" and "accelerates its mission to digitally transform how the world manages life's two most important assets: the vehicle and the home."
"With the accelerated pace of change transforming the global marketplace, there are few companies like Solera that possess the market leadership, product innovation, and extraordinary talent to drive the digital evolution of industries," Vista founder and CEO Robert F. Smith said in a statement. "We are confident that Tony's entrepreneurial spirit and dedicated team combined with Vista's resources and experience will enable Solera to continue shaping the future of the industry and generate lasting value for its customers."
Vista Equity has a few offerings which Solera's products would complement. It owns EagleView Technology, which lends 3-D measurement software, analytics, aerial images and geographic information systems to the property and casualty insurance industry. It also owns DealerSocket, which serves auto dealerships.
It once owned Applied Systems, a software provider to the property and casualty insurance industry, Zywave, which seems to serve insurance brokers; and Reynolds and Reynolds, aimed at auto dealerships.
"Since founding Solera, we have focused on being a global player by developing proprietary data and software solutions that help our customers meet the increasing digital demands of the automotive ecosystem," Solera founder and CEO Tony Aquila said in a statement. "At Solera, we have a very strong and committed innovation culture, and believe that by partnering with Robert and his strong team, we can further achieve our goal to become the 20% or 80% provider of cognitive data sciences that help customers with all of the transactions across the car ownership lifecycle."
Vista Equity bought Solera's stock at $55.85 a share. Solera noted that in August 2015, prior to the buyout speculation and announcement, its stock was worth $36.39. In fact, the $6.5 billion purchase price is nearly double the company's late August estimate of a $3.255 billion market cap.
Other minority owners include a subsidiary of Koch Industries (controlled by the politically polarizing Koch brothers) and one tied to Goldman Sachs.
"Robert and I could not have chosen better partners for this transaction," Aquila said in a statement. "With the deep global strength of investors like Koch and Goldman, and the increased flexibility from operating as a private company, we will deliver even greater value to our partners – and their customers – through innovative technologies that are essential to succeeding in today's digital economy."
The New York Stock Exchange plans to delist Solera on March 15.
More information:
"Vista Equity Partners Completes Acquisition of Solera Holdings, Inc."
Solera via PRNewswire, March 3, 2016
Featured image: The AudaExplore booth is shown Nov. 6., 2015, at SEMA. (John Huetter/Repairer Driven News)
Share This: