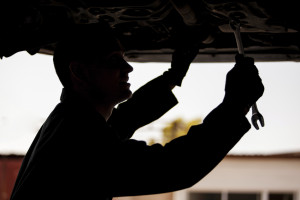 A Progressive email and OEM marketing for customers demonstrate how both sides can tout their respective auto body shop networks not just generically online but directly to each relevant consumer.
That kind of promotion as early as the point of sale could make it harder for shops unaffiliated with a direct repair program or OEM repair network to compete.
In Progressive's case, we were forwarded an email to a Virginia policyholder who'd renewed his policy. The message, which we've redacted, extols the virtues of the insurer's Service Centers which get the claims process rolling and dispense rental cars.
Not only does the email notify the customer of the closest Service Center, it gives them a map from their home to it as well. It's accompanied by a promotional video giving customers a tour of a sample center.
"When you choose a Service Center to manage your claim, you just drop off your damaged car, pick up your rental and go!" the email states.
"It's that easy.
"Plus, we'll guarantee all repairs for as long as you own or lease your car, even if you move to another state.
"So take the tour and take advantage of your free Service Center benefits if you ever have a claim. We'll be ready to help."
On the OEM front, automakers have discussed promoting their networks in similar communications to customers.
Nissan last summer described a marketing campaign of 3 million impressions to Nissan owners with financial statement inserts and 8 million impressions through e-newsletters. Customers were even walking into auto body shops with postcard mailers. Cadillac has pledged to mention the CT6 network to customers when the luxury car is delivered.
Considering that someone buying a new car will either have to get insurance for the first time or potentially shop a new quote with their revised vehicle ownership, that means the customer could potentially receive two messages as early as the day they drive off the lot. If the two collision repair networks aren't in sync — a shop on both might have a huge advantage — it means the customer gets two competing messages.
That'll create an interesting situation for the customer — and one for shops who can't or don't want to join either list.
With that kind of competition up-front, it might no longer be a matter of marketing to drivers whose vehicles are damaged. An unaffiliated shop might have to think about its branding far earlier than that in a vehicle's life — or pick a side.
Featured image: Some drivers who've been in a collision now have auto body shop recommendations from their car's manufacturer as well as insurers. (Antonio_Diaz/iStock/Thinkstock)
Share This: