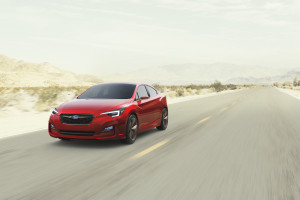 All next-generation Subarus starting with the Impreza on sale later this year will feature a rigid, strong platform using higher-strength steels to deliver a smooth, safe ride, the OEM announced Monday.
"The Subaru Global Platform lifts Subaru's automotive technology to new heights, and marks the next step in the evolution of 'Enjoyment and Peace of Mind,' the value that Subaru offers to its customers," Yasuyuki Yoshinaga, president of Subaru parent Fuji Heavy Industries, said in a statement. "This new platform represents the culmination of the know-how we have developed over many years, and we are confident that it will allow us to produce vehicles that live up to our proud traditions and meet the high expectations customers have of Subaru. We continue to work on designing ever-more attractive vehicles that offer the customer both enjoyment and peace of mind."
The standardization — a big benefit for manufacturers looking to streamline — follows other OEMs, as Automotive News observed. For shops, this trend makes knowing OEM procedures even more crucial and seems to indicate two outcomes for repairs:
If techs familiarize themselves with the automaker's recommendations (available here via I-CAR), they should be relatively comfortable with all next-gen Subarus, as all will share a common foundation. (Though shops should still double-check OEM procedures every repair.) But a technician wrong about one element of the modular platform's repair will likely repeat the error across all the Global Platform Subarus he or she encounters.
For the new platform, it will be particularly crucial to learn best practices for not only each component of the body-in-white but also how the parts should be joined together.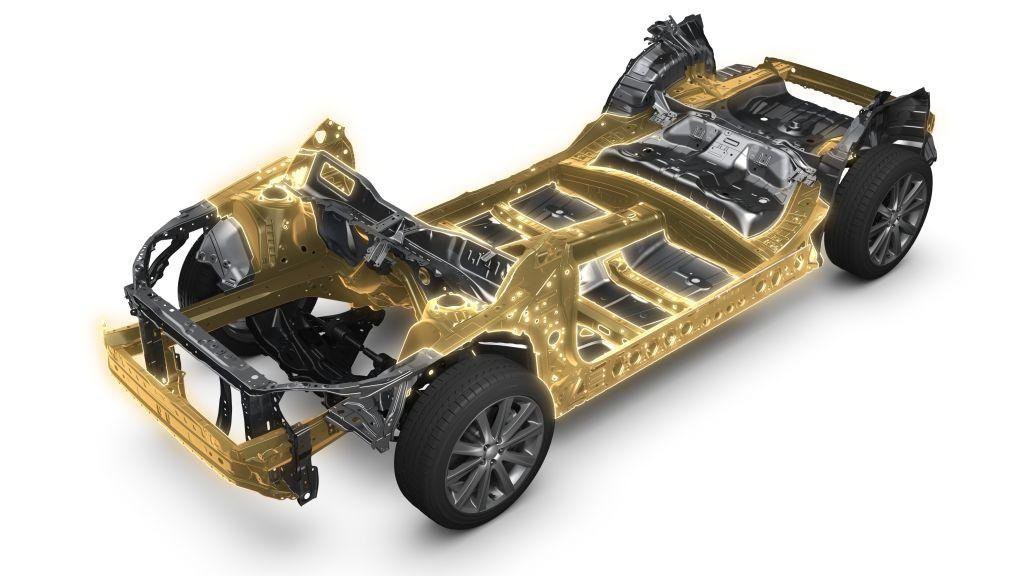 Subaru's references Monday to "straight line stability," "noise and vibration suppression" and safety all imply greater use of ultra-high-strength steel and joining techniques like adhesives, advanced welding techniques or rivets. Stronger steels joined in that fashion are attractive for delivering a quieter, smoother ride — and keeping drivers alive in case of a collision.
The new design will boost rigidity 70-100 percent from the current-generation Subarus, the OEM states."The eradication of unnecessary movement in handling makes the car seem to grip the road surface, achieving a traveling performance that looks ahead to the need for enhanced straight line stability in the autonomous vehicles of the future," Subaru wrote in a news release Monday.
Overall torsional rigidity will climb 70 percent because of an "Optimized frame structure and stronger joints between parts," Subaru wrote.
Body roll will fall 50 percent in the new models, for Subaru will mount the rear stabilizer "directly to the body," according to the OEM.
As for safety, the OEM wrote that all-new Subaru bodies will absorb energy from a collision 40 percent better than current-gen Subarus because of their higher-strength steels. Exact megapascal grades weren't disclosed Monday, but we would't be surprised to see more advanced high-strength steel (590 MPa and beyond) and ultra-high-strength steels (780 MPa or higher). The higher the strength, the lighter the steel, and the more likely it is that heat and sectioning would be a huge mistake. More discussion can be found here.
"Thanks to a frame structure that enables more efficient energy absorption in the event of collision and the enhanced body rigidity resulting from the increased use of high-tensile steel plates including materials formed by the hot press method, impact energy absorption is improved by 40% over present models," Subaru wrote.
Things could get even stronger and more advanced, and the modular design may be able to accept the changing materials, according to Subaru.
"The platform anticipates further improvements in strength and new materials and has the potential to continue to offer the world's highest levels of collision safety even in 2025," it wrote.
More information:
"Subaru unveils new car platform, autonomous driving goals"
Automotive News, March 7, 2016
"FHI Unveils the 'Subaru Global Platform'"
Subaru, March 7, 2016
Images:
All next-generation Subarus starting with the Impreza on sale later this year — seen here in a 2015 concept version — will feature a rigid, strong platform using higher-strength steels to deliver a smooth, safe ride, the OEM announced Monday. (Provided by Subaru)
Subaru's rigid, strong platform global platform is depicted in a rendering. (Provided by Subaru)
Share This: