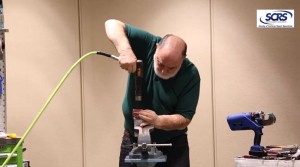 Looking for some new gear to make life easier at your shop? Check out a new video from the Society of Collision Repair Specialists showing off "Kool Tools" from the 2015 SEMA.
Education Committee heads Toby Chess and Kye Yeung presented the technology to the SCRS open board meeting and to the entire Collision Industry Conference in January.
The duo bought all but two of the items and stressed in their CIC talk that while "we're not endorsing anything," the gear seemed like good stuff to have around.
Don't miss the video, and take a look as well at their PowerPoint presentation and our prior coverage of their CIC talk.
Those still needing a greater tools fix should take a look at this Repairer Driven News coverage:
More information:
"SCRS Kool Tools from SEMA Show"
Society of Collision Repair Specialists YouTube channel, March 8, 2016
Featured image: Education Committee heads Toby Chess and Kye Yeung presented their 2016 "Kool Tools" picks to the Society of Collision Repair Specialists' open board meeting and to the entire Collision Industry Conference in January. The image is a still from video coverage of their SCRS presentation. (Screenshot of video from SCRS YouTube channel)
Share This: