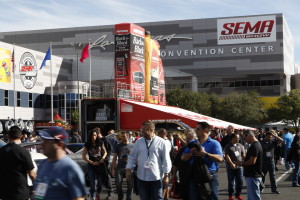 SEMA on Tuesday praised legislation to stop the EPA from clarifying that overly changing the emissions of street-legal OEM engines for racing was illegal.
While not necessarily a formal collision repair industry issue, the heavy overlap between modders and the industry led us to believe a little coverage of the controversy was in order.
In 2015, the Environmental Protection Agency proposed formally clarifying that federal law doesn't allow anyone to alter an emissions-certified engine in a way that would bring it out of compliance — even for racing. (Search the proposed language for the word "competition," and you'll find what we're talking about.)
"A motor vehicle qualifies for a competition exclusion based on the physical characteristics of the vehicle, not on its use," the EPA document states. "Also, if a motor vehicle is covered by a certificate of conformity at any point, there is no exemption from the tampering and defeat-device prohibitions that would allow for converting the engine or vehicle for competition use. There is no prohibition against actual use of certified motor vehicles or motor vehicle engines for competition purposes; however, it is not permissible to remove a motor vehicle or motor vehicle engine from its certified configuration regardless of the purpose for doing so. …
"EPA is proposing in 40 CFR 1037.601(a)(3) to clarify that the Clean Air Act does not allow any person to disable, remove, or render inoperative (i.e., tamper with) emission controls on a certified motor vehicle for purposes of competition."
It doesn't matter that the vehicles would only be used on competitions held outside of the nation's road network; mod the average automobile's emissions controls, and you'd be breaking the law, according to the EPA's proposal.
"The EPA's new interpretation of the Clean Air Act would essentially rewrite the law and 46 years of policy and practice," SEMA President and CEO Chris Kersting said in a statement Tuesday.  "Without congressional intervention, the racing community and racing parts manufacturers would be operating outside of that new law and could be targeted for enforcement."
SEMA captured national automotive press headlines when it raised a red flag about the issue in February. The EPA has countered by telling publications like Automotive News the practice has always been illegal under the Clean Air Act. Of course, that assumes that the agency of 2015 is correctly interpreting the minds of those involved with the Clean Air Act as far back as 46 years ago — sort of a big if.
Even if the EPA did feel racing emissions-modified vehicles was illegal, it hasn't been enforcing it, according to Road & Track, and Automotive News on Feb. 9 quoted an EPA spokeswoman who indicated the agency would probably lean towards giving racers a pass should the new regulation language stand.
"The EPA remains primarily concerned with cases where the tampered vehicle is used on public roads, and more specifically with aftermarket manufacturers who sell devices that defeat emission control systems on vehicles used on public roads," EPA spokeswoman Laura Allen told the newspaper.
So it could still be business as usual for practical purposes. But that doesn't alter the fact that the EPA would still possess a clear mandate to target racers under the proposed clarification should it change its mind about who deserves enforcement. That poses a threat to racers.
Thus, it's good news for the racing community — tens of thousands of people, $1.4 billion in retail sales and more than 1,300 tracks, according to SEMA — that four representatives have sponsored a bill to tell the EPA that emissions-modding purely for competition is fine.
Reps. Henry Cuellar, D-Texas; Richard Hudson, R-N.C.; Patrick McHenry, R-N.C.; Bill Posey, R-Fla.; and Lee Zeldin, R-N.Y., submitted House Resolution 4715 on Monday.
The Recognizing the Protection of Motorsports Act amends the Clean Air Act to formalize the racing exemption. It also smacks down the EPA, stating:
The Congress finds that–
(1) at the time the Clean Air Act was written, and each time the Clean Air Act has been amended, the intent of Congress has been, and continues to be, that vehicles manufactured for, modified for, or utilized in organized motorized racing events would not be encompassed by the Clean Air Act's definition of 'motor vehicle';
(2) when Congress sought to regulate nonroad vehicles in 1990, it explicitly excluded from the definition of 'nonroad vehicle' any vehicle used solely for competition;
(3) despite the clear intent of Congress, the Environmental Protection Agency has cited the Clean Air Act as authority for regulating vehicles used solely for competition; and
(4) the Environmental Protection Agency has exceeded its statutory authority in its recent actions to regulate vehicles used solely for competition.
"SEMA thanks Representatives McHenry, Cuellar, Hudson, Posey and Zeldin for introducing this bill," Kersting said in a statement. "We intend to work closely with our congressional allies to ensure that the Clean Air Act continues to allow the conversion and use of street vehicles as racecars."
More information:
"SEMA Applauds New Congressional Legislation to Protect Modified Motor Vehicles"
Specialty Equipment Market Association, March 8, 2016
"EPA, SEMA at odds over proposed racecar rule"
Automotive News, Feb. 9, 2016
Environmental Protection Agency proposed rules
Federal Register, July 13, 2015
Featured image: SEMA on Tuesday praised legislation to stop the EPA from clarifying that changing the emissions of street-legal OEM engines for racing was illegal. (Provided by SEMA)
Share This: