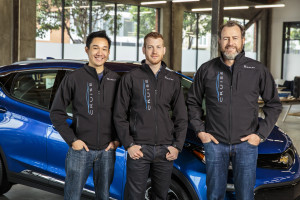 It's been quite a couple of weeks for OEMs and autonomous vehicle news, with GM, Ford and Toyota all making announcements about self-driving car initiatives.
On top of that, the Wall Street Journal pointed out that given Honda's recent announcement of pricing for the 2016 Civic, an owner could mishmash options into sort of a self-driving car for less than $21,000.
Here's some of the highlights. Tomorrow, keep an eye out for our coverage here and on Twitter of the autonomous car sessions at Megatrends USA in Dearborn, Mich.
Ford
Ford on Thursday announced it would spin off a Smart Mobility subsidiary and had tapped former Steelcase CEO and Ford board member Jim Hackett to helm it.
"Mobility" is one of the new buzzwords for OEMs, and like all good buzzwords it can mean multiple things. In Ford's case, it involves work on autonomous cars, ride sharing (one car used by many for short trips) and app ride hailing as well as features like a connected-car rewards program.
"Ford Smart Mobility and expanding into mobility services are significant growth opportunities," Ford President and CEO Mark Fields said in a statement. "Our plan is to quickly become part of the growing transportation services market, which already accounts for $5.4 trillion in annual revenue. Jim Hackett is the right visionary leader – with extensive experience in business development and design – to take us into the mobility services business in the future."
General Motors
Perhaps the biggest recent splash was General Motors' purchase of Cruise Automation for what a source told Forbes was "north of $1 billion" in cash and stock.
GM announced that deal Thursday as well.
IEEE Spectrum reported in July 2015 that Cruise had been developing a $10,000 kit to convert a car to a partially self-driving one. However, the Verge reported Friday that the company had switched its focus to completely autonomous cars.
The company will stay independent and in San Francisco but be placed within GM autonomous technology Vice President Doug Parks' Autonomous Vehicle Development Team.
"Cruise provides our company with a unique technology advantage that is unmatched in our industry," GM global product development Executive Vice President Mark Reuss said in a statement. "We intend to invest significantly to further grow the talent base and capabilities already established by the Cruise team."
GM praised the three year-old company for having "moved quickly to develop and test autonomous vehicle technology in San Francisco's challenging city environment."
"GM's commitment to autonomous vehicles is inspiring, deliberate, and completely in line with our vision to make transportation safer and more accessible," Cruise founder Kyle Vogt  said in a statement. "We are excited to be partnering with GM and believe this is a ground-breaking and necessary step toward rapidly commercializing autonomous vehicle technology."
The deal should close next fiscal quarter, GM says.
Honda
A day before, Honda revealed pricing for the 2016 Honda Civic, which went on sale Tuesday. The car, which will demand repairer attention to higher-strength steel and OEM procedures, starts at merely $19,850 for a base automatic transmission.
But that's not the only thing for collision repairers to watch. The "Honda Sensing" options package only bumps the car up to $20,440 and features autobraking, automatic lane- and road-keeping and adaptive cruise control.
As the Wall Street Journal observed, that means "you can get a Honda capable of driving itself pretty well on a highway today."
Honda most certainly isn't billing the car as self-driving the way Tesla does with its new Autopilot feature. But reporter John Stoll is right: What else is a car that stays in its lane and on the road, reacts to the speed of the driver in front and can brake itself?
And for the record, the 2016 Honda Accord also seems to offer all that stuff except for "low-speed follow," which is adaptive cruise control at below 25 mph, for only $23,905. It's not a next-generation body like the Civic, but there's also some structural changes (including an aluminum hood) repairers should also watch.
Toyota
Finally, Toyota announced March 9 that it'd added Jaybridge Robotics' 16 software employees to the Toyota Research Institute — everyone at the company, according to Fortune.
"TRI's mission is to bridge the gap between research and product development in many areas, including artificial intelligence, robotics and autonomous passenger vehicles," institute CEO Gill Pratt said in a statement. "The 16-member Jaybridge team brings decades of experience developing, testing, and supporting autonomous vehicle products which perfectly complements the world-class research team at TRI."
Engadget reports that the company hasn't actually been bought, though.
"Where Jaybridge has historically limited its focus to industrial applications such as agriculture and mining, TRI is going after the big one: helping to reduce the nearly 1.25 million traffic fatalities each year, worldwide," Jaybridge CEO Jeremy Brown said in a statement. "We couldn't be more excited."
Toyota announced in 2015 it would fund the institute with $1 billion over five years. The center has "mandates to enhance the safety of automobiles, with the ultimate goal of creating a car that is incapable of causing a crash; increase access to cars to those who otherwise cannot drive, including the handicapped and the elderly; help translate outdoor mobility technology into products for indoor mobility; and accelerate scientific discovery by applying techniques from artificial intelligence and machine learning," according to Toyota.
More information:
"FORD SMART MOBILITY LLC ESTABLISHED TO DEVELOP, INVEST IN MOBILITY SERVICES; JIM HACKETT NAMED SUBSIDIARY CHAIRMAN"
Ford, March 11, 2016
"GM to Acquire Cruise Automation to Accelerate Autonomous Vehicle Development"
General Motors, March 11, 2016
"All-New 2016 Honda Civic Coupe Goes on Sale March 15 Providing Enthusiasts with the Most Stylish, Refined, Dynamic and Connected Vehicle in its Class"
Honda, March 10, 2016
Honda, March 10, 2016
"Toyota Research Institute Expands Autonomous Vehicle Development Team"
Toyota, March 9, 2016
Featured image: From left, Cruise Automation co-founders Daniel Kan  and Kyle Vogt pose with  General Motors President Dan Ammann. (Provided by General Motors/Copyright General Motors)
Share This: