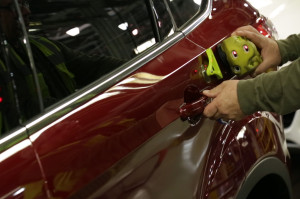 As collision repairers and insurers strive to return vehicles back to pre-loss condition, it's worth taking a moment to understand what, by definition, both really owe the customer under that term.
Last year, experts at the SCRS CIC Repairer Roundtable described the level of precision required of European collision repairers to not only deliver "pre-accident" but "crash-worthiness," including microscopically testing spot-welds to achieve OEM homologation and flow-form rivets that preserve a Mercedes logo when installed correctly.
An American shop might not work on Mercedes vehicles, but it will see its fair share of Ford Escapes, and it's interesting to note from a Ford news release last week what's now expected of the staff and robots on the OEM's Louisville, Ky., assembly line in terms of quality.
Some of these quality-control measures Ford describes for the 2017 Escape truly aren't repeatable at the shop level — nobody's expecting you to have a robotics lab — while others are more feasible.
Take a look at the kind of considerations and standards Ford reports going into a brand-new, truly "pre-loss" Escape and think about how your work on a damaged vehicle could help preserve or compromise such OEM goals.
After all, if if a shop or insurer isn't striving to get as close to the factory quality bar as possible with the means available to the collision repair industry, they're not living up to their charge of delivering pre-loss condition.
Quiet, please
The Louisville plant was Ford's first to place and secure an instrument panel with robots until humans can finish the job. "Customer benefits include a tighter fit for the instrument panel, resulting in fewer squeaks and rattles," Ford writes.
Louisville robots also started hanging Escape doors beginning wih the 2013 model year, also producing a "tighter fit with body panels."
Clearly, the robotic work can't be done in a shop. However, a technician can still pay attention to how parts fit and what that fit means to overall noise. An ill-fitting aftermarket or sloppily installed OEM part can still cut into the quieter rides OEMs are boasting these days through tighter fits, stiffer parts, or structural adhesives.
Shut the door
Ford staffers are tasked with keeping closing an Escape door "consistently effortless."
To do this, they stick suction-cup sensors on both sides of a door opening and close the door. The velocity rating determines how hard they worked to close the door.
"Once it's verified the amount of effort does not exceed the Ford standard, the tools are quickly moved to the next door for another test," Ford wrote. "Customer benefit is that minimum effort is required to close doors."
Mind the gap
Checking the spacing between panels lies within a shop's control, but verification requires lower-tech means than at the Louisville Factory.
Ford's panel gaps on the 2017 Escape must fall between 2-4 mm, acccording to the OEM. The automaker wrote that it checks to ensure the assembly line delivered this fit through "robots wielding lasers" (which makes the factory sound like a Bond villain's lair) scanning the gaps between the hood, door panels and tailgate.
"Customer benefits include tighter fit and finish of body panels," Ford writes.
Besides vetting the overall vehicle with a 3-D measuring system (which detects more serious problems as well as helping to find gaps out of tolerance), shops also have access to the simple but effective method of testing gap widths with presized gap gauges. The latter was described in the January "Kool Tools" SCRS presentation.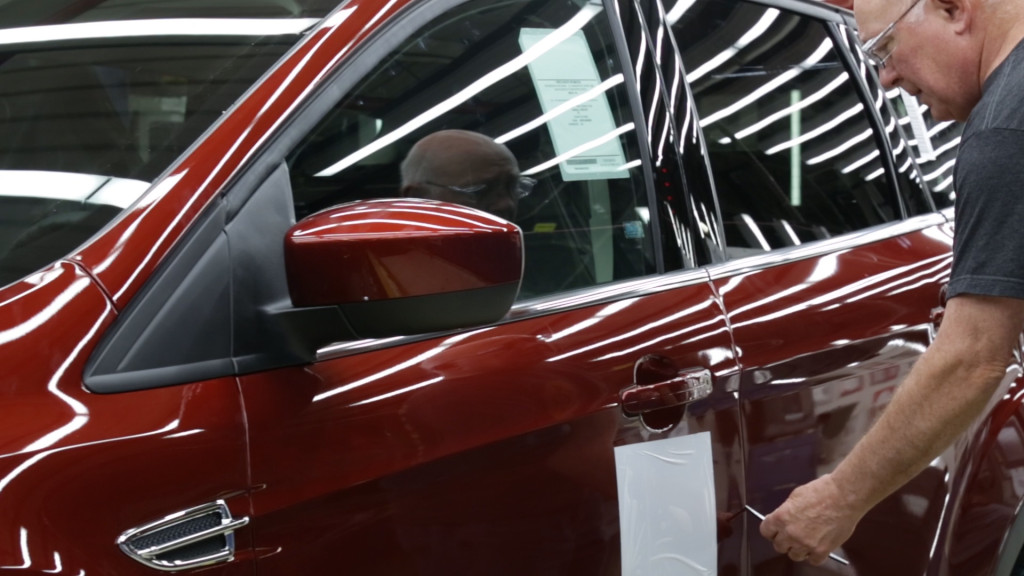 Check your work
Fourteen people check the 2017 Escape in Louisville to ensure everything is as intended. "It's a meticulous process, as team members work with frenzied precision like a pit crew attending to a race car," Ford wrote. "Customer benefit is improved overall vehicle quality."
For collision repair, double-checking one's work now may include not only a visual inspection, but a digital one — post-scans are often necessary to verify all trouble codes are cleared, even after something as "simple" as paintless dent repair — and an actual beyond-the-parking-lot drive test.
That's not always an easy concept to swallow under pressure to cut cycle time and reduce insurer costs, but Ford has the same pressures to cut production times and costs, and it pays for 14 people to add 45 seconds to every Escape — which would work out to 160 extra days to produce the 306,000 Escapes Ford sold last year.
More information:
"2017 ESCAPE DEBUTS NEW SYNC 3 WITH APPLE CARPLAY, ANDROID AUTO; NEW QUALITY CHECKS IMPROVE FORD'S BEST-SELLING SUV"
Ford, March 18, 2016
Featured images: Ford in March 2016 described some of what was expected of the staff and robots on the OEM's Ford Escape Louisville, Ky., assembly line in terms of quality. (Provided by Ford)
Share This: