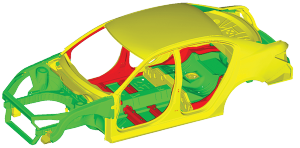 Shops working on third-generation ultra-high-strength steels like NanoSteel still must watch their heat and replace the metal rather than repair it, if the damage is severe enough to require welding or patching.
In that respect, the more formable versions of the light but strong metals will resemble the previous generation's higher-strength steels — at least for now.
But at least the new material shouldn't mean a new restriction or procedure to learn, a top NanoSteel executive said last week.
"We're not making them do anything new," NanoSteel automotive engineering Vice President Tad Machrowicz said in an interview following his presentation Thursday at Automotive World's Megatrends USA.
NanoSteel will have an "easier and better thermal response" for OEM manufacturing purposes, and once cooled, it'll return to a higher strength "floor" than other older higher-strength steels, according to Machrowicz.
However, from a collision repair perspective, it's ultra-high-strength steel business as usual following major damage. You'll have to avoid extreme heat or risk changing the behavior of the steel from what OEM engineers intended, Machrowicz said.
"Once that personality's in it, then heat may take that personality away," Machrowicz said in a statement. "… We don't have a magic solution."
Like older ultra-high-strength steels, heavily damaged NanoSteels probably won't be repaired — you'll replace it, doing the sectioning precisely where the OEM told you to or risk compromising the material. However, NanoSteel's formability might raise the bar on what level of moderate damage could be cold-repaired, according to Machrowicz.
"Regardless, you can't cobble repairs," Machrowicz said.
Featured image: A simulated 2011 Honda Accord which used "2.5G" NanoSteel would see an much greater weight savings in its body-in-white, according to a study by EDAG. (Provided by NanoSteel)
Share This: