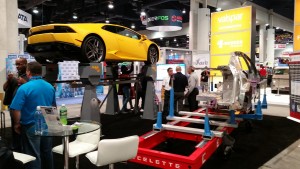 SEMA has warned exhibitors the deadline to guarantee a booth at SEMA and have a chance to pick their position on the show floors is Friday, April 1.
SEMA said in its Feb. 11 eNews that vendors registering by then not only would guarantee a chance to sell to 60,000-70,000 attendees, they could also lock down their desired spot in the three-week SEMA selection process. The latter, which starts May 2, resembles the NFL Draft except hopefully fewer vendors select a "bust."
There are other perks as well, according to SEMA.
"In addition to selecting space on schedule, exhibitors purchasing booth space now will receive information and Show-related updates, key deadlines, transportation news, hotel deals, special offers and the latest news from exhibitors," the show wrote in its Feb. 11 eNews. "Taking advantage of early bird discounts and deadlines is the easiest way to control costs for the Show and keep companies on budget."
Exhibitors with a sweet new gadget for the automotive aftermarket will also get space for one item in the New Products Showcase.
Decided after all that you want a booth? Sign up at www.SEMAShow.com/buyabooth.
Also, check out RDN's coverage of SEMA vendor information before last year's show. Some of it might be applicable before the 2016 show as well.
NORTHEAST
Meanwhile, despite the shrinking number of auto body shops nationwide, the NORTHEAST show is flying high — a heartening sign for the industry.
The Alliance of Automotive Service Providers of New Jersey announced Friday that the 39th NORTHEAST "broke all records in attendance, booth space and seminar registration."
"I think for the first time in my life I am kind of speechless," AASP/NJ President Jeff McDowell said in a statement. "Leading up to the show, we all had a good feeling. There was definitely a buzz. But to see it turn out like this? Well, we couldn't have predicted that in our wildest dreams. There were lines of attendees out the door and down the steps waiting to get in. We had to add two additional registration counters just to get everyone in. It was unbelievable. I've still got goose bumps."
AASP/NJ might even spread the 2017 show, which drew more than 5,000 people, to the second floor of the Meadowlands Exposition Center.
"We've dreamed about it. We've talked about it. Now I think it may be time to do it," McDowell said in a statement. "… We want to make it so there are only two can't-miss shows the automotive professional has to attend each year: NORTHEAST in the spring and SEMA in the fall. That's our ultimate goal and NORTHEAST 2016 took a hell of jump towards that goal. We couldn't be prouder."
AASP/NJ's news release quotes numerous happy national and regional exhibitors as well.
Honda assistant national manager Gary Ledoux, who handles ProFirst and collision parts, told AASP/NJ the attendance was "outrageous."
RW Mallon Auto Paint & Equipment business development manager Keith Egan projected his company would rack up six figures worth of business after NORTHEAST.
"Our phones have been ringing off the hook every day since we got back," Egan said in a statement.
More information:
"Space Available Now! Be Part of the 50th SEMA Show"
SEMA eNews, Feb. 11, 2016
"'I Couldn't Come Up for Air the Whole Show!' NORTHEAST® 2016 Sets a New Standard"
Alliance of Automotive Service Providers of New Jersey, March 25, 2016
Featured image: The show floor at the 2015 SEMA. (John Huetter/Repairer Driven News)
Share This: