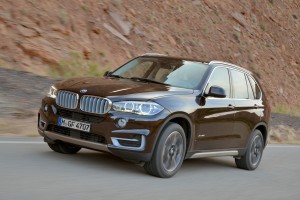 Autocar reported Thursday that the BMW X5 will join the 5 Series in shifting to a BMW architecture which can mix several materials, including carbon fiber, to shave weight.
A next-generation, CLAR "Cluster Architecture" BMW X5 could appear next year, according to the United Kingdom-based magazine.
Autocar also reported that the BMW 3, 5 and 6 Series and the X7 will all take the new platform, which the magazine reported in January was intended to allow combinations of carbon-fiber, aluminum, magnesium and/or high-strength steel.
The 5-Series will lose up to 220 pounds through CLAR, which debuted on the 7 Series, Autocar wrote in January.
The new generation of 7 Series — which had a nice supporting role in "Mission Impossible: Rogue Nation" — launched in 2015 with a "Carbon Core" using carbon fiber, aluminum and steel.
Automotive News in 2015 described that CLAR platform as scalable and modular. Both publications seemed to indicate carbon fiber elements would carry to the other models.
Carbon fiber can be found in the 7 Series B- and C-pillars, rocker panels, roof bows and rails, transmission tunnel and rear deck. In some instances, such as the B-pillar, it pairs with ultra-high-strength steel. BMW also said that the doors and trunk lid are aluminum for the first time. Automotive News last year reported the vehicle also contains magnesium.
Here's a 2015 Repairer Driven News gallery of BMW 7 production and carbon fiber-related elements (works best on desktop):
Certified BMW body shops, all of which were required to take a BMW carbon-fiber class, are able to repair the 7 Series, and BMW said last summer it would provide a 7 Series-specific course. Learn more about repairs here.
During the start of production of the 7 Series, BMW hinted at the expansion of carbon fiber to other Bimmers. The plant in Dingolfing, Germany, can produce about 1,600 BMW 3 Series, 4 Series, 5 Series, 6 Series and 7 Series models per day.
"Our preparations for the start of production of the new BMW 7 Series have been intensive," Dingolfing, Germany, factory head Josef Kercher said in a June 2015 statement. "We have been building the BMW brand flagship and technology platform for almost 40 years in Dingolfing. It is an honour and a privilege to continue to provide top quality for our customers around the world. The key to this success lies in our decades of expertise in building premium automobiles and our highly competent and dedicated employees. The structures and new manufacturing technologies for lightweight construction and electrification we established for the BMW 7 Series ramp-up will also benefit other models built at Dingolfing."
The wet-pressing method used on the 7 Series allows BMW to combine carbon fiber with sheet steel for a "hybrid component," the OEM wrote in June.
"In wet pressing, carbon-fibre fabrics or netting, impregnated with resin, are pressed in a three-dimensional moulding die while wet and then hardened," BMW wrote. The dry pre-shaping previously used in the Resin Transfer Moulding (RTM) process is no longer required. In hybrid pressing, carbon-fibre fabrics impregnated with resin, also still wet, are placed in a moulding die with sheet steel, then pressed and hardened. This bonds the steel and carbon materials to form a hybrid component. Hybrid components are light, but offer maximum rigidity and outstanding crash performance. Both processes enable highly economical large-scale production of up to several thousand carbon components per day, with compact systems engineering and short cycle times."
More information:
"2017 BMW X5 to share 7 Series underpinnings"
Autocar, April 14, 2016
"2017 BMW 5 Series – reveal date, specs and latest spy pictures"
Autocar, Jan. 9, 2016
"Start of production of new BMW 7 Series at Plant Dingolfing"
BMW, June 10, 2015
"7 series continues BMW's high-tech push"
Automotive News, Aug. 3, 2015
Images:
A 2014 BMW x5 xDrive50i is shown in 2013. (Provided by BMW)
Carbon fiber can be found in the 7 Series' B- and C-pillars, rocker panels, roof bows and rails, transmission tunnel and rear deck of the 7 Series, which is built in Dingolfing, Germany. (Provided by BMW)
Share This: