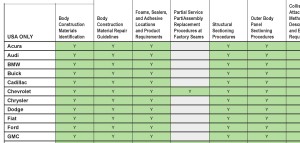 Looking for OEM collision repair procedures to make sure you're doing a safe and proper repair?
See exactly what's available — and where on the Internet to find it — through the latest version of an interactive I-CAR guide.
The 2016 OEM Technical Information Matrix published Wednesday is the first major overhaul of the auto body document since its 2014 launch in conjunction with I-CAR's Repairability Technical Support Portal.
"I think it's a good first-step resource," I-CAR industry technical relations director Jason Bartanen said Thursday.
In a detailed spreadsheet, auto body technicians can learn which of 34 OEMs provide guides to topics like structural sectioning and body materials; see which ones prohibit, allow or demand certain procedures; and learn what lengths of body repair website subscriptions are available.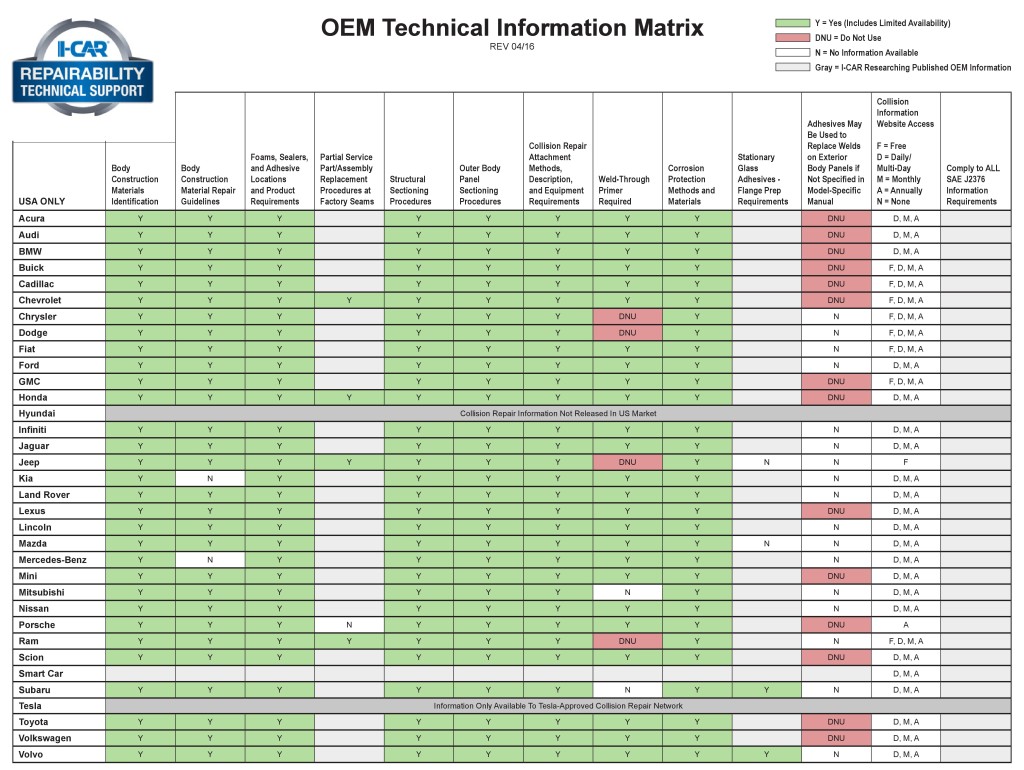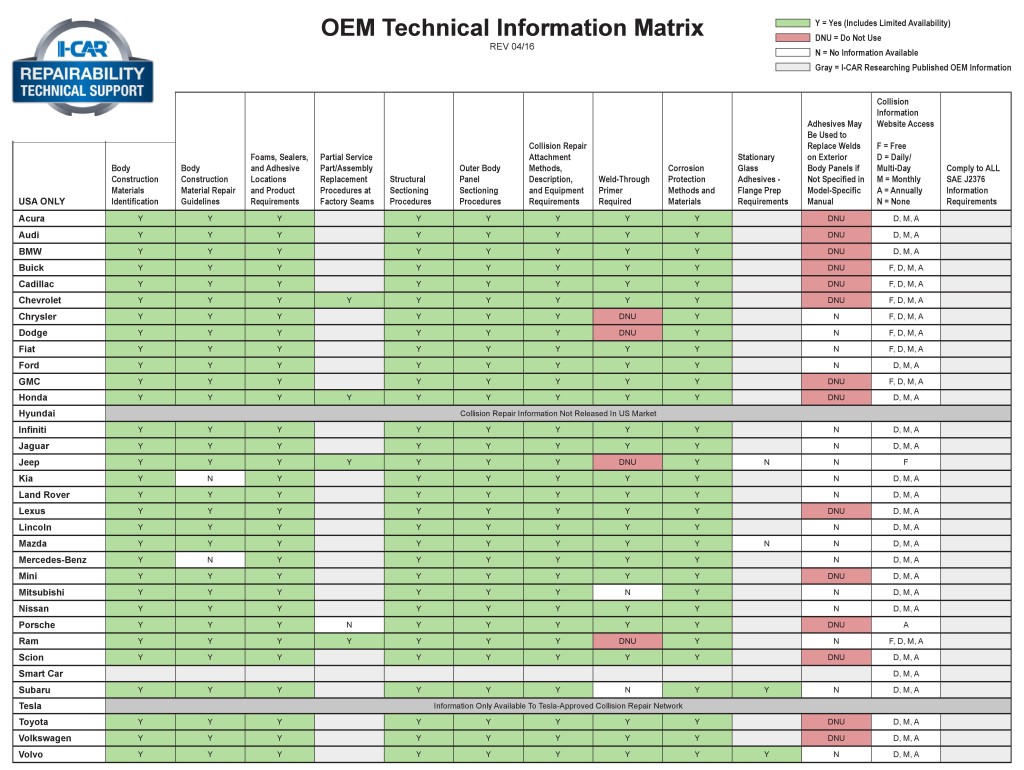 From the matrix, one can learn automaker details like:
Weld-through primer is forbidden on common Mopar cars and trucks but required on Fiats, even though both are FCA vehicles.
Which OEMs sell day/multi-day passes to their collision repair websites. (Pretty much everyone except Porsche.)
Nearly all OEMs make auto body repair procedures available, so you've got no excuse for disregarding them. There is one notable exception: Hyundai. More on that issue here.
The point of it all: "This information is available if you go find it," Bartanen said.

I-CAR made the research even easier. Click on a row related to a particular vehicle make, and the PDF takes the user to the proper collision repair information website.
If you're still having trouble finding the procedures, the I-CAR Repairability Technical Support portal's OEM page contains videos for how to look them up online. Just click on an OEM icon to see the videos and get other links.
For example, here's Nissan's:
Bartanen, who worked with OEMs to help develop the matrix, said the 2016 version saw some new information from OEMs on items like weld-through primer, adhesive bonding and sectioning.
"Not significant changes, but definitely some new information," he said.
Bartanen also provided a little more insight into some elements of the document:
FCA and General Motors give most auto body repair information out for free, as the matrix indicates. However, some details, including their instructions for major factors like electronics — a crucial part of a proper collision repair nowadays — still require a paid subscription. (Still, we'd commend the two OEMs for the sheer depth of body data available gratis.)
A few categories lack answers for most OEMs. "That's on our to-do list," Bartanen said.
As with the original chart two years ago, I-CAR felt it was important to get something up. (And back then, the educational organization needed to get the entire Reliability Technical Support website running.) Now, Bartanen said I-CAR could move "a little bit more of a maintenance mode."
"We'll certainly be looking at closing all those gaps," he said.
In those "to-do list" cases and instances where an OEM lacks or won't provide information on a particular topic, auto body shops can always use the "Ask I-CAR" feature online. The organization will hunt down an answer, asking the OEM if necessary, or provide best practices guidance if no definitive solution is available.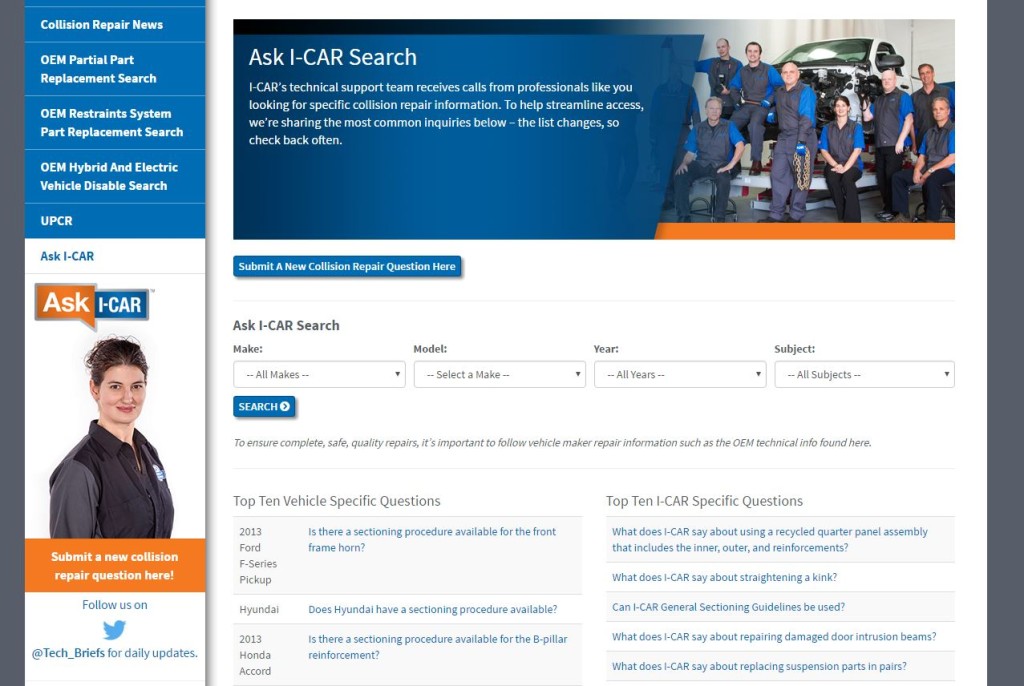 An I-CAR researcher typically reaches out to the inquiring technician within two hours, and "90-plus percent" of the time even has an answer by then, according to Bartanen.
"It may not be the answer they want necessarily, but they'll have an answer" Bartanen said.
If I-CAR can't figure it out within 24 hours, they'll kick the question over to the vehicle manufacturer. Sometimes, the OEM answers immediately. Sometimes, it's several months. But the contact is made.
According to Bartanen, contacting I-CAR first before the OEM — some don't have any sort of body repair support hotline anyway — can be the best bet. For example, even for Honda's ProFirst certified shop network: "Their hotline is us," Bartanen said.
More information:
"OEM Technical Information Matrix Update"
I-CAR, April 13, 2016
OEM Technical Information Matrix
I-CAR, April 13, 2016
Images:
The 2016 I-CAR OEM Technical Information Matrix is shown. (Provided by I-CAR)
Click on a row related to a particular vehicle make on the I-CAR OEM Technical Information Matrix, and the PDF takes the user to the proper collision repair information website. (Provided by I-CAR)
The "Ask I-CAR" website is shown. (Screenshot from www.i-car.com)
Share This: