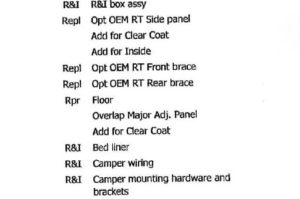 A Collision Industry Conference discussion last week demonstrated just how murky terms like "Alternative OE," "Opt-OE" and "Surplus OE" still are to the buyers of collision auto parts.
The Parts Committee will research the issue ahead of the August CIC in Anaheim. However, collision repairers, insurers and customers can get a head start on the subject by reviewing Repairer Driven News' 2015 series on "Opt-OE" parts.
Here's the highlights.
The OEMs
True Opt-OE components can be a way for OEMs to compete with aftermarket pricing without straying too far from the genuine, new OE part ideal. However, not all the "Opt-OE" parts sold — even from dealerships — are actually from those programs.
In fact, some automakers don't even have an official Opt-OE channel — which means a repairer had better perform due diligence when offered "Opt-OE" for those brands.
Here's an October 2015 breakdown of what we and the Society of Collision Repair Specialists have learned for about some leading OEM brands. We've updated it to reflect information received from Mercedes and Hyundai since the original publication.
The suppliers
The concept of "Opt-OE"/"Surplus OE"/"Alt-OE" — OEM-sanctioned surplus or reconditioned parts — blurs given the ability of suppliers to list anything with such terms on IP-linked parts databases.
On Thursday at the CIC, a representative from an auto wrecker/salvage yard said vetting was "up to the suppliers," who classify their parts and submit that information to the IPs. While his company wouldn't sell a part not up to OEM quality, "it's a problem mostly from suppliers," he said.
To find out more about what vendors were labeling "Opt-OE," we checked with two suppliers which had drawn repairer attention for such classifications. See what we learned and reported in this December 2015 piece.
The IPs
We contacted the three major IPs for how they vet the vendors displayed in their estimating services or affiliated programs who are advertising Opt-OE items.
Our goal: Determine what checks there was to determine what vendors list as "Opt-OE" or "surplus OE" truly is through a formal OEM "Opt-OE" program.
For two of the three — CCC and AudaExplore — it's essentially left up to the seller to list parts honestly. The third, Mitchell, opted not to discuss their policies.
AudaExplore gave us the greatest detail, explaining in an interview how it responds to reports of Opt-OE misrepresentation and making the case for listing other parts than official "Opt-OE" offerings as such.
Find out more in this November 2015 report.
Featured image: True Opt-OE components can save customers money without straying too far from the genuine, new OE part ideal. Unfortunately, a body shop can't always be sure they're even getting the genuine Opt-OE ideal.
Share This: