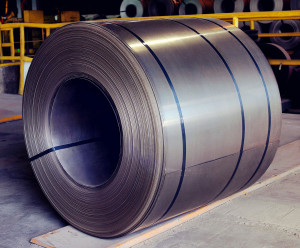 NanoSteel last week announced it had given General Motors a steel delivering not only ultra-high-strength capability but formability, another technology which could spur increased automotive lightweighting.
The "commercially produced" metal delivers about 1,200-megapascal tensile strength while preserving 50 percent elongation, according to NanoSteel.
That's the same specs predicted by NanoSteel automotive engineering Vice President Tad Machrowicz last month at Automotive Megatrends. He said then the company might also achieve another steel delivering 1,700 MPa strength with 30 percent elongation.
Here's where the metal delivered to GM sits on the steel "banana curve," according to a NanoSteel video.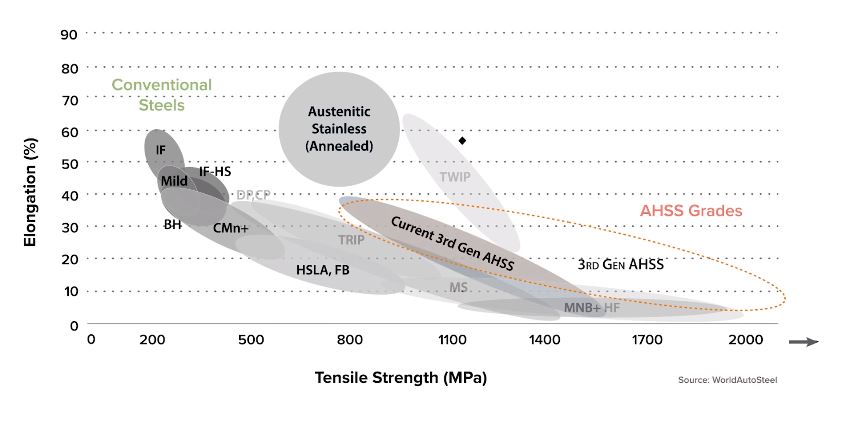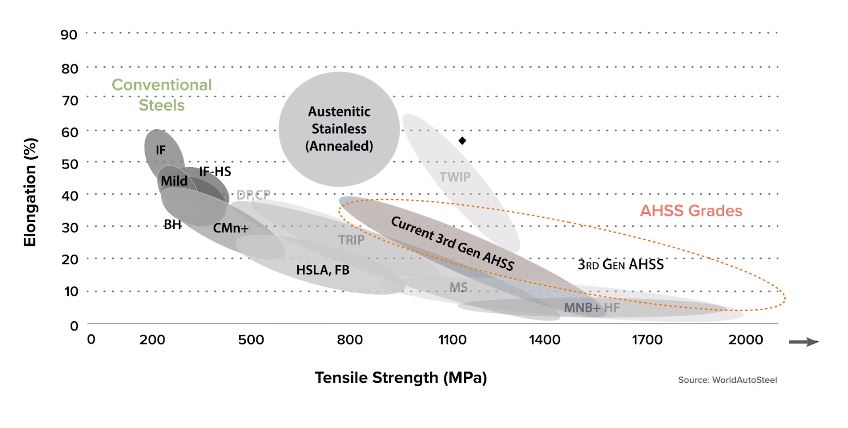 Here's other elongation and strength targets NanoSteel says it can achieve.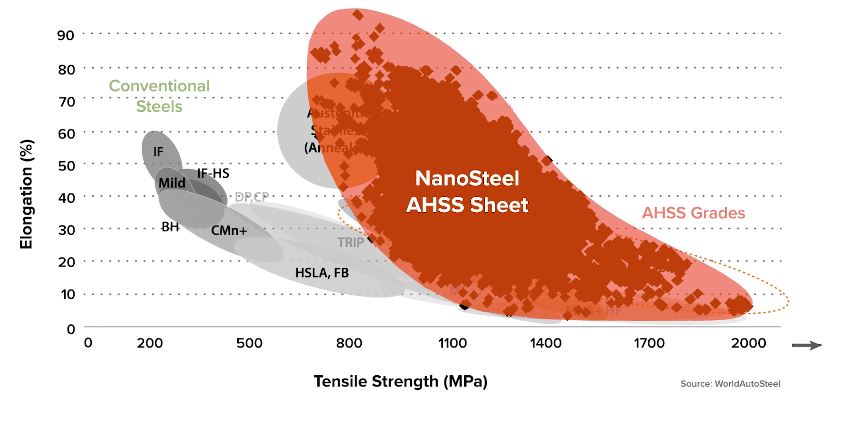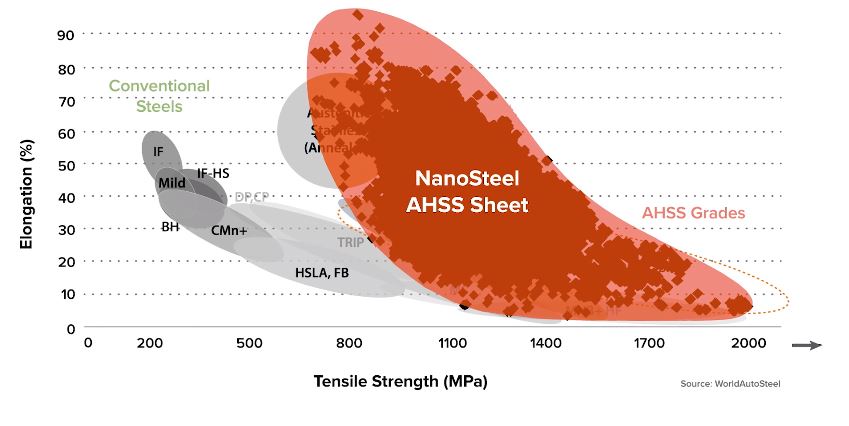 The 1,200 MPa/50 percent elongation steel announced Thursday makes for an impressive automotive steels package that avoids what NanoSteel calls a "historical tradeoff" of strength and formability. It might allow GM's engineers to create more complicated body-in-white shapes out of very thin, strong metal "without expensive processing techniques, employee retraining or additional capital costs," according to NanoSteel.
"Many advanced materials with outstanding properties end up abandoned because they are too hard to use or too expensive to make," NanoSteel CEO and President David Paratore said in a statement. "NanoSteel's advanced high strength steel is designed to be both easy to produce—using conventional alloying elements with standard slab casting equipment; and easy to use—enabling the stamping and forming of parts at room temperature without additional manufacturing infrastructure or investment, such as that required for 'hot' stamped parts."
NanoSteel and AK Steel worked for years on the steel.
"We are pleased to partner with Nanosteel to bring this exciting new product to the market," AK Steel CEO Roger Newport said in a statement. "As the first steel producer to manufacture this unique product using traditional slab casting, we are proud to add this accomplishment to our long and successful track record of innovation."
More elaborate shapes can mean engineers require less steel overall to protect vehicle occupants from crashes. It's all a matter of structural geometry. To use a highly simplistic example, think of those experiments in elementary school in which a "bridge" made of straws or toothpicks takes the force of a textbook or brick placed atop it. Maximize the geometry (triangles!), and the bridge stays intact. See more on the topic and NanoSteel here.
"As a structures designer, I want geometry freedom," Machrowicz said in a March statement. "That's all I care about assuming strength is there, and strength has been available for decades."
Third-generation ultra-high-strength steels like NanoSteel still require repairers to watch their heat and often replace the metal rather than repair it, if the damage is severe enough to require welding or patching.
In that respect, the more formable versions of the light but strong metals will resemble the previous generation's higher-strength steels — at least for now, according to Machrowicz.
But at least the new material shouldn't mean a new restriction or procedure to learn, he said.
More information:
"NANOSTEEL DELIVERS ADVANCED AUTOMOTIVE STEEL TO GENERAL MOTORS"
NanoSteel, April 21, 2016
"NanoSteel's Advanced High Strength Sheet Steel Properties in Action"
NanoSteel via YouTube, April 19, 2016
Images:
NanoSteel last week announced it had given General Motors a steel delivering not only ultra-high-strength capability but formability, another technology which could speed automotive lightweighting. (Provided by NanoSteel)
Here's where the new 1,200 MPa/50 percent elongation metal sits on the steel "banana curve," according to a NanoSteel video. (Screenshot from NanoSteel video on YouTube)
Here's other elongation and strength targets NanoSteel says it can achieve. (Screenshot from NanoSteel video on YouTube)
Share This: