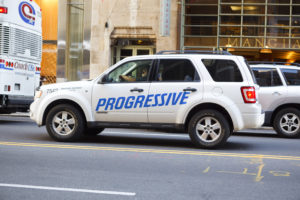 After four years and with a trial date scheduled for this fall, a Tennessee auto body shop has dropped its tortious interference and breach of contract case against Progressive.
No explanation was given for the decision and Progressive and Price's Collision Center's agreement to pay their own individual court costs.
William Ramsey, an attorney for Price's Collision, said Monday he couldn't comment on the dismissal, which both sides sought Wednesday and a Middle District of Tennessee federal court ordered Thursday. The case in March had been scheduled for trial in November.
In January, the two parties announced that despite "extensive settlement negotiations" since July 2015, they couldn't reach a deal in Price's Collision Center v. Progressive. (Actually a consolidation of two separate cases; here is the other.)
Price's Collision had in 2011 sued Progressive in Tennessee over what it said was a refusal to pay $693.01 in supplemental damages to a 2007 Honda Accord and $927.04 in damage to a 2010 Honda Civic LX. The shop had performed the repairs, which it called necessary to restore the cars to preloss conditions, and took an assignment of benefits from both owners to recover the money.
Price's Collision had accused Progressive of breach of contract for refusing to pay the disputed amounts, arguing that both owners' policies demanded the insurer pay whatever was necessary to properly fix the cars.
The shop also alleged that Progressive intended the refusal as punitive, a means of driving policyholders away from using Price's Collision "because the thorough and professional work performed by the Plaintiff may result in costs that are higher than the Defendant wishes to pay." Ergo, it sued for tortious interference.
The case — now in the form of an appeal after Price's lost at the General Sessions level — was kicked up to federal court, the level which weighs procedural questions like what level of pleading survives a motion to dismiss.
There, a Tennessee U.S. district court felt there was enough grounds for the breach and tortious interference claims to advance, but agreed with Progressive that a third accusation of a Tennessee Consumer Protection Act violation should be dismissed.
Progressive denied all the allegations.
Legacy: Harsh affidavit
Though the case ended anticlimactically, with no definitive federal answer and the General Sessions judgement remaining in force, it still might leave a legacy.
In April 2015, a Nashville television station highlighted Price's v. Progressive and a Price's Collision lawsuit against GEICO, raising more awareness of the tensions between shops and insurers.
WSMV said GEICO hadn't responded in court or to a request for comment, but Progressive denied the claims in court and sent the station a comment that "We don't comment on pending litigation … It is our practice to offer customers the choice of where they wish to have their car repaired following an accident and to work with the shops of their choice to exceed their expectations."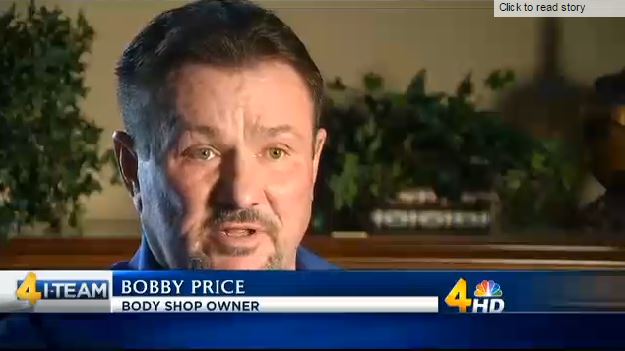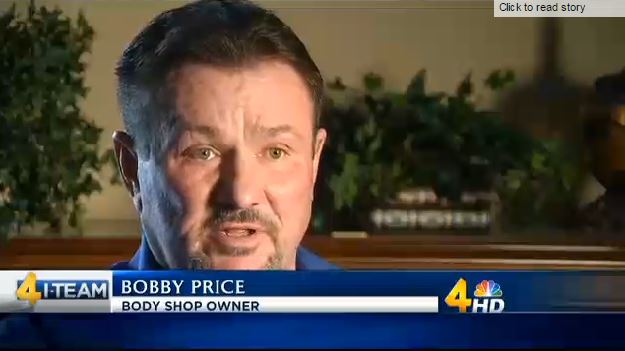 The broadcast also covered an unsealed September 2014 affidavit by former Progressive managed repair representative David Edwards.
In the document, Edwards said he had worked as an estimator, expert process property damage specialist, network manager and supervisor at Progressive  for more than 17 years until Aug. 12, 2014. In April 2014, he was assigned specifically to Price's customers.
But while "I never had any more issues with Price's Collision Centers or its work than I did with any other body shop," Progressive had been making "derogatory comments" about Price's since 2004, according to Edwards, and "I was specifically prohibited from placing Price's in the network."
"In my opinion, Progressive employees did intentionally steer insureds and claimants way from Price's Collision Center," Edwards continued.
"… Progressive employees would do so by saying derogatory things about Price's Collision Centers to the insureds and/or claimants. … In these discussions, the Progressive employees would omit that Price's would, on balance, do a more professional and thorough repair of the damages vehicle than the network shops."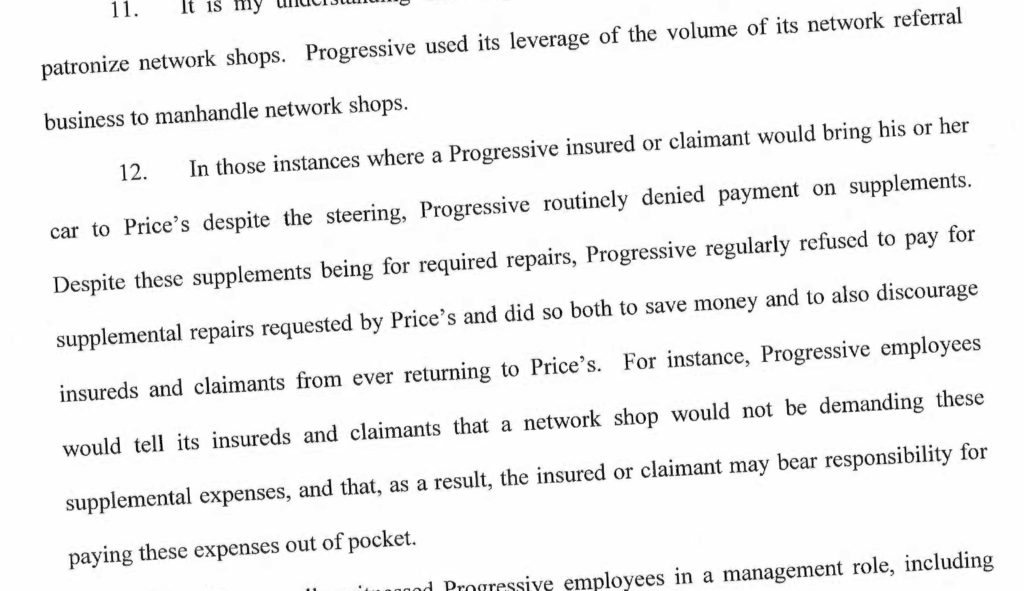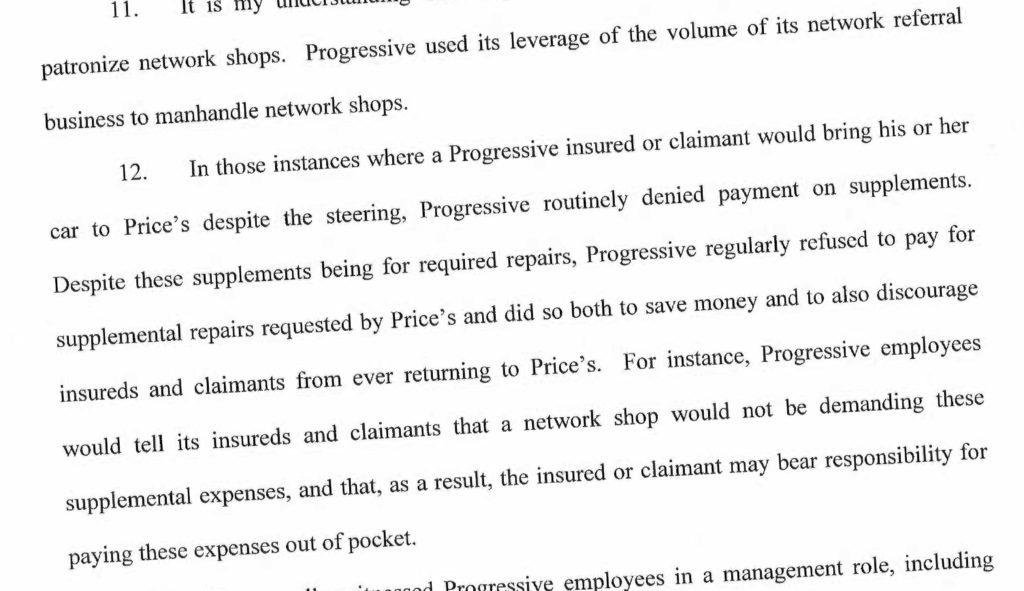 Meanwhile, Progressive was evaluating adjusters on how many claims were handled at network shops, he said in the affidavit.
"In those instances where a Progressive insured or claimant would bring his or her car to Price's despite the steering, Progressive routinely denied payment on supplements," Edwards says in the document. "Despite these supplements being for required repairs, Progressive regularly refused to pay for supplemental repairs requested by Price's and did so both to save money and to also discourage insureds and claimants from ever returning to Price's."
Edwards said he'd personally heard managers disparage Price and his shops, including one saying "I hate these motherf–s" as the supervisor and Edwards pulled into a Price's Collision.
Legacy: Pleading standard
Price's v. Progressive also shows a federal judge backing a lower threshold for a case to survive a motion for dismiss — a question which could determine the fate of numerous other body shops' cases against insurers.
In Price's, Tennessee Middle District Judge Kevin Sharp cited legal precedents for courts to err on the side of plaintiffs when determining the standard for pleading (suing).
One was Rondigo v. Township of Richmond, which held, "Under Rule 12(b)(6), the complaint is viewed in the light most favorable to plaintiffs, the allegations in the complaint are accepted as true, and all reasonable inferences are drawn in favor of plaintiffs."
Another was Arista Records v. Doe 3, which found "the (Bell Atlantic Corp. v. Twombly) plausibility standard, which applies to all civil actions, does not prevent a plaintiff from 'pleading facts alleged "upon information and belief" ' where the facts are peculiarly within the possession and control of the defendant or where the belief is based on factual information that
makes the inference of culpability plausible."
However, in Florida's A&E et al v. 21st Century et al and in several related cases brought across the country by shops, Middle District of Florida Judge Gregory Presnell has argued that a higher standard is necessary. Shops in some of those cases have appealed the point to the Eleventh Circuit Court of Appeals, and this decision could help make their case.
As the shops' attorneys have written to the appellate court, "Appellants are not required to win on the complaint, merely allege sufficient facts to support a plausible suggestion of the existence of an agreement by the Appellees."
Images:
A Progressive Insurance vehicle drives along West 57th street in Manhattan on  June 2, 2011. (wdstock/iStock)
A WSMV segment spotlights Price's Collision Center owner Bobby Price, who has sued GEICO and Progressive claiming breach of contract and tortious interference and who is seen in this screenshot from WSMV video online. (Screenshot from www.WSMV.com)
An excerpt from a 2014 affidavit by a Progressive staffer in Price's Collision Center v. Progressive. (Provided by Middle District of Tennessee)
Share This: