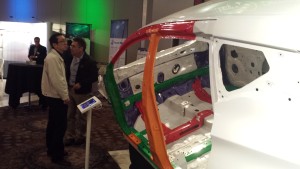 The 2016 Great Designs in Steel conference starts today at 8 a.m., and the agenda is packed with details about the bodies-in-white of some of the cars, truck and SUV models destined to appear in auto body shops over the coming months and years.
Last year, we were there to bring you coverage of the presentations on the 2016 Nissan Maxima and 2015 Ford Edge, Nissan Murano, Acura TLX and Chrysler 200, as well as a call from I-CAR to think of shops when designing vehicles.
This year, the lineup includes the 2017 Buick LaCrosse; 2016 Chevrolet Malibu; 2016 Honda Civic (one you'd better be an expert in); Lincoln Continental D544 (insert your Matthew McConaughey joke here); 2016 Nissan Titan XD; and the 2016 Volvo XC90 (notable for mixing steel and other materials).
We'll be live-tweeting all of these, as well as the afternoon sessions examining other automotive steel issues, from the event at Livonia, Mich., starting at 8 a.m. Follow along with us in our feed below or @repairerdriven — and if you're there, join in the conversation with #GDIS.
Share This: