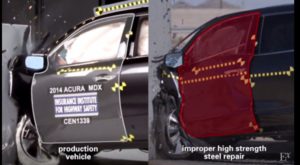 Honda's wrecked pair of 2014 Acura MDXs — one from the factory floor, one mimicking a botched collision repair — continue to get mileage as a tool for showing the importance of proper auto body work.
However, Honda's taken them from the collision repair circuit — they were visible at trade shows last year — to actual Honda and Acura owners with a new video on the OEM's consumer-facing Honda Collision Center website.
The website stresses the importance of finding a good auto body shop — putting in a strong plug for Honda's ProFirst network of OEM-certified repair facilities. Honda has a similar page for Acura repairs, though it's not as comprehensive as the core collision.honda.com site.
In the new video, Honda presents its case study of a 2014 MDX with incorrect welds and sectioning on the ultra-high-strength steel, 1,500-megapascal door ring. The component is light and strong, but heat-sensitive and must be replaced as a single unit.
Honda mimicked the repairer's mistakes on the other side of the luxury crossover and subjected both it and a factory-floor MDX to a small-overlap crash test. (Find more details about the experiment here.)
The incorrectly-repaired MDX's door buckles and can't be opened, while an occupant could exit the factory MDX.
"Seems like a minor detail," the narrator asks. "Unless you were the one trapped inside."
The impact also triggered other damage on the botched MDX, leading to a greater loss of structural integrity.
"Would you be satisfied if this was your vehicle?" the video asks.
The video, like another from Honda on a salvage vehicle sold to an unsuspecting driver, also highlights how a nice appearance can belie hidden internal damages.
"What do you think? Looks OK on the outside, right?" the narrator asks of the flawed MDX before the viewer learns of the crash test results.
The video makes a compelling case for customers not just blindly picking a shop without knowing the business' qualifications. It suggests that such collision repairers can be found on the ProFirst Network.
"ProFirst Certified repair facilities can provide you peace of mind," the narrator states.
Non-luxury manufacturers last year noticeably worked to roll out such OEM-developed networks of dealerships and independent auto body shops. Some of this might be a response to new materials, like Ford's-F-150 aluminum and Honda's ultra-high-strength steel; it also has stemmed from a realization that an aftermarket problem can cause consumers to switch auto brands.
"The use of high strength steel, ultra-high strength steel, aluminum, and other exotic and innovative weight-saving materials will only increase as we moved towards ever-increasing CAFÉ standards" Honda collision marketing group manager Leigh Guarnieri said in a statement. "Making proper repairs on these vehicles is crucial to the safety of our Honda and Acura customers. This will continue to be the driving force behind our ProFirst program."
Both websites come up first of the unsponsored links encountered by Google searches like "Honda body shop near me" — an important method of ensuring Honda owners actually come across the data when looking to get work done.
The site also provides a caution about DRP shops and urges OEM parts only. The MDX video makes a similar parts pitch.
"ProFirst shops have access to all factory replacement components, so don't forget to ask for new, genuine Honda or Acura parts," the narrator states.
More information:
Honda, May 10, 2016
"American Honda Launches New Collision Video"
Honda, May 10, 2016
Featured image: Honda's wrecked pair of 2014 Acura MDXs — one from the factory floor, one mimicking a botched collision repair — continue to get mileage as a tool for showing the importance of proper auto body work. This time, they're in a customer-facing video. (Screenshot from Honda video)
Share This: