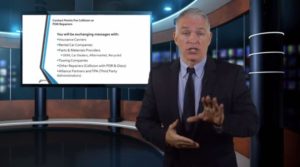 In its latest attempt to nudge collision repair stakeholders into dropping the antiquated EMS for the more secure and efficient BMS digital framework, CIECA announced Wednesday a series of videos targeting the various industries.
The Collision Industry Electronic Commerce Association is the organization charged by various collision repair interests with managing the back-end standards allowing software from those industries to communicate. It's been trying to push the industry to quit using the Estimate Management Standard, released in 1994 and without support since 2003, and shift to the Business Message Suite.
To put that in some perspective, Windows 95 hadn't even come out yet in 1994. So it'd be like using Windows 3.1 today on your home computer.
EMS is inefficient, insecure, and transmits everything but the kitchen sink to all parties receiving the file, which means that each industry in the collision repair food chain (insurer, parts vendor, repairer, rental car agency, etc.)  or anyone else with a data pump sees details from the others. BMS allows targeted messages and confirmation the message was received, as well as greater security.
So to encourage the shift — and CIECA has asked repairers to pressure information providers into facilitating the switch — it will release videos extolling BMS for repairers, insurers, recyclers, subrogation, parts providers, salvors and rental agencies.
"CIECA is proud to announce that it has commissioned a series of videos to clarify the Business Message Suite (BMS) usage for each industry Segment," CIECA wrote in an email Wednesday.
For recyclers (get slides here):
CIECA is working on its videos for rental agencies, parts providers, salvors and subrogation. Look for them by the end of the month.
More information:
Featured image: CIECA has announced a new video showing BMS applications for auto body shops. (Screenshot of CIECA video provided via YouTube)
Share This: