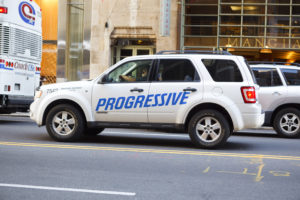 After launching online and direct sales innovations, Snapshot and Flo, Progressive President and CEO Glenn Renwick will retire July 1, the company announced Thursday.
He'll be succeeded by personal lines Chief Operating Officer Tricia Griffith, who started out as a claims representative for the company in 1988 and has overseen claims in progressively higher management posts since 2008.
"I am truly honored to be named CEO," said Tricia Griffith. "Glenn has been an outstanding leader, mentor and friend and I am committed to building on his legacy and working with our Board and management team to continue to fulfill our mission and create value for all of our stakeholders."
Hopefully, her background won't mean a harder line on claims for body shops to compensate for the severity increases newer and more advanced vehicles likely generate once she takes the CEO helm.
"It has been a privilege to lead this extraordinary organization – surrounded by the smartest, most entrepreneurial, and innovative people in the insurance industry," Renwick said in a statement. "Tricia has an outstanding track record in key leadership positions at Progressive over the last 28 years, and I am confident the Company will continue to thrive under her leadership.  I look forward to continuing to serve the Company in my role as Chairman."
Analysts at Credit Suisse and Keefe Bruyette & Woods didn't see any big shakeups happening in the future, according to the Wall Street Journal.
Credit Suisse analyst Ryan Tunis called Griffith the "ideal candidate," according to the Wall Street Journal.
"We don't expect a material change in strategy, direction, or culture," Keefe Bruyette analyst Meyer Shields wrote to clients, according to the Wall Street Journal.
Griffith discussed auto claims in a May 2015 investor webcast, saying "we continue to be very pleased with our progress on cost structure."
She pointed out then that expenses as part of the loss ratio had fallen 1.7 points in the past five years despite all that advertising the company had pumped into the marketplace.
In terms of adjustment expenses for auto losses, Griffith said in May 2015 the company has shaved off two points from its ratio in the past decade. That might have extended beyond cracking down on fraudulent policyholders and bill-padding repairers to affect honest customers and body shops.
Renwick said then the company is now putting 25 percent of physical damage claims through service centers, which he said help cut incremental costs.
"The service centers take out the friction costs in claims," he said in 2015. "Reducing the day's rental by even basis points matters. Reducing the rework situations that happen matters. And the service center is our best response to that."
After July 1, Renwick will become executive board chairman, and Griffith will take a board seat along with the CEO seat.
"This leadership transition is the culmination of years of planning by the Board, initiated by Glenn several years ago, based on a timeframe that would ensure continuity of leadership and with an approach grounded in Progressive's values and evolving business model," lead board independent director Stephen Hardis said in a statement. "It also comes at a time of great strength at the Company, as Progressive is well-positioned for the long-term thanks to Glenn and his team.  As we look to the future, the Board is confident that Tricia's extensive experience with numerous aspects of the company, operational acumen and exceptional track record make her the ideal candidate to lead Progressive forward."
Renwick has spent nearly 30 years in Progressive management since he started at the company in 1986. He became CEO of insurance operations in 2000 and has been the full CEO since 2001.
"Under Glenn's leadership, Progressive has become one of the most successful, innovative and respected insurance companies. Since he became CEO in 2000, the Company's market capitalization has increased by approximately 155% to more than $19 billion and written premiums have more than tripled. Glenn has also overseen game-changing innovations such as Snapshot®, online price comparisons, concierge claim service, and Name Your Price®, along with the development of the Progressive brand and the direct-to-consumer marketing approach," Hardis said in a statement. "Glenn's vision and unwavering commitment to Progressive's values have created significant value for all of the Company's stakeholders, including policyholders, agents, employees, shareholders and the communities in which we operate.  On behalf of the Board and the entire Company, we thank Glenn for his many years of dedicated service."
More information:
"Progressive Announces CEO Transition"
Progressive, May 12, 2016
"Progressive's New CEO Adds to 'Uncertainty'"
Wall Street Journal, May 13, 2016
Images:
A Progressive Insurance vehicle drives along West 57th street in Manhattan on  June 2, 2011. (wdstock/iStock)
Progressive expense and auto loss expenses are shown in this graph. (Provided by Progressive)
Share This: