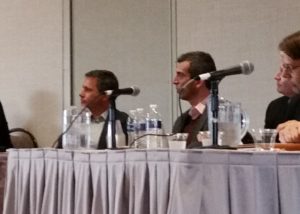 PartsTrader announced Tuesday that it and CollisionLink have completed their integration, allowing shops and dealerships to pipe OEM part quotes plus manufacturer discounts through PartsTrader.
The integration, announced July 2015 during NACE Week and scheduled then for completion this year, gives PartsTrader another boost as digital parts procurement systems compete to win repairer and vendor interest.
A major element of this race will likely be making the experience as streamlined as possible for shops and suppliers, who balk at having to learn (and for some users, pay for) multiple systems in a process that is supposed to be easier than calling and faxing multiple vendors.
In January, a Collision Industry Conference panel mostly agreed that integration with each other was possible — but there seemed to be little appetite among them to assist a competitor, panelists indicated.
Yet while there's certainly a free-market case for procurement systems to stay siloed, this unwillingness to integrate might in some cases wind up costing the systems revenue.
In September 2015, OPS announced that Ford would make "conquest" prices available on OPSTRAX. Toyota, Nissan, Infiniti and Hyundai already had similar connections to the software.
PartsTrader-CollisionLink seems like a strong combination given the volume on PartsTrader and the ease of buying OEM parts with conquest-type incentives via CollisionLink and parent OEConnection.
CollisionLink involves more than a dozen OEMs — including General Motors and its dynamic list pricing service MyPriceLink.PartsTrader in November had about 12 percent of the market, and OEM parts dealers made up 75 percent of its vendors. (CCC wrote that the OEM-everything else ratio of parts dollars was 63.5 percent to 36.5 percent in 2015, in case you were wondering.)
In November, PartsTrader spanned 48 states and the District of Colombia, and had more than 50,000 users. These included more than 8,500 auto body shops and more than 8,500 parts suppliers.
State Farm, which dominates the auto insurance market at 18.31 percent market share, reportedly mandates that all its Select Service direct repair program shops use PartsTrader, and other insurers were taking a look at the software last fall.
PartsTrader wrote in a news release Tuesday that more than 1,700 dealers were using the partnership with CollisionLink to sell parts. The integration shows auto body shops dealerships' quotes with OEM pricing incentives applied.
"Working in only one program and not having to switch between two screens is an immediate benefit for my team," Illinois-based Continental Acura parts manager Bobby Williams said in a statement. "The simplified workflow allows my parts team to respond with competitive pricing faster to our collision repair shop customers and provides us with more opportunities to sell parts."
PartsTrader wrote that the integration would spread across the U.S. "over the next several weeks" and be offered to dealers which use both systems already.
Besides presumed productivity gains from an easier process, dealerships will receive a discount on their PartsTrader subscriptions, according to PartsTrader. (The company also charges 1.75 percent to 3.5 percent of sales.) PartsTrader also predicted the integration would cut into the industry's high return rates, which Pete Tagliapietra of NuGen IT in January called the largest problem in parts procurement.
Car-Part.com CEO Jeff Schroder noted then that the industry part return rate was 15-20 percent, when it should be 2-3 percent.
As CollisionLink can verify parts numbers itself, there should be fewer returns, according to PartsTrader.
Share This:
Related