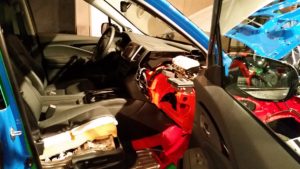 Emphasizing the importance of advanced materials in automotive design, the National Science Foundation this month awarded a Michigan community college $200,000 for lightweight vehicle manufacturing education.
The money awarded May 10 will pay for Washtenaw Community College curriculum related to making bodies-in-white and other auto parts out of lighter, stronger materials. The grant also will fund the addition of lightweighting as a consideration into a regional (Great Lakes) auto design challenge.
"Through our conversations with business leaders in the automotive industry, we understand the imminent needs for employees equipped with skills in the area of lightweight materials," WCC President Rose B. Bellanca said in a statement last week. "This NSF grant will allow us to create curricula and professional development programs to create a model for other community colleges to follow. We are very proud of this opportunity."
Perhaps body shops, which to do proper repairs must keep versed on the "gigapascal"-level steel, aluminum, carbon fiber and magnesium automakers are introducing, can audit the courses. Or raid them for prospective body technicians.
The grant will pay for three years of work and include collaborations with Wayne State University and automotive design challenge organizer Square One.
Wayne State, which MLive described as "hailed as a leader in vehicle manufacturing education," will develop lightweighting-savvy teachers at not only the community college levels but also the K-12 level. Square One will help foster lightweighting-savvy K-12 students.
"This grant affirms both the talent and hard work of faculty here at WCC and those at Wayne State University," WCC advanced technology Dean Brandon Tucker said in a statement. "The result is a win for our students as they will be exposed to the latest technologies, which in turn prepares them to be competitive as they transition in the workforce.
"We are also looking forward to working with Square One to begin to instill in K-12 students an understanding on how lightweight materials are integrated into the automotive manufacturing environment."
MLive reported Thursday that a $4.4 million Michigan STEP grant will pay for any equipment needed at WCC.
WCC will also give lightweighting curriculum developed under the grant to the Lightweight Innovations For Tomorrow library and use it for the college's Advanced Transportation Center.
Lighter bodies and powertrain gains are seen as some of the best means of hitting 54.5 mpg CAFE standards in 2025 — and the former must remain strong enough to pass whatever crash tests regulators and the IIHS develop.
Based on this proposal from a college in the Motor City's backyard, the NSF deeming the topic worth $200,000, and K-12 students being encouraged to learn it, shops ignoring lightweight repair procedures and equipment might do so at their own peril.
More information:
"
Training Tomorrow's Technicians in Lightweight Materials: Properties, Optimization, and Manufacturing Processes" award
National Science Foundation, May 10, 2016
"Washtenaw Community College Awarded $200,000 National Science Foundation Grant"
Washtenaw Community College via A2YChamber, May 13, 2016
"WCC awarded $200k grant for advanced auto-body tech instruction, training"
MLive, May 19, 2016
Featured image: The aluminum hood, magnesium instrument panel, and ultra-high-strength steel A-pillar of the 2016 Honda Pilot can be seen in this cutaway at Great Designs in Steel. (John Huetter/Repairer Driven News)
Share This: