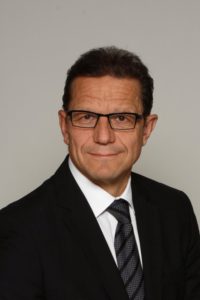 Boyd/Gerber's same-store sales rose a whopping 7.4 percent in the first quarter of 2015, a boom stimulated in part what the CEO described as a trend towards DRP consolidation.
"We also continue to benefit from the favorable industry trends of direct repair programs and insurers consolidating their repair volumes to fewer repairers," CEO Brock Bulbuck told investors on a May 13 analyst call.
That repeats a similar Boyd/Gerber prediction made last summer.
A May 23 investor presentation also describes a "Growing preference among insurers for DRP arrangements with multi-location collision repair operators" — not surprising given the concessions a large chain can offer but make back in volume and economies of scale savings.
"Boyd is well positioned to take advantage of these DRP trends with all major insurers and most regional insurers," the company wrote.
These predictions echoed the same statements made in June 2015 in a presentation about that year's first quarter.
Interestingly, back in June 2015, Boyd/Gerber reported that the company's top 5 insurance customers contributed 47 percent of its $844.1 million 2014 revenue (Canadian dollars), with their largest customer yielding 16 percent of that.
In the latest presentation, the company's top five insurance companies provided 49 percent of its $1.174 billion 2015 revenue, with the largest customer down to 15 percent of revenue.
"Eventually, (MSOs) will do virtually all of the carrier-paid repairs," Green told the 2015 International Bodyshop Industry Symposium, according to bodyshop magazine.
State Farm also has told Select Service DRP shops some would be culled by the end of the year to free up business for those scoring higher on key metrics.
There's just not enough volume to go around its current direct repair program population in some areas, and the insurer fears "this overcapacity may result in fewer jobs for high-performing repairers," State Farm claims manager Gregg McDonald said in a video emailed to Select Service shops and provided to Repairer Driven News in March.
"There are markets where we will see fewer repairers in our network," McDonald said. He noted that the insurer had already halved the size of its network from a decade ago.
Despite whatever concessions were necessary to snag DRP business, Boyd/Gerber is doing well for itself — indicating just how much expense-cutting deals with vendors and other economies of scale can restore to an MSO's bottom line, according to Brad Mewes of "Supplement!"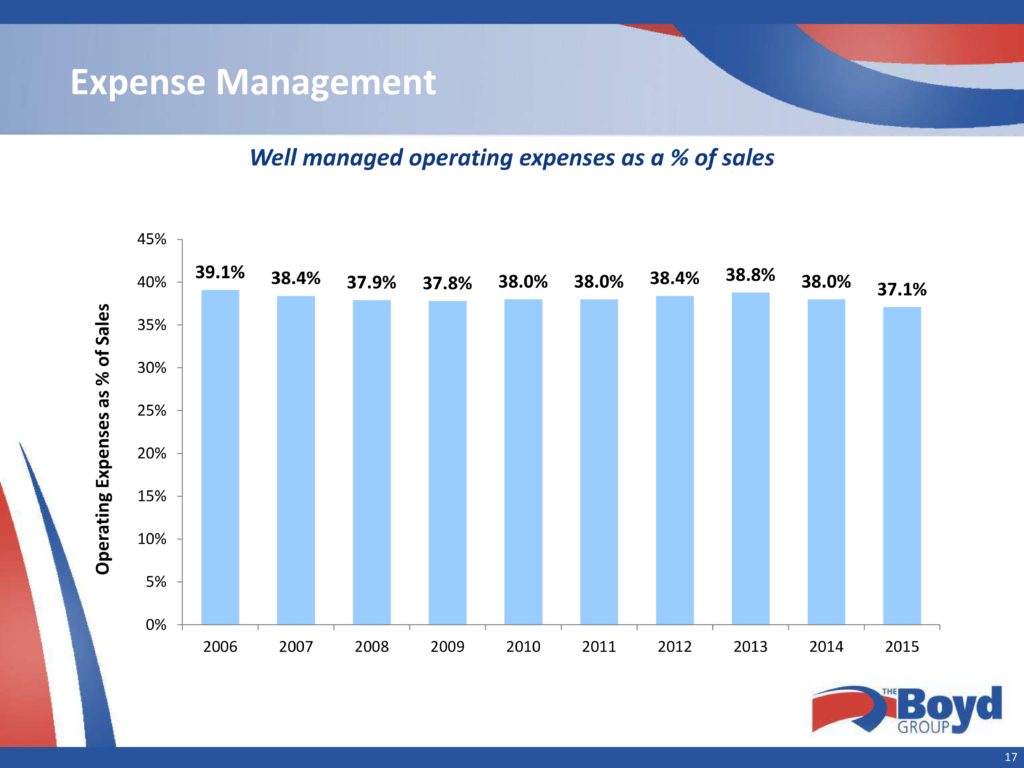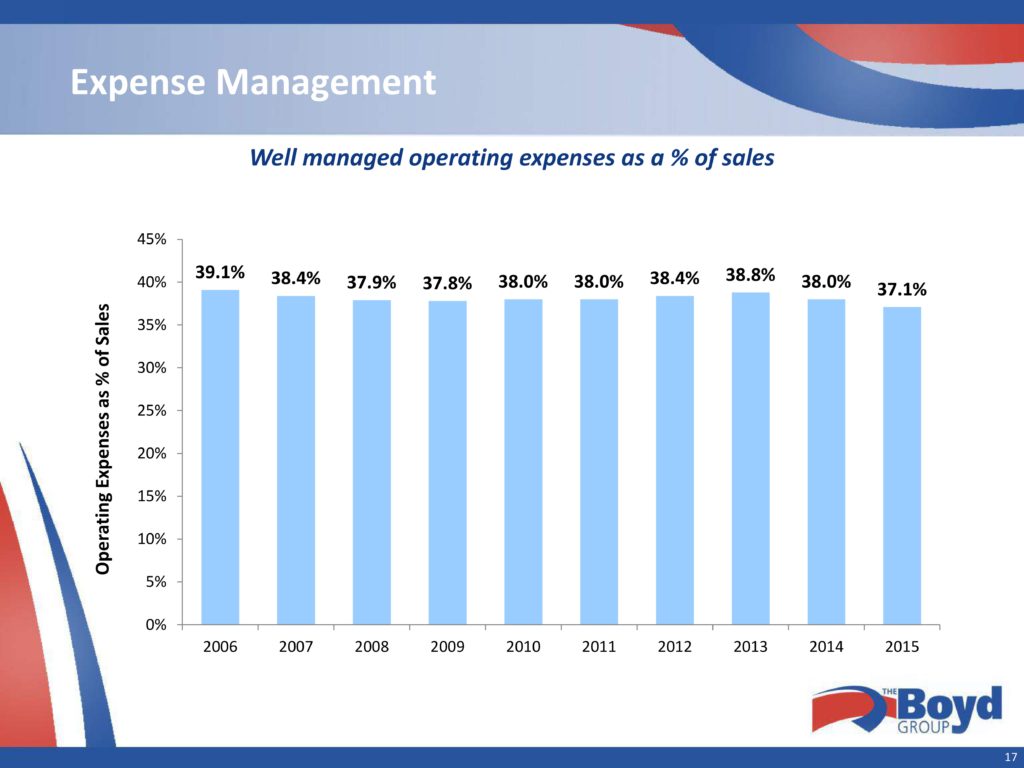 In the first quarter of 2016, the company's gross profit margin was 45.1 percent, down 1.1 percent from the first quarter of 2015.
"The gross margin percentage decreased when compared with the prior period due primarily to a higher mix of parts sales in relation to labour and a higher mix of lower margin glass sales," Boyd wrote to investors in its formal quarterly filing.
That's still strong, according to Mewes.
"An unfortunate misconception in the industry is that the large consolidators offer heavy discounts and operate unprofitably," Mewes wrote in April of Boyd's full-year 2015 results, which saw a 45.7 gross margin. "But, what many fail to realize is that the large consolidators have significant negotiating powers with vendors. In order to consistently maintain gross margins above 45% while providing substantial discounts is a testament to the negotiating power scale provides."
The company posted an adjusted EBITDA (earnings before interest, taxes, depreciation and amoritization) of 8.4 percent, up from 7.5 percent in the fourth quarter last year.
Boyd's margins and sales might grow further as the company finishes and then refines its rollout of the "WOW Operating Way" across the company's 360 locations across the U.S. and Canada.
The program, which Bulbuck has said primarily focuses on cycle time and customer service but also provides benefits like quality control, has spread to 80 percent of Boyd/Gerber locations.
While Bulbuck has noted some backsliding from shops since WOW started as a pilot in 2014, on the whole, "we're very pleased," he said this month. The company introduced some sustainability measures to prevent the quality drop-offs seen last year, and now Boyd is "constantly seeing an uptick" in two highest performing tiers of shops and fewer repair facilities which could be classified in the third and lowest tier, Bulbuck said.
"It (WOW) is working, and it is being effective in a slow and gradual way," Bulbuck said.
However, while Bulbuck anticipated that the WOW-related gains would ultimately strengthen insurer relationships, the program couldn't yet be linked to more insurance referrals, he said.
"I think it's too early to really draw a direct line," Bulbuck said, though he felt there had probably been a positive business impact.
Boyd's views on insurer DRP consolidation were shared last year by former CARSTAR President Dan Young and, according to bodyshop magazine, then-BB&T Capital Markets retail and consumer industry groups managing director Rex Green.
The other first DRP?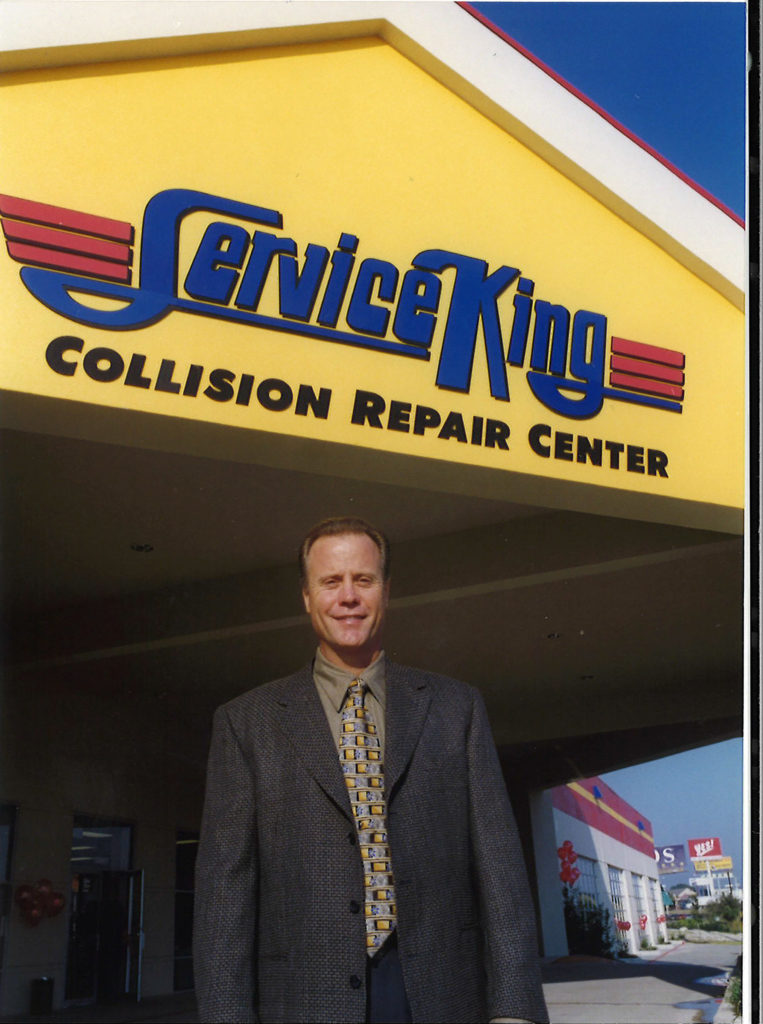 So that's some of what the future indicates for DRPs. As for a glimpse into the history of the concept, Service King founder Eddie Lennox has described in an entertaining Dallas Morning News 40th anniversary profile how lower prices and customer amenities like rental cars lured insurers to the then-tiny regional chain.
"I was at $10 an hour — half what dealers or big body shops did," Lennox told the newspaper in reference to the chain founded in 1976. That attracted a few insurers, according to the April Dallas Morning News article.
Using the Bureau of Labor Statistics' inflation calculator, that would work out to Service King today charging $42.05 and its competitors charging $84.10.
CCC found the average 2015 body labor rate was $47.31; paint labor, $47.22; frame labor, $54.21; mechanical, $80.48. Mitchell, which provides labor rate data for a few key states, earlier this month reported the average Texas (Service King's home state) year-to-date body rate was $45.74.
Without it formally being called a DRP (Allstate reportedly started the first official one, also in the 1970s), Lennox had created one, based on the paper's account:
Within four years, Lennox had four shops and kept nurturing his burgeoning links to insurance companies.
"That was where the business was, not in competitively bidding against other shops," he said.
In 1980, Lennox started giving out loaners, and insurers "began informally referring customers to Service King because of the convenience," the newspaper wrote.
"That was probably the most pivotal point for me to really promote and grow my business to the insurance industry," Lennox said in a Service King blog post. "Starting that loaner program and making it work was crucial because nobody had rental endorsement on their policy – so if you had an accident you were without your car."
The combination of prioritizing customers and insurers worked out so well, Service King now is 40 years old and has a private equity bankroll and 299 locations, according to the company.
"Eddie's passion for building a model business that puts customers first still drives our team today," Service King President Jeff McFadden — who's been with the company for nearly 30 of those 40 years — said in a statement May 5. "It's our duty to carry out The Service King Way as we continue to evolve into the collision repair operator of choice. That commitment to excellence will ensure our proud heritage of integrity, community and family lives on for years to come."


More information:
"From tiny Dallas body shop to 299 locations, Service King's made an impact in 40 years"
Dallas Morning News, April 16, 2016
Service King, May 6, 2016
"Service King Celebrates 40th Anniversary"
Service King, May 5, 2016
Boyd Group first-quarter 2016 earnings call
Boyd, May 13, 2016
Boyd first-quarter financial report
Boyd, May 12, 2016
Boyd first-quarter investor presentation, 2016
Boyd, May 24, 2016
Boyd first-quarter investor presentation, 2015
Boyd, June 16, 2015
"What I discovered when I read Boyd's 2015 Income Statement"
Supplement!, April 11, 2016
Share This: