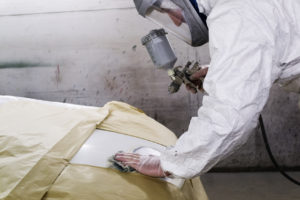 Though it's sadly by no means a sure thing, a nationwide survey of shops revealed most major insurers lean towards paying collision repairers for several common refinishing procedures.
Unfortunately, the odds of getting paid consistently still aren't on shops' side for the majority of the 26 repainting procedures surveyed by Collision Advice and CRASH Network. Results were released May 17, and unlike other "Who Pays for What?" studies, the data is available for free to all shops. (Get it here.)
The researchers surveyed 872 shops on whether they asked to be reimbursed for the various paint work and, if so, whether specific insurers paid for it "none of the time," "some of the time," "most of the time" or always," scoring those four options with a 0, 1, 2 or 3, respectively.
As has been the case with past iterations of this study on frame/mechanical and aluminum work, the study finds many auto body shops not asking to be paid for the work.
"It is clear from the results of these surveys that whether or not a repair facility is reimbursed for a particular item depends, to a certain degree, on whether or not the shop negotiates for it," the survey states. "Though this can vary by insurance company, DRP status, or region of the country, it is clear that while none of the procedures in this survey are universally paid by insurers, none are universally rejected by insurers either. There are many examples of repair procedures in this survey series where nearly 3 out of 4 shops report getting paid most, if not all, of the time for a certain procedure, yet another 20 percent of shops said they never even attempted to charge for it." (Emphasis survey's.)
These omissions didn't seem to stem from a weary belief the insurer would just balk anyway — though the data indicates some items could provoke a battle — or a DRP concession.
Rather, the shop just never thought to request to be paid for their labor in the first place or believed — erroneously — that the work was included already. (As Database Enhancement Gateway tips frequently indicate, many elements of body and paint work are "not included." Shop estimators should probably pore over the most recent versions of all three IPs' estimating guides to learn those distinctions like a religious leader scrutinizing a holy work.)
"I suspect that many shops are doing most, if not all, of the procedures contained in this survey, yet many are not being compensated for doing them," Anderson wrote in a letter introducing the results. "Out of curiosity, we asked shops on this latest survey, if they said they 'never asked' to be compensated for a procedure, why they have never asked. Only 2.4 percent said it was because they don't perform that operation, while a whopping 82 percent said they were just not aware that the item was 'not-included,' or they never even thought to ask."
Considering shops in the study reported a median refinish rate of $50 an hour (In a range spanning $26-$115!), and a materials hourly median rate of $34 (in a range of $18-$58), not asking might mean some serious money on the table.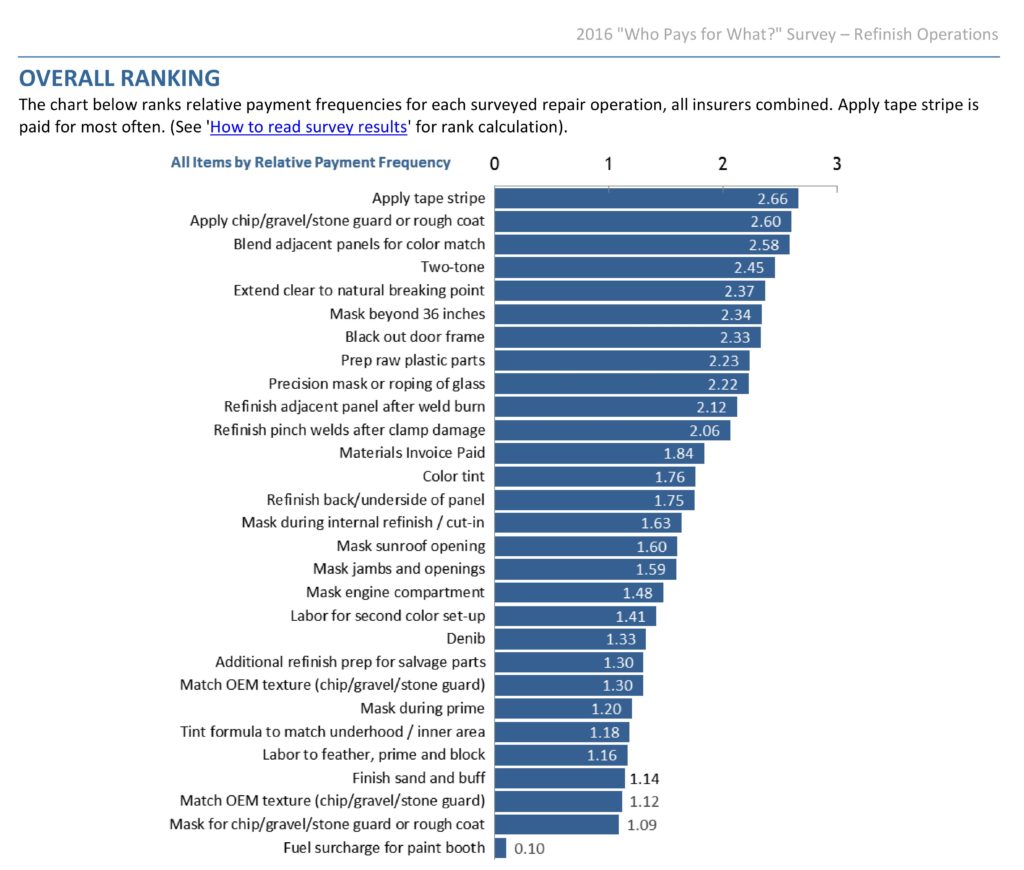 Three procedures were scored with more than a 2.5, more than halfway between insurers paying it "most of the time" and "always": Applying tape; applying rough coat or chip, gravel or stone guard; and blending adjacent panels.
However, 10 procedures fell below a 1.5 ranking, which indicate insurers were more likely to pay only "some of the time" rather "most of the time." Still, while shops might face more battles over the item, the data implies it's not so much of a nonstarter that a shop shouldn't consider asking.
For example, we'll look at masking the engine compartment, which scored a 1.48. About 46 percent of shops which ask for the procedure were paid "always" or "most of the time," — a 11.9 percent increase.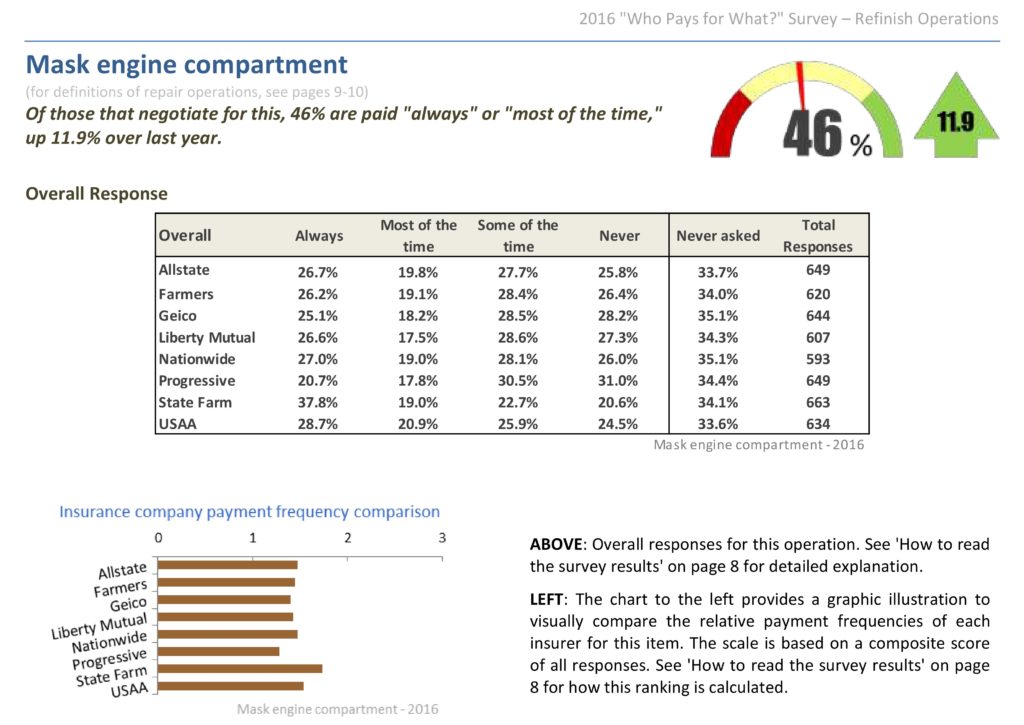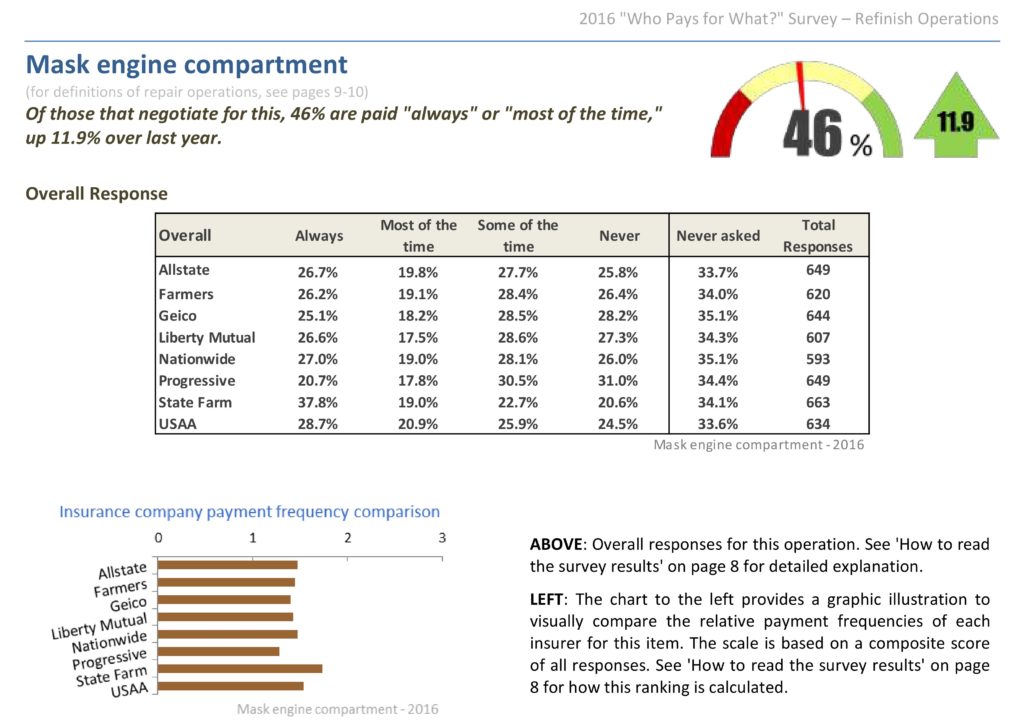 Even the stingiest insurer, Progressive, pays it "always" 20.7 percent of the time, which means you have a better than 1 in 5 chance of getting paid if you ask. State Farm by far is the most likely to pay for the work, paying it all the time for 37.8 percent of shops which ask — 9 percentage points above No. 2 USAA.
Only one procedure fell below a 1, indicating insurers had begun to near "never" in terms of paying for the procedure. In fact, it was virtually certain insurers wouldn't pay for a paint booth fuel surcharge, which scored 0.1.
"Nearly every insurer is more likely to pay their DRP shops for these procedures than they are non-DRP shops," the study reported.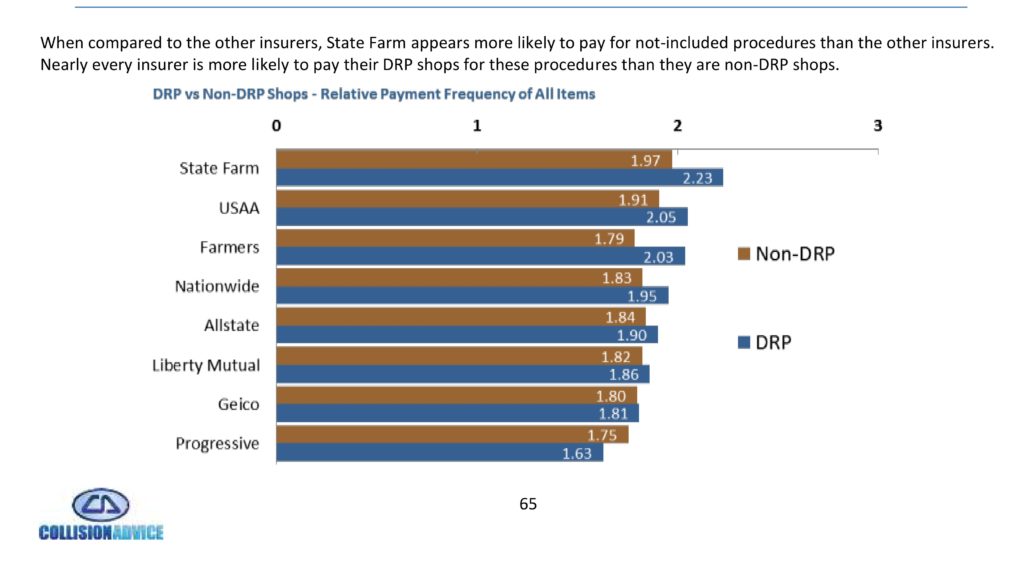 The message: Know your "not-includeds" — and start asking for some of them.
"Shop estimators and staff should review this report to identify which of the items or procedures the shop is performing," the survey advises. "Then consider which if any of those items the shop wants to include on estimates and invoices when appropriate, perhaps starting with those most frequently being paid by insurers …
"Next, prepare your staff to negotiate for these items, perhaps choosing two or three to focus on each quarter. Gather together the negotiation tools you can use to show: that the item or procedure is necessary; that it is not included; and, what it is worth if there is not a pre-determined formula in the estimating system you are using."
Typically, the survey results are free to participating shops only; everyone else must pay for the full report. However, despite the 872 partial or full responses received, Collision Advice and CRASH Network want more of the industry to participate. (Sign up here.) Hence the freebie this time.
"The survey results are always free to the shops who participate, but I'm making the refinish-related 'Who Pays' survey results available for free to all shops because I believe when more shops see the kind of information the surveys offer, they will participate in our future surveys," Anderson said in a statement.
More information:
"Who Pays for What?" survey page
CRASH Network
"Results of refinish-related "Who Pays for What?" survey available online for free"
Collision Advice-CRASH Network, May 17, 2016
Images:
A nationwide survey of shops revealed most major insurers lean towards paying collision repairers for several common refinishing procedures. (Mypurgatoryyears/istock)
Three procedures were scored with more than a 2.5, more than halfway between insurers paying it "most of the time" and "always": applying tape; applying rough coat or chip, gravel or stone guard; and blending adjacent panels. (Provided by Collision Advice-CRASH Network)
About 46 percent of shops which ask for payment on masking the engine compartment were paid "always" or "most of the time," — a 11.9 percent increase. (Provided by Collision Advice-CRASH Network)
State Farm was the most likely to pay shops for the work they actually did — particularly if it's a direct repair program shop. Progressive was the stingiest — and the only one of the eight major insurers to pay DRP shops less consistently than non-DRP shops, a 2016 survey found. (Provided by Collision Advice-CRASH Network)
Share This: