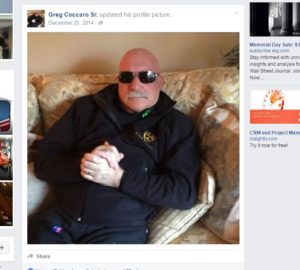 Greg Coccaro Sr., the former owner of an upstate New York auto body shop whose legal battle with Progressive caught the attention of shops nationally, has died after a battle with cancer. He was 66.
Coccaro was born June 5, 1949, and was one of the founders of North State Custom in Bedford Hills, N.Y., in 1970. The shop announced his death on Facebook on Tuesday.
"The Automotive Industry has lost a great Friend, Mentor, and (ally). Gregory Coccaro Sr. was a beloved father, grandfather, husband and friend who did what he could to help others. His courage, inspiration, and dedication has forever changed the Collision Industry. You will be dearly missed. RIP Gregory Coccaro. You will forever be in our Hearts!" North State Custom posted.
Wakes will be held Thursday from 2-4 p.m. and at 7-9 p.m. at Cargain Funeral Home in Mahopac, N.Y. (website). The funeral will be held 11 a.m. Friday at Ferncliff Crematory Chapel in Hartsdale, N.Y. (website).
He is survived by his wife, Marlene, and children.
Condolences had already been pouring in on Coccaro's personal Facebook page.
"On behalf of the New York State Auto Collision Technicians Association our hearts and prayers go out to the family of Greg Coccaro Sr.," Nick Orso Body Shop owner Mike Orso wrote.
"No words can sum what this man has meant to our industry. Every person he called a friend knew what a rock star he was.
"Today we lost one of a kind."
Lou DiLisio, who as the owner of DiLisio Auto Body competed with North State Custom from 1978-94, praised the shop and Coccaro's "high-level integrity" and "high-quality work."
"You didn't mind competing against someone that operated the way they did," said DiLisio, today the president of Automotive Industry Consulting.
DiLisio also recalled the shop — which today is certified by Mercedes, BMW and Tesla — as state-of-the-art, one of the first to implement advances like a spray booth.
"That shop was mammoth compared to what we all had," DiLisio said.
As for the Progressive legal battle, DiLisio called Coccaro "one of the few in the industry" willing to fight "for what he felt was the right thing to do."
Ron Reichen, owner of Precision Body & Paint in Oregon, called Coccaro a "great friend" and colleague which would be missed.
"Greg was a 'Warrior'  for the Collision Industry and fought tirelessly for what was right! He never compromised to meet the status quo," Reichen said in a statement.
GlassBYTES reported that Progressive had unsuccessfully sued Coccaro after paying him for work on a woman's Mercedes. The case was thrown out in 2008, and a jury ruled in favor of Coccaro on an appeal in 2010, glassBYTES reported.
"In dollars it's one thing, but what it's cost this company and my time, you couldn't even put a dollar amount on [that]," Coccaro told glassBYTES. "It's devastating. They tried to put us out of business, but guess what—it didn't work."
The case's ramifications stretched across the entire collision repair industry, attorney Erica Eversman wrote in a lengthy 2011 analysis in Body Shop Business. If you didn't know Coccaro or weren't aware of the case, read it.
"When the jury returned a verdict in favor of North State Custom and Greg Coccaro, finding they had not committed fraud, the entire collision industry benefited enormously," she wrote in the magazine. "Why? Because a jury told the insurance industry that it was not fraudulent for a collision repairer to repair a vehicle according to his professional judgment – without regard to the insurer's estimate – and accept payment for those repairs. In other words, the jury found that an insurer's estimate is irrelevant for the purpose of determining how a vehicle will be repaired."
Society of Collision Repair Specialists Executive Director Aaron Schulenburg, whose organization recognized Coccaro in 2011, also praised the man's legacy to the industry on Tuesday.
"Like everyone that knew Greg, I'm heartbroken to know that he isn't there to chat any longer; but I am happy to know he is in a better place," Schulenburg said in a statement. "I feel privileged that I had the honor to develop a very important friendship with Greg and I am going to miss our conversations immensely. He was full of passion to make this industry a better place, and the knowledge of how it worked and what needed to change to get there. But what made Greg special was (his) nature. He was kind, genuine, honest and a loyal friend. He cared deeply for people, for his family, for the industry, for his beliefs and he placed a high value on integrity. My life is better because of knowing him, and this industry is better because of the example he set."
Ed Kizenberger, executive director of the Long Island Auto Body Repairmen's Assocation, recalled sitting alongside Coccaro for days during the court proceedings and being impressed by the latter's strength at a "proverbial David and Goliath" situation.
"Here's a guy who stood by his principles in the face of great adversity … never once too did he waver," Kizenberger said.
In this "standing tall," Coccaro represented the collision repair profession, according to Kizenberger, who said his friend generally "strove to move this industry forward in spite of itself."
Kizenberger said Coccaro showed the same strength with his illness.
"He did not complain," Kizenberger said.
As a shop owner, Coccaro "was the original O.G. body guy," Kizenberger said. He said he would ask Coccaro if he needed an honest perspective on an issue.
"I knew he would never play down an important issue or change his opinion based on what he thought someone else would want to hear," Kizenberger said.
Janet Chaney, owner of Cave Creek Business Development, said Coccaro "walked the walk."
"He was an industry hero," she said. "He did what a lot of people talked about doing, and he did it."
More information:
"An Analysis of Progressive Insurance vs. North State Custom"
Erica Eversman in Body Shop Business, June 7, 2011
"Progressive Suit Against Body Shop Owner Dismissed; Anti-Steering Case Continues"
glassBYTES, Aug. 7, 2008
"Coccaro Details Repair Job that Led to Progressive Suit"
glassBYTES, Jan. 23, 2009
"Body Shop Owner Greg Coccaro Prevails in Progressive Appeal of Fraud Suit"
glassBYTES, Dec. 20, 2010
The late Greg Coccaro Sr. is seen in this 2012 image from the North State Custom Facebook page shared by Mike Orso on Coccaro's page. (Screenshot from Greg Coccaro Sr.'s Facebook page on www.facebook.com)
Share This: