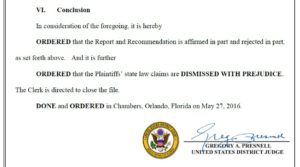 Disregarding recommendations to let three shops' "steering" allegations survive a motion to dismiss, a federal judge has dismissed and ordered closed a Mississippi collision repairers' lawsuit against insurers.
Though the ruling involved questions of Mississippi state law, Middle District of Florida Judge Gregory Presnell's order Friday could have national implications if if indicates Presnell's sentiment on all the related litigation before him.
Capitol Body Shop et al v. State Farm et al was the first case of the 20-odd cases nationwide in which Magistrate Judge Thomas Smith, asked by Presnell to make recommendations on those lawsuits' state law claims, had ruled should partly be allowed to continue at all. Granted, Smith only supported retaining a tiny portion of the lawsuit, advising the rest to be dismissed with prejudice (i.e. killed off for good) but still:
Like Presnell, Smith has generally "ruled" against collision repairers in the cases from numerous states consolidated before the Middle District of Florida. But with Capitol, Smith finally saw merit in one element of the shops' arguments, and followed this with a similar position in Tennessee's Brewer Body Shop et al v. State Farm et al and recommending allowing Lousiana shops to revise some tortious interference allegations in in Parker Auto Body et al v. State Farm et al and Southern Collision v. State Farm et al.
Jackson, Miss.-based attorney John Arthur Eaves Jr., who represents the shops in Capitol as well as the collision repairers in most of the other lawsuits, had hailed Smith's February recommendations as enabling "the biggest part of the case" to proceed.
"The steering has always been the big hammer," he said then.
Unfortunately, Presnell disagreed with Smith on the four instances involving three shops and tossed them along with the rest of the case. If that represents his sentiment for the multi-state litigation — i.e., he's just "over it" and has made up his mind — it could kill whatever momentum had been building with Smith's recommendations.
"To state a claim for tortious interference, the Plaintiffs must allege that the acts were done with malice – that is, with the unlawful purpose of causing damage and loss," Presnell wrote Friday.
Presnell ruled that given the malice requirement of Mississippi law, simply steering customers away from a shop to save an insurer money was technically acceptable. You had to prove malice.
"There are no allegations that these Plaintiffs had complained about the payment ceilings set by the Defendants, so punishment could not have been the driving force behind the steering," Presnell wrote. "And the Plaintiffs allege that it was a 'foregone conclusion' that the Defendant would pay the same amount for the repair at their shops or any competing shop … so compliance with maximum price ceilings could not have been an issue, either."
He ignored Smith's finding that two factors supported the idea the steering was malicious:
Based on the idea that the insurers allegedly knew they wouldn't pay more than a fixed amount anyway, the steering must have been done for another reason — such as malice — than financial gain, Smith noted.
The insurers had allegedly made false claims about the shops in question, Smith wrote.
In fact, Presnell doesn't seem to address either of Smith's points at all, which seems like an absurd omission. If anything, it only buttresses shops' arguments that the court fails to acknowledge points in support of repairers' position within court filings.
The only hope for the shops' claims lies with an appeal to the Eleventh Circuit. However, the shops in Florida's A&E Auto Body et al v. 21st Century et al haven't appealed their case since Presnell dismissed it with prejudice last year — a point insurers have raised in briefs regarding at least one other appeal. (Eaves has said he'd appeal A&E too.)
Though the Capitol case was filed first, Presnell ruled first on A&E, and his findings against the Florida shops have informed many of his and Smith's subsequent decisions.
We'll try to reach out to Eaves Law Firm today for comment. Continue to check Repairer Driven News for updates.
Share This: