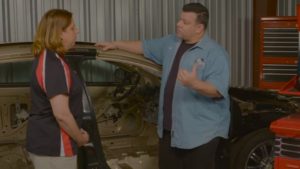 Collision Hub has revealed the results of its post-repair inspection of a 2013 Volkswagen Golf, and as suspected in March's Part 1, the inspector didn't leave empty-handed.
We're not going to spoil it, aside to say it's indeed bad — but it's great television.
It's a fascinating process to watch P&L Consultants' Larry Montanez and Collision Hub's Kristen Felder discuss the results of Montanez's autopsy on the automobile in both segments.
In Part 1, we learn that the customer was pretty happy with the vehicle, but agreed to let Montenez — who at that point was not told the details of the repair to avoid bias — take a look at the exterior.
That led to enough red flags that the customer assented to a partial tear-down to look for more.
Ignorance might have been bliss. One hears post-repair inspectors accused of nitpicking, but that certainly doesn't appear to be the case here, based on Montanez and Felder's conclusions.
Both segments of "Repair University" ought to provide insurers, collision repairers and even customers some good insight into collision repair quality control.
"If people just took pride in their work and took the time — Instead about worrying about cycle time and numbers and just worried about fixing the car the right way and checking in each department, you probably would never get into this situation here," Montenez says.
Montenaz notes that as a direct repair program shop facing a first-party claim, the problems should be corrected quickly (and this would probably be the case with a third-party claim) — and the shop's going to hear from the insurer at the manager level. (And it's not a pleasant conversation.) With a non-DRP shop, that process can take far, far longer.
Of course, demands that direct repair program and non-direct repair program shops lower cycle time; repair, not replace; and otherwise control cost might incentivize exactly the kind of questionable or flat-out wrong judgement calls apparently made here on the Golf. It's sort of a chicken and egg problem: Is it really better for a customer to get it fixed the second time faster or, as DRP critics charge, done right in the first place?
More information:
"Repair University: Conducting Post Repair Inspections For Insurance and Repair Shop Owners"
Collision Hub YouTube channel, March 31, 2016
"Repair University: Part II Post Repair Inspections For Insurance and Repair Shop Owners"
Collision Hub YouTube channel, May 12, 2016
Featured image: P&L Consultants' Larry Montanez and Collision Hub's Kristen Felder discuss Montanez's post-repair inspection on a 2013 Volkswagen Golf. (Screenshot from Collision Hub video on YouTube)
Share This: