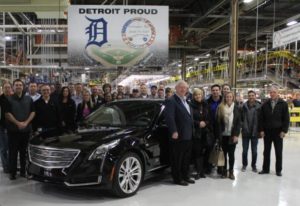 One of the most interesting elements of the lightweighting techniques used by General Motors and gobbled up recently by media at a recent event involves what reports described as the capacity to weld aluminum to steel.
"The aluminum-to-steel spot-welding system makes use of a uniquely designed welding tip patented by GM," WardsAuto wrote May 19. "However, the tip fits with conventional tooling, so there is no need for specialized welding equipment. GM is expected to make the process available to other automakers interested in licensing the technology."
Automotive News columnist Richard Truett observed that going mixed-materials with techniques like that allowed the automaker to build lightweight cars without spending $1 billion to retool plants for the aluminum F-150.
The CT6 is already in production and on sale, but GM plans to roll out the new process later this year to seatbacks and eventually the hood, according to the SAE publication Automotive Engineering. Not surprisingly, SAE's article provides the best technical description of how all this works:
A specially-designed ridged electrode for the welding-gun tip is a key component of the system, said Blair Carlson, lightweight material processing lab group manager at GM Research & Development.
The advanced electrode (on the welder) helps to alleviate the physical-properties issues that to now have stymied steel-to-aluminum welding, including the 900º C delta in melting points between the two materials, formation of oxides on the aluminum component that compromise weld integrity and the tendency for a "glassy" layer to form between the two disparate materials, causing brittleness of the weld.
Carlson said cycle time before the welding-gun tip requires dressing currently is about 20 welds. The goal is to move the cycle into the hundreds …
Automotive Engineering reports that GM would like to weld the steel pedestrian-impact reinforcement to an aluminum inner and cut "scores of rivets"; in fact, the magazine says the company would love to someday eliminate steel-aluminum rivets altogether.
Though GM thinks it can crack steel-aluminum welding on a volume-production basis, the technique won't be coming to shops. Cadillac said last summer collision repairers will barely weld any aluminum — just two parts of the front frame rail via aluminum MIG welding — on the CT6 body. Other joining methods will be required instead, and Cadillac said at NACE 2015 it'd provide aftermarket directions for every aluminum weld on the luxury car.
"This is factory-level stuff," Cadillac product communications manager David Caldwell told Repairer Driven News in late May.
A CT6 might be too low-volume to garner serious aftermarket interest, but if GM uses a similar hood design and its steel-aluminum welding technique on more mass-market vehicles, it could be another part which can't be copied by generic manufacturers.
Of course, there's no reason why an insurer or repairer should replace a hood designed for pedestrian safety with a knockoff version anyway; besides the ethics of the move, it by definition wouldn't be like kind and quality.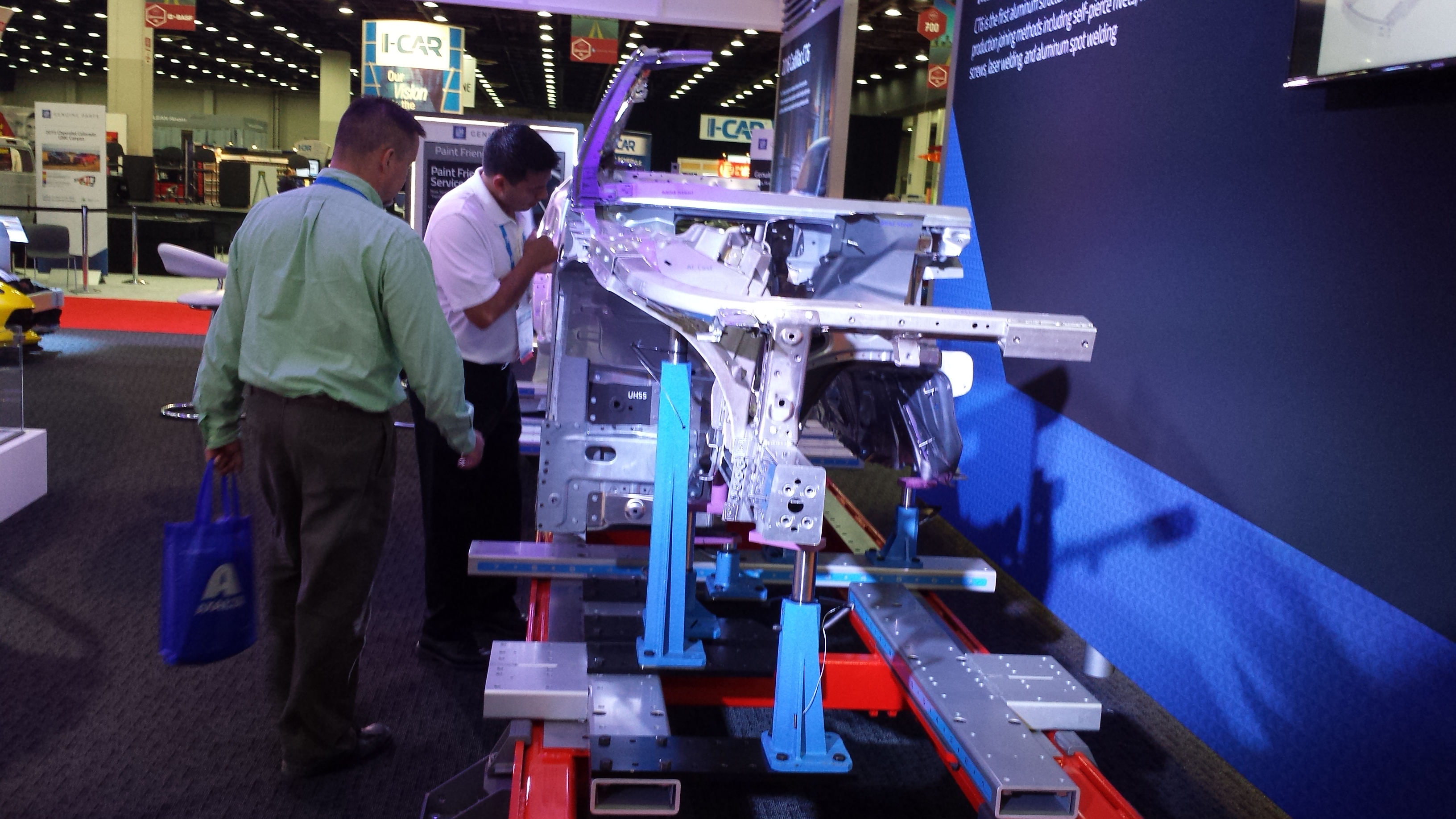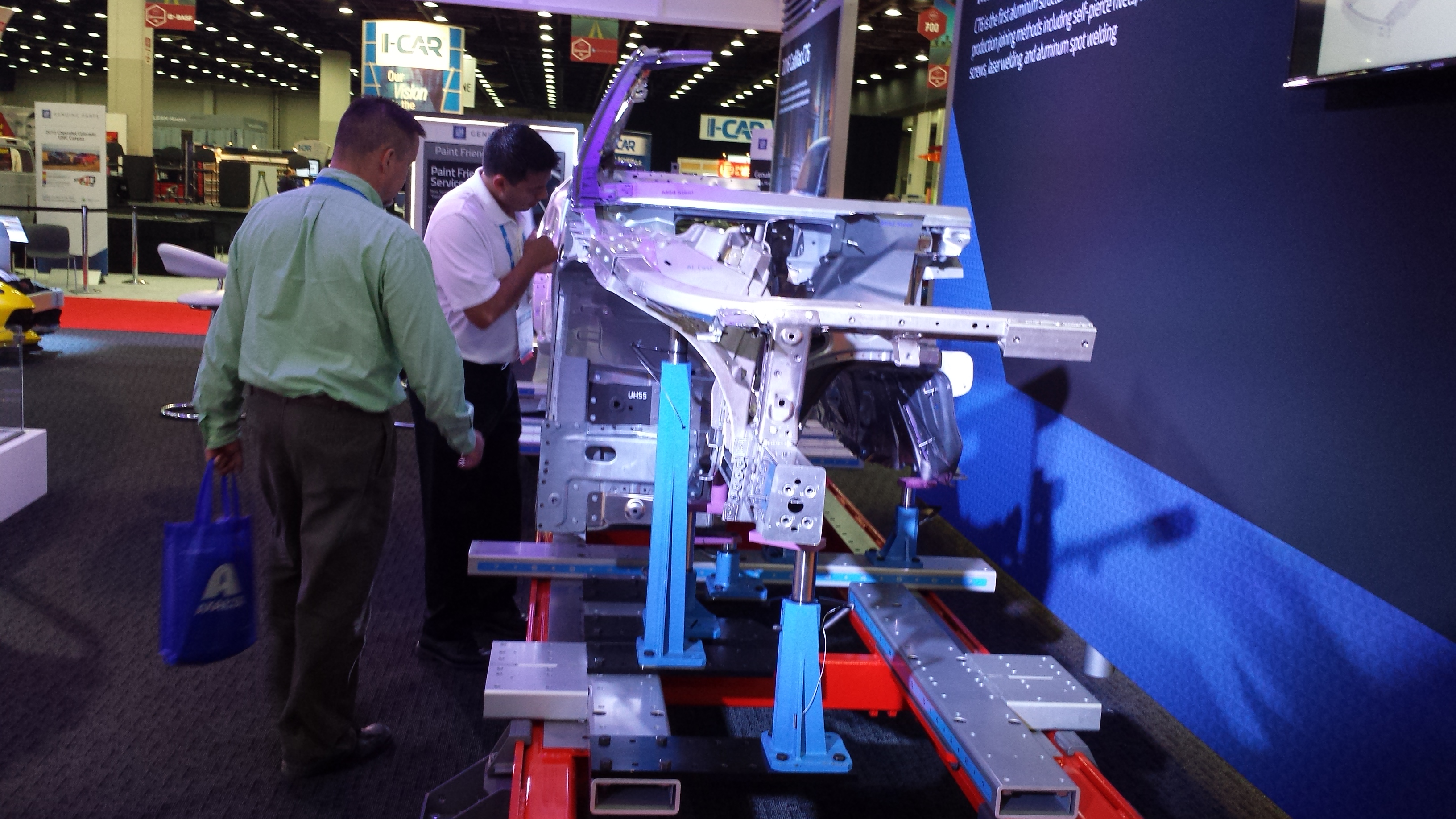 More information:
"GM prepping industry-first steel-to-aluminum welding process"
SAE Automotive Engineering, May 19, 2016
"GM lightweighting strategy starts to bear fruit"
Richard Truett in Automotive News, May 24, 2016
"Aluminum-Steel Welding Next Step in GM's Lightweighting Initiative"
WardsAuto, May 19, 2016
Images:
David Flynn, seen Feb. 19, 2016, paid $200,000 at a charity auction for the first Cadillac CT6, which was made at the Detroit-Hamtramck Assembly plant four days before. (Provided by General Motors/Copyright General Motors)
The Cadillac CT6 mixed-materials body-in-white at NACE in July 2015. (John Huetter/Repairer Driven News)
Share This: