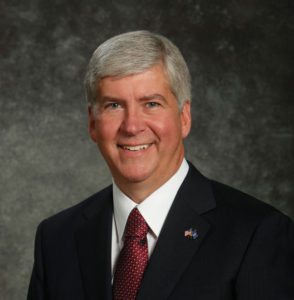 Devoting nearly all of his veto message to his fear of crippling Michigan's uncertified aftermarket collision parts industry, Republican Gov. Rick Snyder on Thursday shot down the controversial auto repair industry bill H.B. 4344.
In fact, he seemed to find little else wrong with the sweeping 18-page measure but a single section:
Sec. 7g. If a motor vehicle repair facility that is subject to this act replaces a major component part described in section 2a(a)(iii) to (xiv) during the term of the vehicle manufacturer's original warranty, or during the first 5 years of the vehicle manufacturer's original warranty, whichever is less, the motor vehicle repair facility shall replace the major component part, and a person that is an owner or operator of the motor vehicle repair facility shall ensure that the major component part is replaced, with 1 of the following:
(a) A new original equipment manufacturer part.
(b) A used or recycled original equipment manufacturer part.
(c) A part that meets any applicable federal motor vehicle safety standards established under 49 CFR 571, and meets the standards for parts recognized as OEM comparable quality as verified by the Certified Automotive Parts Association, NSF International, or another nationally recognized automotive parts testing agency.
(d) A part that does not meet subdivision (a), (b), or (c), if the facility is directed by the owner of the motor vehicle in writing to install that part.
"HB 4344 amends the Michigan Motor Vehicle Service and Repair Act (the "Act") to make a number of updates modernizing the Act that I support," Snyder wrote. "However, it also includes revisions relating to the use of certain aftermarket parts used for automotive repairs. As Michigan continues its comeback and continues to be a leader in promoting new technology in the automotive industry, it is imperative that we ensure all components of that industry can remain strong, including Michigan's robust aftermarket parts industry. I am concerned about HB 4344's effect on market competition for replacement parts on motor vehicles."
Snyder describes the call for any newer, warrantied vehicle to receive either new OEM; recycled; or NSF- or CAPA-certified parts for a maximum of five years, but concludes that's not enough options for a customer — even one the state would want to protect.
On its face, this policy seems to be intended to protect consumers and ensure vehicles are safely repaired. That is a laudable goal. The Insurance Institute for Highway Safety indicates that some structural parts, such as bumpers, do impact a consumer's safety. However, the Institute also points out that some parts, such as fenders, grilles, door skins, bumper covers, etc. are primarily cosmetic and "are irrelevant to crash safety." This bill doesn't sufficiently delineate between the two types of parts, thereby limiting the use of safe, high quality aftermarket parts designed specifically for particular vehicles.
Snyder apparently disregarded the rest of the IIHS article he quotes:
"For things like fenders, grilles, and bumper covers, the issues are mainly cosmetic — fit, finish, and wear," the IIHS wrote in a 2010 Status report. "These parts don't affect vehicle strength in a collision and are irrelevant to crash safety, as the Institute demonstrated in crash tests as long ago as 1987."
So customers with newer cars — even ones built in Michigan — don't deserve a part matching "fit, finish, and wear?" (And for a perspective on the kind of quality being seen on Michigan, check out this excellent Q&A between Automotive Service Association-Michigan Executive Director Ray Fisher and Autobody News.)
Plus, has Snyder looked at his own state's auto industry since 2010? (Or, in the IIHS' weird logic, since the apparently equivalent automotive year 1987.)
A guy from GM is calling a quarter panel "structural." A car's driver assistance technology can be affected by a generic grille — which, for all you PARTS Act advocates, is probably one of the most design patent-worthy "cosmetic" item on a vehicle these days. A certified aftermarket part can be decertified. Body panels and hoods are seeking to preserve or enhance dentworthiness while cutting weight. You can't look at a steel or aluminum part and tell if it's the same grade or not.
Snyder worried that uncertified parts would have no way to compete, and the provision to put the measure in writing directing the choice would turn off customers to the components. (LKQ has raised the same concern, though more logically, by suggesting a repairer would badmouth the parts.)
In fact, the waiver may stigmatize certain aftermarket parts. What is a customer to think when a mechanic requires a signed waiver in order to install a part-even one directly out of a box from a large reputable Michigan manufacturer? Requiring a signed waiver for these parts is akin to requiring pharmacists to obtain a waiver from patients to provide generic prescription drugs in lieu of more expensive name-brand medication.
Generic prescription drugs must be chemically equivalent. No such requirement exists for aftermarket parts — in fact, Snyder just vetoed the two groups that test equivalency. (Whether the tests are robust enough is debatable.) No federal agency really tracks their quality as is done with the FDA and medication.
As for the waiver issue, by Snyder's logic, aftermarket parts are competitively priced and the same anyway. So if the insurer — the party actually demanding the parts, not the policyholder — says they'll only pay for an uncertified aftermarket and the customer must go-out-of-pocket for the rest, wouldn't they pick aftermarket? If not, then that's just the competition Synder says is so important.
Aftermarket competition has certainly caused OEM parts prices to drop. Though it's important to note the competition is for insurers, not customers, who want to minimize parts claims cost. Customers don't even sometimes realize non-OEM parts are being installed under the terms of their policies. There's also the argument from OEMs that competition between automakers on cost of repair (and consequently to insure) would keep them from jacking up parts prices too greatly.
This brings up Snyder's citation of the usual boogeyman of rising insurance rates, which in Michigan do typically skew among the highest in the nation.
Finally, I am concerned that this provision of HB 4344 may negatively affect auto insurance prices in Michigan-prices that are already too high. Requiring OEM parts when a perfectly suitable and safe aftermarket part is available at a lower price will result in higher costs to insurers; higher costs which will be passed on to consumers in the form of increased premiums, deductibles, or both. Those increased costs would be directly attributable to artificially limiting competition by requiring OEM parts when less expensive aftermarket parts are available.
The elevated rates are often for reasons irrelevant to parts — Detroit has a lot of crime, and Michigan has a no-fault insurance law that only in one case (hitting a parked car) applies to collisions. Snyder's argument gets sillier, since going purely OEM would have added around $19-$24 to the average premium based on PCIAA numbers. (And remember, certified aftermarket would have still been allowed.)
House Bill 4344 had serious semantic flaws — including some which would have been grounds for a veto. There's also a question of if the aftermarket language would have spread to the mechanical parts market, though the sponsor intended it for collision components, according to the Detroit Free Press. (Fisher, who supported the bill,  told Autobody News the ASA never sought to ban aftermarket mechanical/service parts.)
The Auto Care Association, which spans both collision and mechanical service/repair stakeholders, hailed the veto.
"We had a tremendous effort from the industry to communicate directly with the governor's office and I have to thank everyone who took the time to personally write the governor," ACA President and CEO Bill Hanvey said in a statement Thursday. "We worked hard to sit down with the stakeholders early on in this process, but those efforts did not produce the compromise we were seeking, and we are very grateful that Governor Snyder had the astute ability to get to the heart of the matter and send this bill back to the legislature."
But Snyder's seemingly collision-focused answer is not exactly the kind of wonkily brilliant logic we're supposed to be getting from Gov. "One Tough Nerd," and it's not a great sign for Michigan collision repairers or OEMs raising aftermarket part quality issues.
More information:
"Gov. Rick Snyder vetoes bill that would limit use of aftermarket parts for vehicle repairs"
Michigan Governor's Office, June 16, 2016
Michgian Governor's Office, June 16, 2016
"Snyder vetoes bill limiting use of aftermarket parts"
Detroit Free Press, June 16, 2016
Share This: