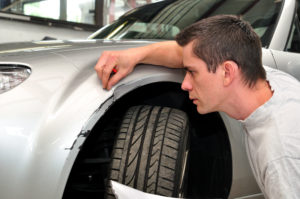 A Dutch app developer has combined the Openbay and PDA models to allow body shops to bid on minor, out-of-pocket damage using photos submitted by owners.
Fixico — available only in the Netherlands, according to a TechCrunch Thursday feature, but likely an inevitability for the U.S. — places the concept of desk review in the hands of a collision repairer.
A customer uploads the data and obtains between three and maximum of four within 24 hours, according to our Chrome browser's translation of Fixico's Dutch-language website. Reviews of the shops are included to help customers make an informed decision.
"Why just 4?" Fixico states, according to our Chrome translation of its website. "We think you have enough bids to make a good choice without being overloaded by several options, and you can not see the forest for the trees. The maximum of 14 days order placed by you shall remain open for refinishers to bid on."
Fixico's website says shops bid for specific work. The repairer who discovers something more severe wouldn't have to eat that as well; they'd seek a supplement from the customer.
The company takes a one-time fee and a cut of the transactions, according to TechCrunch.  Unlike Openbay, Fixico doesn't serve as the financial clearinghouse, TechCrunch reported: Customers pay the collision repairer directly, and Fixico charges the shops later.
"The bids you receive are fixed. The refinisher has given a description of the tender for which he will carry out specifically to complete your repair," Fixico's website states, according to our translation. "The unlikely event that he comes across something that is not in the description, they always get in touch with you to discuss."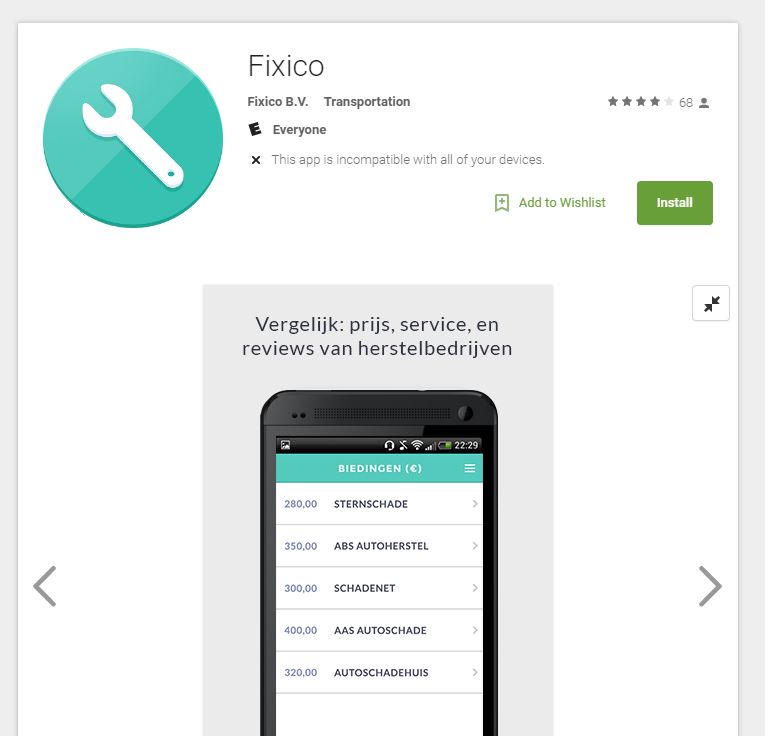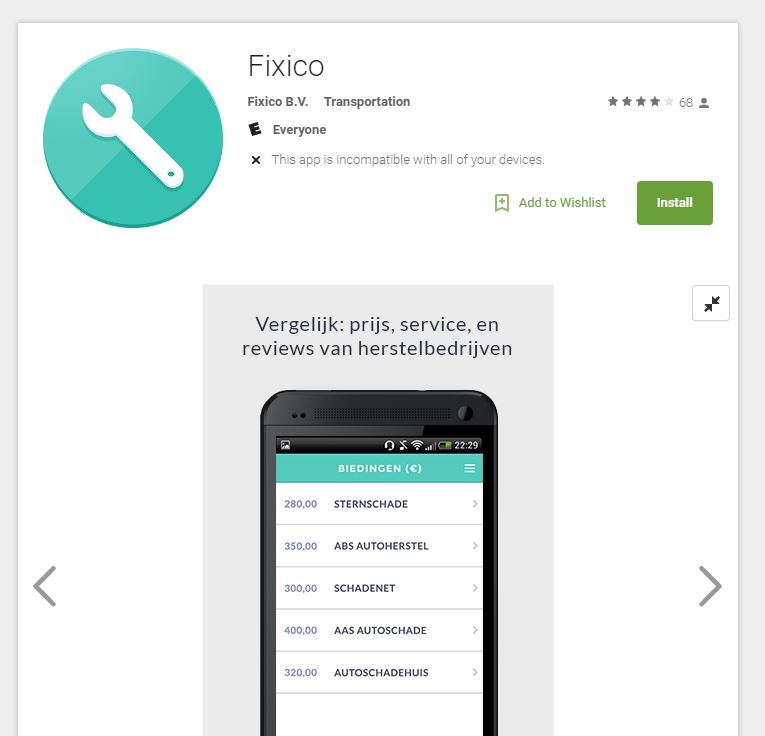 According to Fixico, there's about a 30 percent variance in bids submitted to a customer, which ought to say a little something about the true range of "market rates" in a free, out-of-pocket market.
The company has more than 400 shops, and it only works with collision repairers certified by the Dutch mechanical and collision trade group FOCWA. All of its partners guarantee their work for four years.
Collision repairers have challenged photo-only estimating as insufficient and prone to miss damage caused by crash energy flow management. However, Fixicio describes cosmetic damage  — the kind of thing that wouldn't be covered by a 500-euro ($564) deductible — like hail, dings, bumper covers (which it notes now need replacement), etc. It also notes it can provide four quotes for an actual fender-bender.
We contacted Maaco for more perspective on what cosmetic damage is and isn't visible to the naked eye. A spokeswoman said she'd have more details next week but the company is in the initial stages of testing the concept.
Fixico told TechCrunch that the eye is actually pretty good at assessing the kind of minor damage it's discussing:
Fixico says its human-eye powered review process is "very fast" — taking one of its damage experts "ten seconds or less" to check each image. So it claims one of its reviewers could "easily" moderate 200 to 300 requests per day.
That said, it says it is also looking to implement photo recognition software, via a partner, to further speed things up as it seeks to expand into new markets.
It could also, in future, use the large database of damage images amassed to train AI software to help with the review task down the line, it adds.
Fixico also has a program for fleets, in which they can seek bids and input criteria like whether they want aftermarket parts, etc.
According to TechCrunch, it also plans to court insurers, which could lead to a "race to the bottom" depending on what shop choice and quote reviewing rights Dutch policyholders have. Fixico also plans to expand to other markets, possibly Germany, TechCrunch reported.
More information:
"Fixico lets motorists snap photos to get quotes for cosmetic car repairs"
TechCrunch, June 16, 2016
Images:
The Dutch company Fixico allows shops to bid on minor cosmetic damage. (loraks/iStock)
A screenshot from the Fixico app offering on the Android Play store. (Screenshot of play.google.com)
Share This: