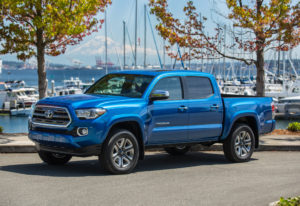 Joining the ranks of OEMs offering 1,480 MPa steel comes Toyota, which built part of the cab of the 2016 Toyota Tacoma out of the metal.
Toyota had used 980 MPa ultra-high-strength steel — which Toyota says cannot be repaired, so don't try — in prior Toyota vehicles, but it's now joined rival Honda into introducing 1,500 MPa-level steel into the Tacoma's A- and B-pillars to protect occupants.
"This is a first for Toyota in truck and first for Toyota in North America," Tundra Chief Engineer Mike Sweers said in a statement.
Toyota's Collision Repair & Refinish Team reported that 1,480 MPa steel will also appear in the 2016 Prius, which appears to have reached dealerships. You'll probably see both vehicles
In the Tacoma, the gigapascal-grade steel can be found in a roof crossmember, the A-pillar, B-pillar and a little bit of the roof rail. But repairers should note that most of the rest of the body cage is 590 MPa or 980 MPa — neither of which can be sectioned, according to CRIB Bulletin 175.
In fact, Toyota only wants you to section the 440 MPa high-strength steel at certain designated areas, according to CRIB 175.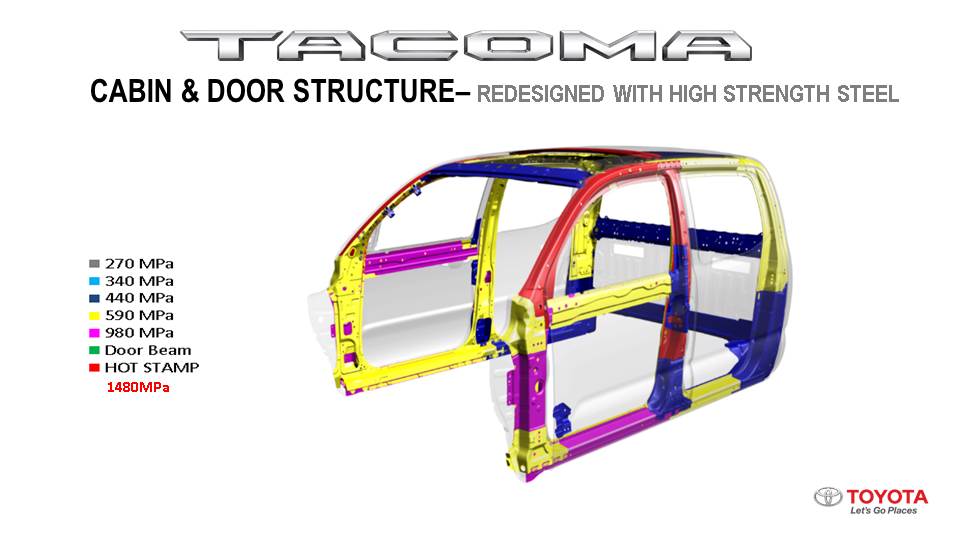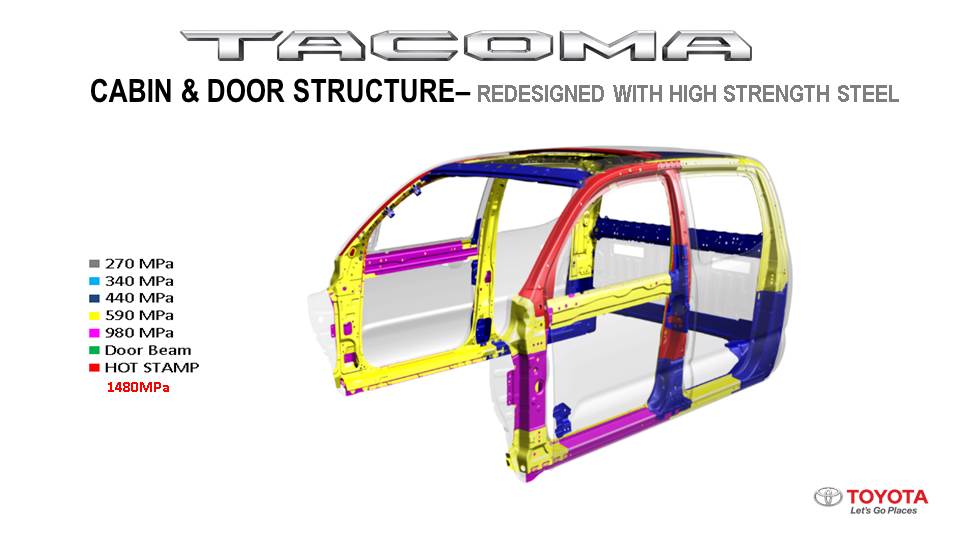 And you cannot repair any of these grades, according to Toyota. You can't heat- or cold-straighten them either. (440 MPa is still high-strength steel, and its characteristics can be compromised by hot or cold repair.)
"Because occupant safety is such a high priority, HSS and UHSS occupant cabin reinforcement repair is not recommended," Toyota wrote in CRIB 175.
" … This recommendation is based on a reduction in reinforcement strength and crash energy management revealed during research and testing conducted by Toyota Motor Corporation. Repaired and/or improperly sectioned reinforcements failed to exhibit the strength and performance ratings of genuine new original equipment service parts installed to specification. Therefore damaged occupant cabin reinforcements must be replaced.
"When reinforcements must be replaced always follow welding specifications and adhere to documented model-specific cut and join locations and procedures." (Emphasis added.)
Hopefully, this isn't a surprise to anybody; CRIB 175 has existed since December 2009, more than half a decade. (For the techs, management, estimators and parts personnel who didn't know it, get repair procedures here on Toyota TIS and CRIB sheets here.)
Toyota's CRRT Team reiterates the warning in a post which was also recently featured Wednesday on Automotive Body Repair News.
"The strength of the cabin reinforcements has tripled when compared to previous models. As you can imagine, the use of UHSS also requires special attention to repair and welding methods," the team wrote. "When UHSS structural properties are lessened by deformation from a collision or improper sectioning and welding, the UHSS can no longer perform as it was designed, which could affect occupant safety in a subsequent collision. …
"Once a reinforcement is deformed by an impact the integrity of the steel is compromised and would be made worse if it were to be straightened by any repair method. This is why damaged HSS and UHSS occupant cabin reinforcements must be replaced with only Genuine New OE Service Parts. Gone are the days of reducing repair cost by repairing instead of replacing components that contribute to occupant safety.
"Now more than ever, all stakeholders involved in making vehicle repair decisions need to be aware of OE repair requirements and specifications."
Other standard collision repair-related items of note include driver and passenger knee airbags and roll-sensing side airbags on top of the usual frontal ones. There's also special headrests in the front seats which "move up and forward almost instantly in the event of certain rear-end collisions to help reduce the distance between the occupant's head and the headrest."
More information:
"Working with Toyota's High Strength Steel and Ultra High Strength Steel"
Collision Repair & Refinish Training Team
Toyota CRRT site
"The All-New 2016 Toyota Tacoma Mid-Size Pickup is Ready to Rock on … and Off-Road"
Toyota, Aug. 17, 2015
Images:
The 2016 Toyota Tacoma, which had the first 1,480-megapascal steel in North America for a Toyota. (Provided by Toyota)
Joining the ranks of OEMs offering 1,480 MPa steel comes Toyota, which built part of the cab of the 2016 Toyota Tacoma out of the metal. (Provided by Toyota)
Share This: