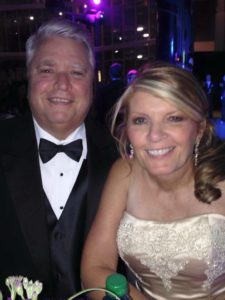 See Progress founder David Henderson, who built the collision repair tracking software AutoWatch from a product in his own shop to one that's tracked millions of vehicles, died suddenly at his home Monday. He was 62.
Henderson is survived by his longtime wife, Sharon; and children, Bryan, Daniel, Jason, Melissa; as well as siblings and grandchildren, according to an obituary on Coats Funeral Home's website.
The family will receive friends from 3-9 p.m. Friday at Coats Funeral Home in Clarkston, Mich. The funeral will be held 11 a.m. Saturday at Hope Community Church in Waterford, Mich., followed by burial in a private ceremony at White Chapel Cemetery in Troy, Mich.
In lieu of flowers, the family asks that donations go to Hope Community Church.
"His passions were many; water skiing, boating, remote airplanes, scuba diving, family reunions, youth ministries, and more, but first and foremost was God and family, as well as, making the dullest activity 'fun'," his obituary stated.
Hope Community also remembered Henderson, describing him on its website as an elder, calling for prayers for the family and quoting Romans 12:15.
"To say that he will be missed is an understatement," it wrote on its website. "… In the mean time, pray also that God makes us faithful in obedience to His words through Paul to the Romans: 'rejoice with those who rejoice, and weep with those who weep' and may the Gospel of Christ allow us to bear that tension and be vessels of His compassion for Dave's family. Make it so, in and through us, Lord. Amen."
Henderson, who also had served as See Progress' CEO, founded the company in 2000 and sold it to Solera in 2011. He formally retired last year, but was still on retainer as a consultant with Solera, Collision Hub CEO Kristen Felder wrote in an email.
Henderson also served as the first formal board member of her company as well as helped guide I-CAR, the Collision Industry Foundation, National Auto Body Council and Collision Industry Electronic Commerce Association.
"His pure love of the Collision Repair Industry made everyone immediately connect and admire him," Collision Hub posted on Facebook Wednesday. "… He believed in us and we are somewhat lost today without him."
"He loved this industry and never really got away from being a technician," Felder wrote in an email. "I think that's what made him so successful. Even though he ran and sold a software company, he still saw himself as that tech working in the bodyshop."
More information:
Coats Funeral Home
Featured image: AutoWatch founder David Henderson, left, and his wife, Sharon, are pictured here. (Provided by Kristen Felder)
Share This: