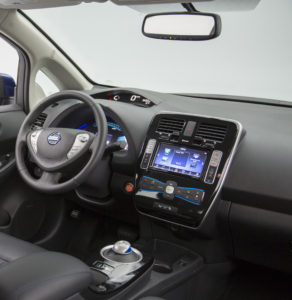 Collision repairers and auto glass technicians cannot reuse the rearview mirrors on four 2016 Nissan models, the OEM cautioned in a position statement.
Nissan didn't explain the reason for the change, which applies to the Leaf, Juke, Sentra and Quest.
"As of the 2016 Nissan model line-up, the LEAF, JUKE, Sentra, and Quest all have non-reusable rear view mirrors," Nissan wrote in one of more than a dozen position statements collected Monday. "Any windshield replacement on these vehicles also requires the rear view mirror to be replaced. For questions specifically related to inside mirrors, please refer to service manual section 'MIR'."
The restriction was part of a broader Nissan automotive glass position statement in which the automaker frowned on non-OEM glass but stopped short of the kind of outright ban it placed on reusing the mirrors.
However, it warned of the role glass played — including "structural rigidity" and "integration with advanced vehicle technology" and cautioned that it should be used only in "unavoidable" situations where the repairer has verified "it meets the same specifications and similar quality to the OEM windshield being replaced."
If you haven't verified this — and apparently, nobody can, based on glassBYTES' 2015 coverage of how the National Windshield Repair Association is trying to come up with a quality standard for aftermarket glass — then why risk it?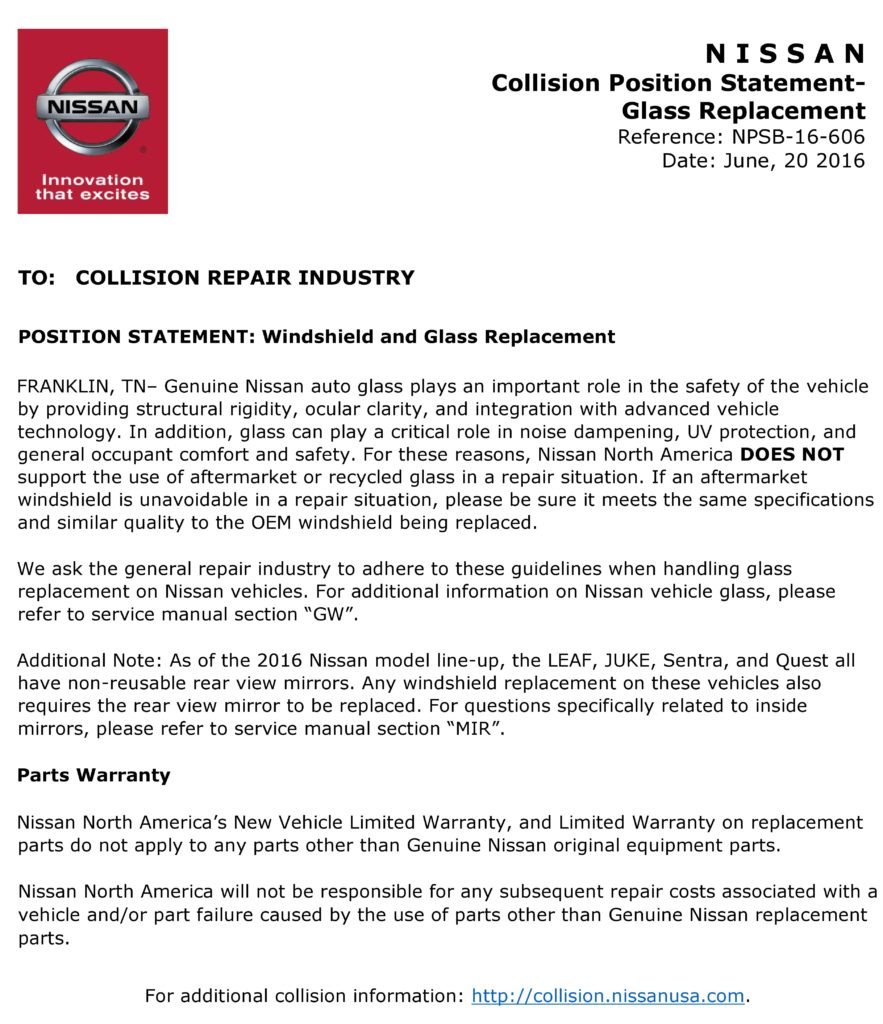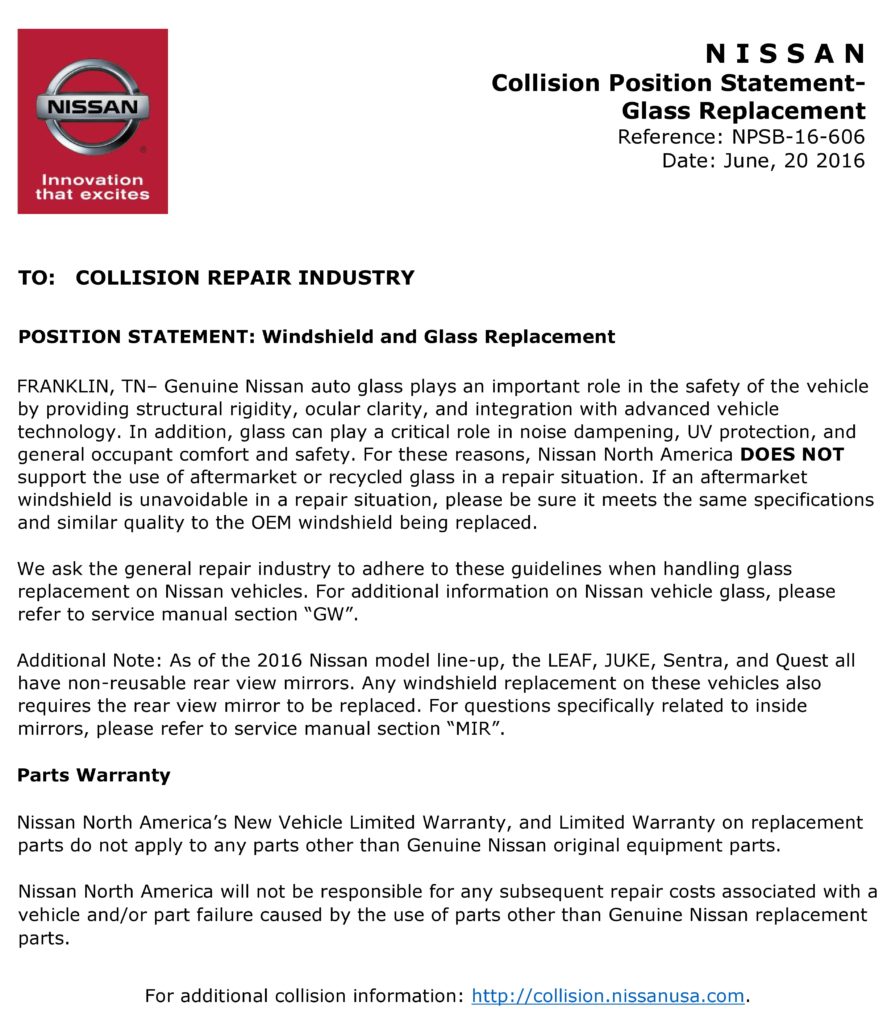 On the structural integrity point, auto glass reduces rollover damage — until it shatters, of course (see this SAFE abstract provided by Tulane, for example). The sooner it shatters from a bad installation or non-equivalent glass, the sooner you start risking greater roof crush. Technical guru Toby Chess discusses other safety considerations — such as passenger protection and airbag support — in this 2013 Autobody News column, and he also advised "due diligence" on whether or not aftermarket glass really checked FMVSS 216a and other standards regarding rollovers (see how to conduct the test per the feds here).
As for "advanced vehicle technology," that's not just a line the marketing guys thought up. Nissan has released lane departure warning/prevention systems dependent on a camera mounted behind the windshield. That's a safety issue if non-OEM glass affects that performance.
An example of what we're talking about can be seen in this video for the Infiniti Q50, also made by Nissan:
"Genuine Nissan auto glass plays an important role in the safety of the vehicle by providing structural rigidity, ocular clarity, and integration with advanced vehicle technology," Nissan wrote. "In addition, glass can play a critical role in noise dampening, UV protection, and general occupant comfort and safety. For these reasons, Nissan North America DOES NOT support the use of aftermarket or recycled glass in a repair situation. If an aftermarket windshield is unavoidable in a repair situation, please be sure it meets the same specifications and similar quality to the OEM windshield being replaced."
Bumper fascia and 'Safety Shield'
The OEM also in another position statement stressed the connection between safety technology and another part frequently substituted with an non-new-OEM one: a bumper fascia.
Sensors that help govern the Nissan "Safety Shield" — including the autobraking and forward collision warnings shown to have a huge safety impact — are located in the fascia. That's not something to fool around with, and for the insurance industry which really likes aftermarket fascias, consider this: Would you rather pay a) the price difference between new-OEM and non-new-OEM parts or b) a medical claim or life insurance benefit if the car gets in another collision?
"Many electronic sonar sensors in front and rear bumper fascia are considered to be part of this Nissan Safety Shield Technology," Nissan wrote. "These sensors are engineered to be in very exact positions within the bumper fascia, and if not properly installed, may not function as originally intended. For this reason, Nissan North America DOES NOT approve of the use of aftermarket, reconditioned, or recycled bumper fascia." (Emphasis Nissan's.)
Nissan even has an example of stupid part tricks:
"In some cases, non-OEM fascia come with no pre-drilled holes for the sensors, relying on the shop technician to cut the holes using a rough template," Nissan wrote. "This may lead to instances where the non-OEM bumper does not match the original Genuine Nissan bumper holes."
One can only hope that the technician didn't take the manufacturer up on that brilliant strategy, but based on some of the horror stories we've encountered, someone out there probably has.
Nissan also provides other plausible concerns:
"In some cases, build specifications are slightly different on aftermarket bumper fascia than on Genuine Nissan fascia, which may also cause issues with sensor alignment or performance," it also wrote.
"In addition, reconditioned fascia, which was once damaged, may also be out of specification to the original undamaged Nissan bumper fascia, which may cause sensor alignment issues. There is currently no industry standard process for knowing the history/quality of recycled bumper fascia, so this is also not recommended to be used on Nissan vehicles."
You can kind of get a sense of what Nissan's talking about through our friend the Infiniti Q50. Round holes in the front and rear bumper fascias of this 2016 model are used for parking assist sensors and blind spot monitoring, an Infiniti spokesman confirmed. (The small square panel, as many of you probably knew already, conceals an location to attach a tow hook.)
And, if you zoom in a bit, you can see cameras (a small grey circle and a larger grey square) on the front of the rear-view mirror. They're related not only to the lane departure warning/prevention technology demonstrated in the Infiniti video above, but also to the automatic high-beam system, according to Infiniti communications senior manager Kyle Bazemore.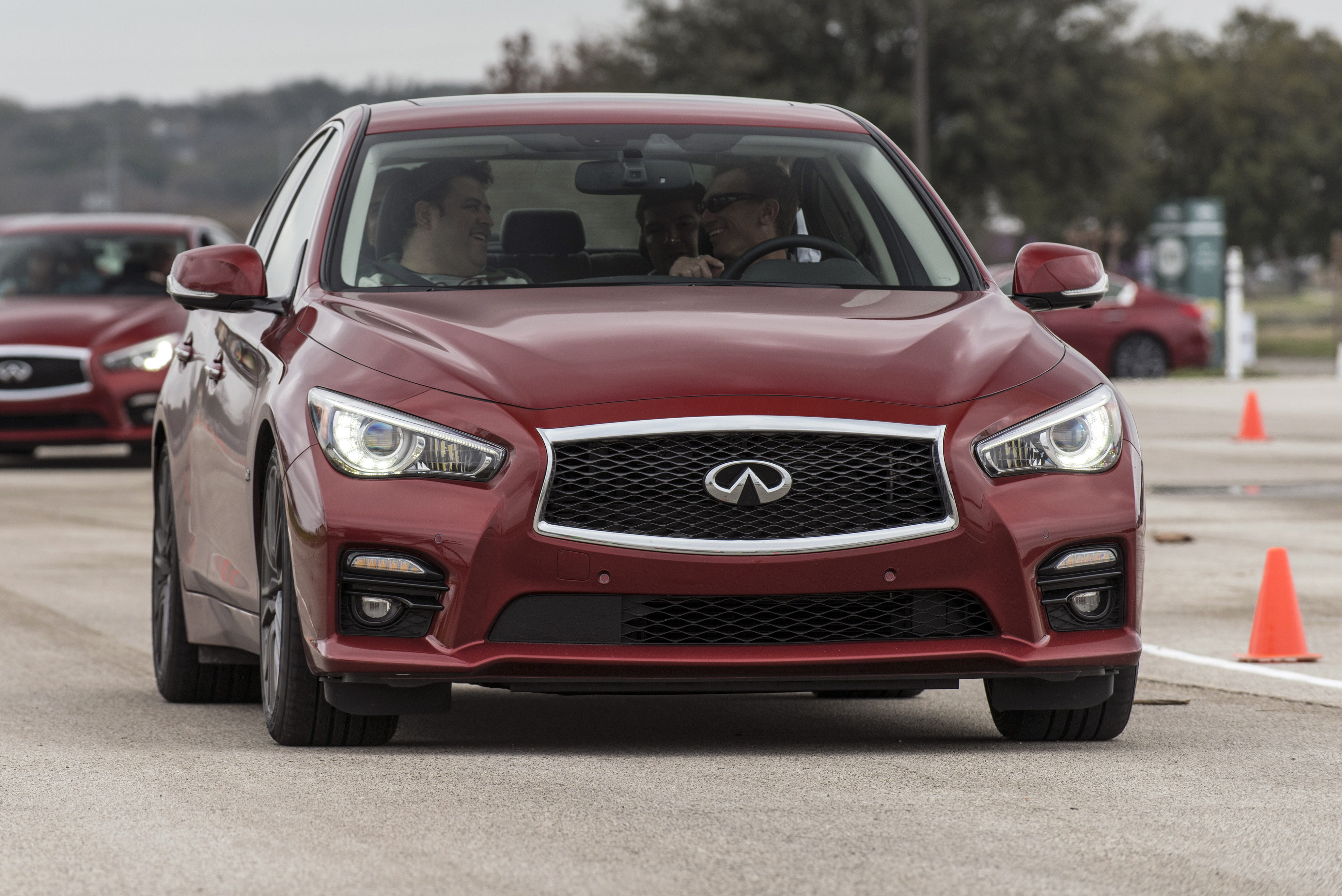 More information:
"POSITION STATEMENT: Windshield and Glass Replacement"
"POSITION STATEMENT: Bumper Fascia Replacement with Sonar"
Nissan, June 20, 2016
Images:
Nissan warns you cannot reuse a removed or damaged 2016 Nissan Leaf mirror. (Provided by Nissan)
Collision repairers and auto glass technicians cannot reuse the rear-view mirrors on four 2016 Nissan models, the OEM cautioned in a position statement.
Indications of safety technology on the 2016 Infiniti Q50 can be seen on the rear-view mirror and bumper fascia in this image. (Provided by Infiniti)
Share This: