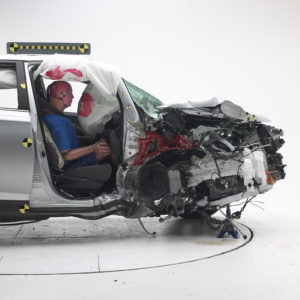 The Insurance Institute for Highway Safety, which shook up auto body design with its introduction of the driver-side small-overlap crash test, might do so again after research revealed some front passengers don't receive similar protection from such impacts.
The IIHS launched the driver-side test in 2012, and it hinted Thursday a passenger-side one might join its Safety Pick awards criteria as early as 2018.
That would likely mean changes to bodies-in-white, as some vehicles didn't even have symmetrical front structural configurations — giving more attention to the side currently being tested than the passenger-side previously ignored by the IIHS. For example, the 2015 Toyota RAV4, which scored a "good" on the drivers-side test but received a "poor" on the passenger side.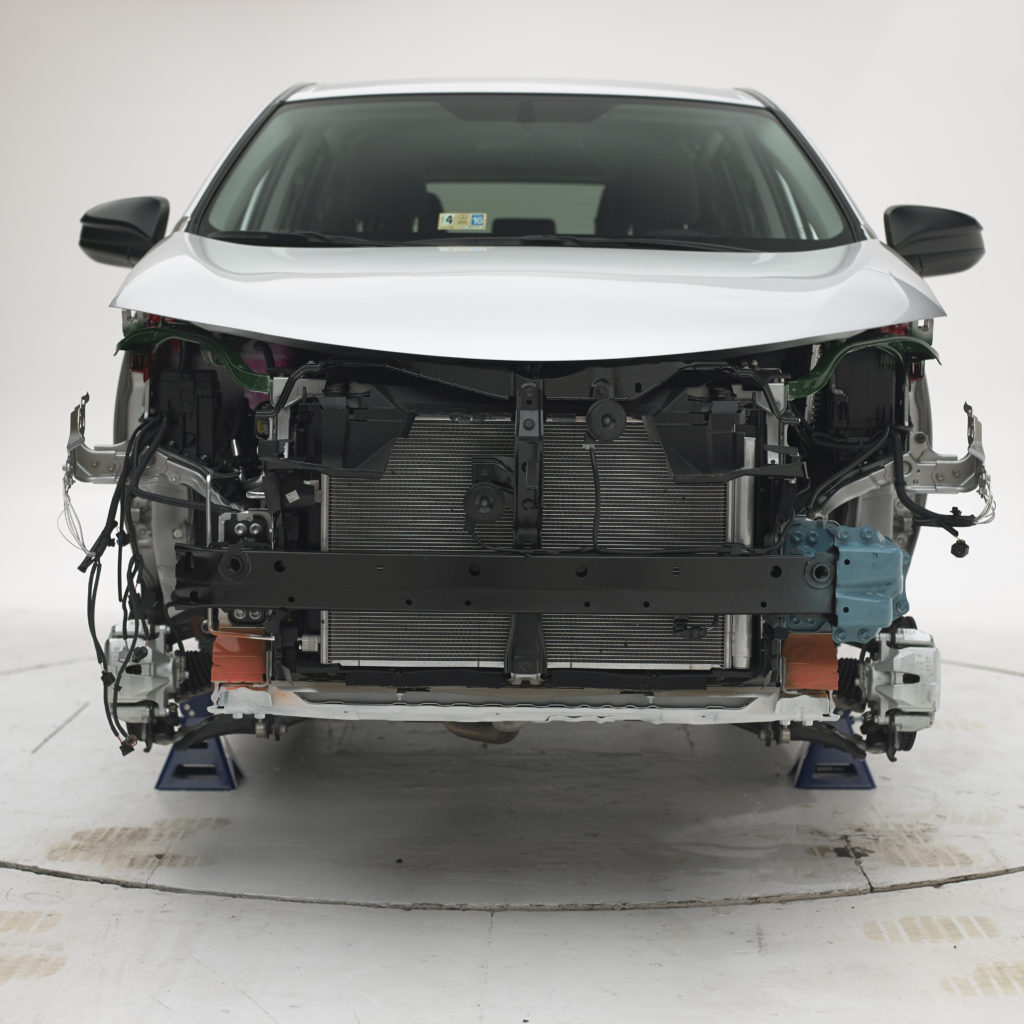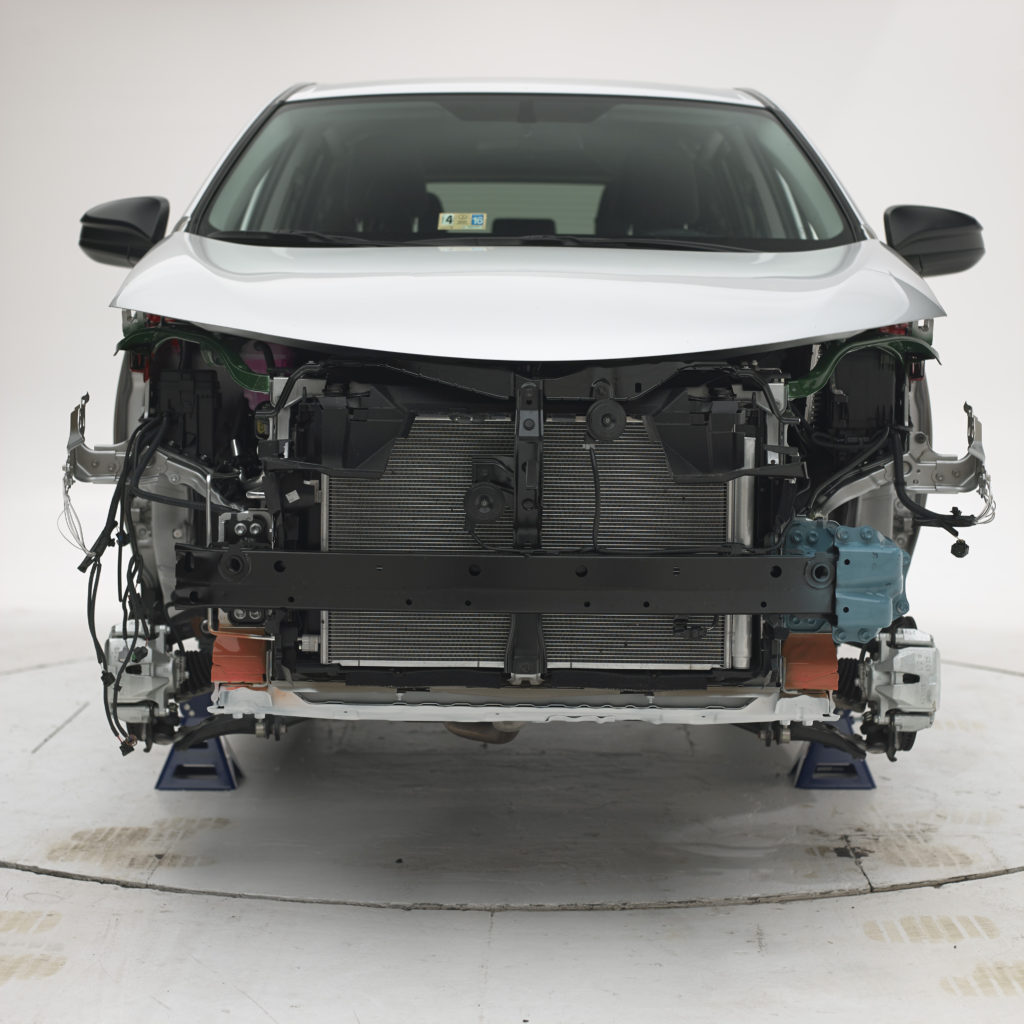 Of course, even some SUVs identical on both sides of the front structure somehow failed to achieve the same results, the IIHS noted in a Status Report posted Thursday.
"When structural improvements are visible only on the driver- side, there are large differences in performance," IIHS senior research engineer (and study lead author) Becky Mueller said in a statement. "But the inverse is not true. Some vehicle structures look the same on both sides, but they don't perform the same. That's why we can't rely on visual analysis but need to monitor this issue and possibly begin rating vehicles for passenger-side protection."
This included the 2014 Subaru Forester, which was "good" on the drivers side but "marginal" on the passenger side: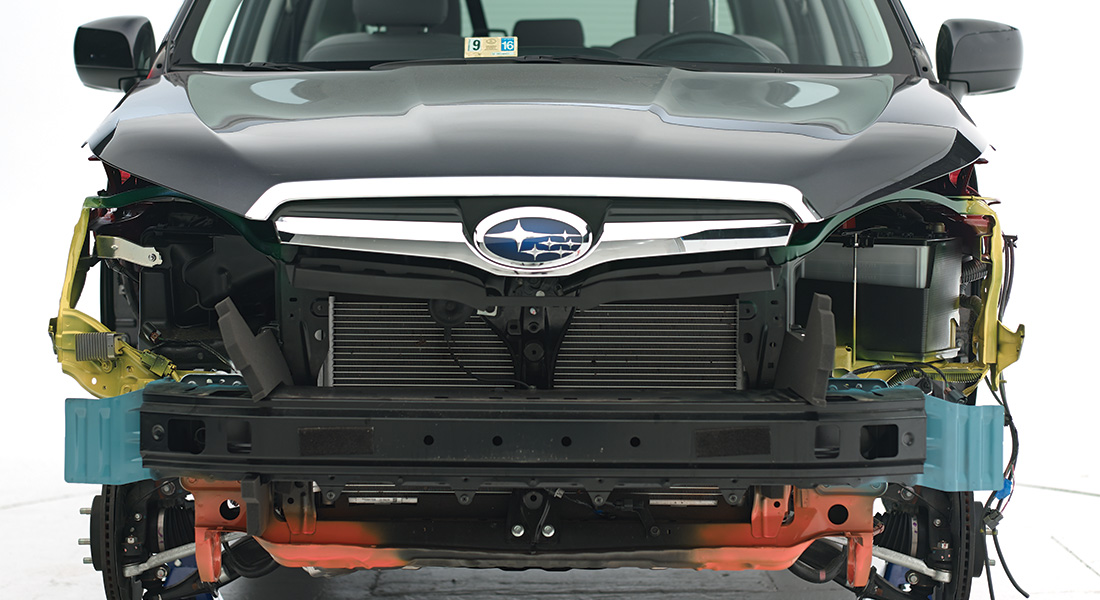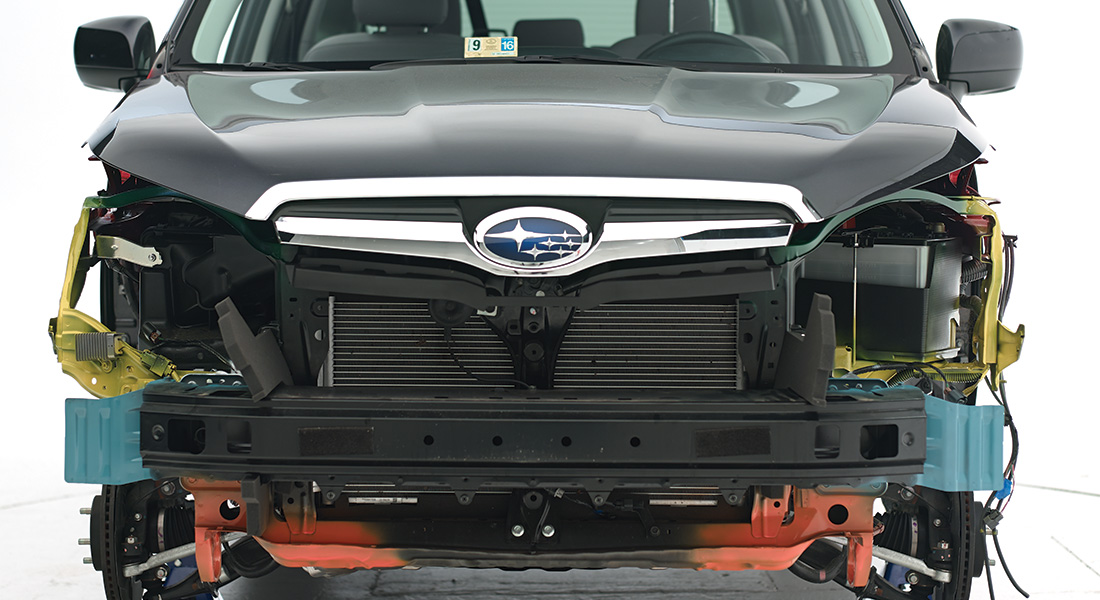 The IIHS suggested a couple of differences why an symmetrical vehicle wouldn't behave the same on both sides. One was normal test result variance; the other was that "vehicles are to a certain extent inherently asymmetrical."
"For example, structures to secure the steering wheel and pedals may provide additional bracing around the driver-side toepan, which prevents some intrusion," the IIHS continued. "That same toepan area on the passenger side without those structures is where the highest intrusion measures occurred on the passenger side of the CR-V and Tucson."
The 2016 Hyundai Tuscon still rated "good" — the IIHS' highest score — on both drivers- and passenger-side small-overlap tests. All the other SUVs tested had scored a "good" on the drivers-side, but posted "acceptable," "marginal" or "poor" results on the passenger side.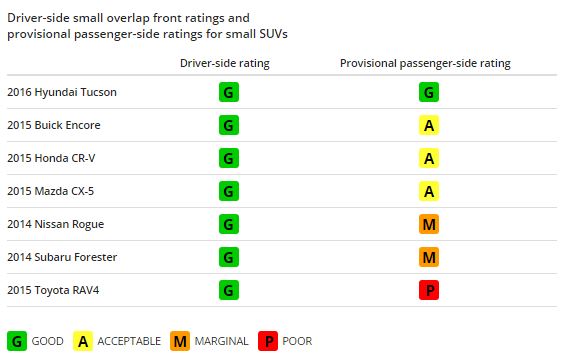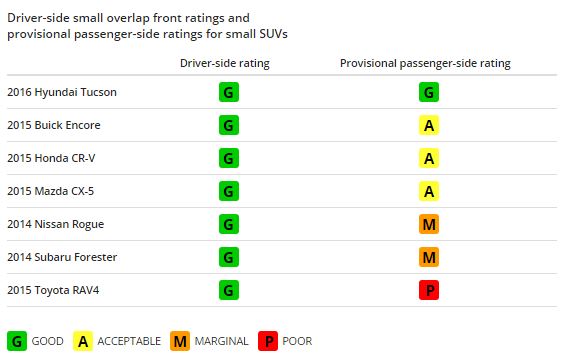 The IIHS acknowledged that it had incentivized and even encouraged such disparity — but only at first.
"It's not surprising that automakers would focus their initial efforts to improve small overlap protection on the side of the vehicle that we conduct the tests on," IIHS Executive Vice President and Chief Research Officer David Zuby said in a statement. "In fact, we encouraged them to do that in the short term if it meant they could quickly make driver-side improvements to more vehicles. As time goes by, though, we would hope they ensure similar levels of protection on both sides."
So what would dual small-overlap tests mean for collision repairers?
Well, it obviously would change structures on the passenger side, whether to mirror the driver's side design or to incorporate elements incorporating specific passenger-side considerations. (For example, greater reinforcement for the passenger floorpan, as suggested by the IIHS' example above.)
It also could help reinforce that some parts tagged for aftermarket replicas — radiator tie bars, for example — truly do contribute to structural integrity and crash performance. Take a look at all the elements the IIHS colored above.
Spokesman Russ Rader said it did so to highlight various items which appeared to have been reinforced or played some other role in small-overlap crash protection. (Just because something isn't colored doesn't mean it's not structural or have another purpose; for example, the IIHS has already discussed bumper beam-in-a-small-overlap test here.)
However, as noted earlier, even parts which appear to be mirror images of each other here might conceal subtle differences — raising another complication with such elements going aftermarket.
"Earlier research by Mueller into how manufacturers improve vehicle structure for small overlap protection showed that the most common change is to strengthen the occupant compartment (see 'How vehicles are changing for better small overlap protection,' Dec. 23, 2014)," the IIHS wrote Thursday. "To achieve this, manufacturers might use a different type of material or add a few millimeters of thickness — changes that can't be discerned from a visual examination. It's likely these types of modifications were made to the Forester and CX-5, but only on the driver side."
More information:
"SMALL OVERLAP GAP: Vehicles with good driver protection may leave passengers at risk"
Insurance Institute for Highway Safety Status Report, June 23, 2016
Images:
The 2015 Toyota RAV4 under IIHS criteria scored a "good" on the drivers-side test but received a "poor" on the passenger side. (Provided by Insurance Institute for Highway Safety)
The 2014 Subaru Forester under IIHS standards scored a "good" on the drivers side but "marginal" on the passenger side: (Provided by Insurance Institute for Highway Safety)
The 2016 Hyundai Tuscon still rated "good" — the IIHS' highest score — on both drivers- and passenger-side small-overlap tests. All the other SUVs tested had scored a "good" on the drivers-side, but posted "acceptable," "marginal" or "poor" results on the passenger side. (Provided by Insurance Institute for Highway Safety)
Share This: