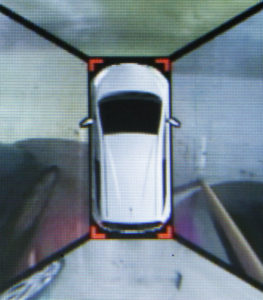 Collision repairs must calibrate certain Nissan technology if some common conditions are encountered, the OEM declared Monday — no exceptions.
The rules included "Safety Shield" radar sensors, the cameras and mounts tied to the "Around View Monitor," and any steering angle sensors tied to a Vehicle Dynamic Control system.  Nissan even stressed the "mandatory" nature of the work with bold text.
The "Around View" calibration requirement, by the way, involves anything Nissan classifies as a "camera mounting part," which can include common collision repair staples like a "front grille, door mirror, or others." (As usual, you're going to need to refer to repair procedures to figure out which parts, if any, on your particular Nissan vehicle are involved.)
Besides in situations in which the alignment changes, the steering angle reset requirement also applies to instances where anything tied to the suspension or steering is damaged or removed/installed, Nissan says.
Here's the relevant highlights, contained in an anthology of Nissan position statements released Monday.
'Safety Shield' calibration
"Many Nissan vehicles are now equipped with front radar sensors as part of Nissan's 'Safety Shield Technology'," Nissan wrote. "This radar is one of the main components that contribute to proper functioning of various vehicle features, such as Forward Emergency Braking (FEB), Predictive Forward Collision Warning (PFCW), and Intelligent Cruise Control (ICC).
"It is critical that these radar devices are properly recalibrated after any repair situation to the front of the vehicle that would cause the radar sensor to be shifted, removed, reinstalled, or jolted in the collision. Nissan North America has taken the position that the recalibration of radar devices in the described repair situations is mandatory, without exception. Failure to follow this recommendation could result in radar malfunction, or vehicle systems, including safety features not working as originally intended, thus posing a significant risk to vehicle occupants." (Emphasis Nissan's.)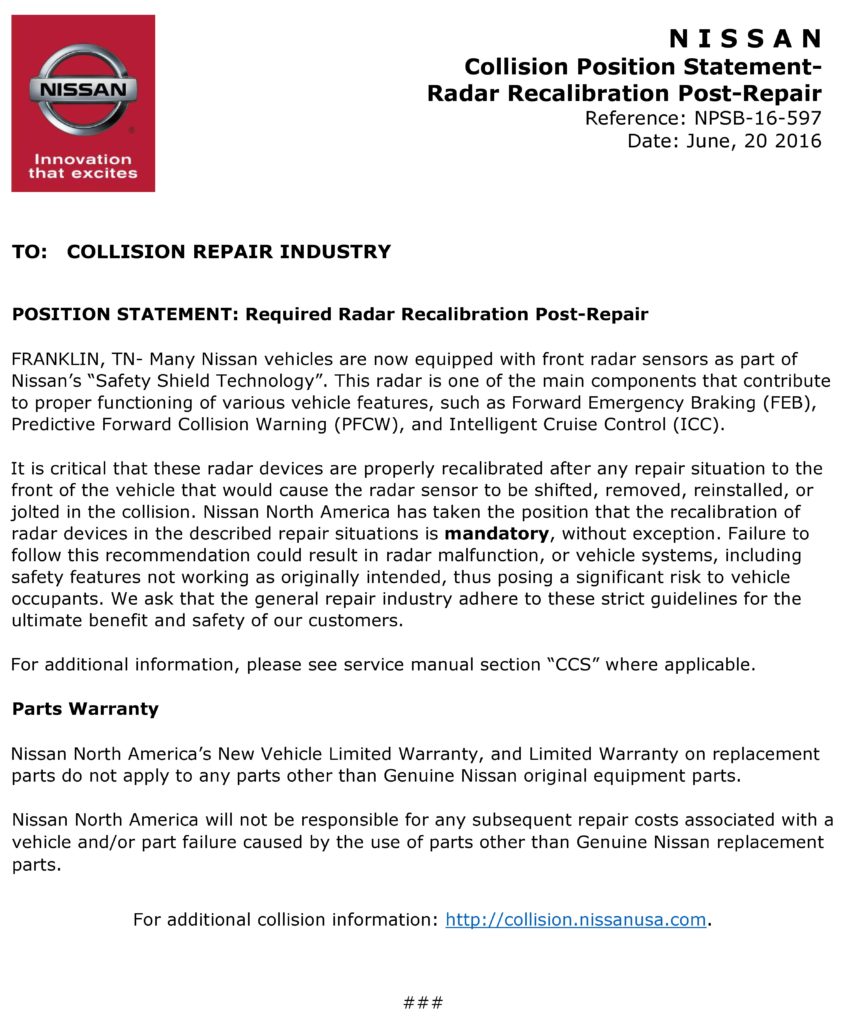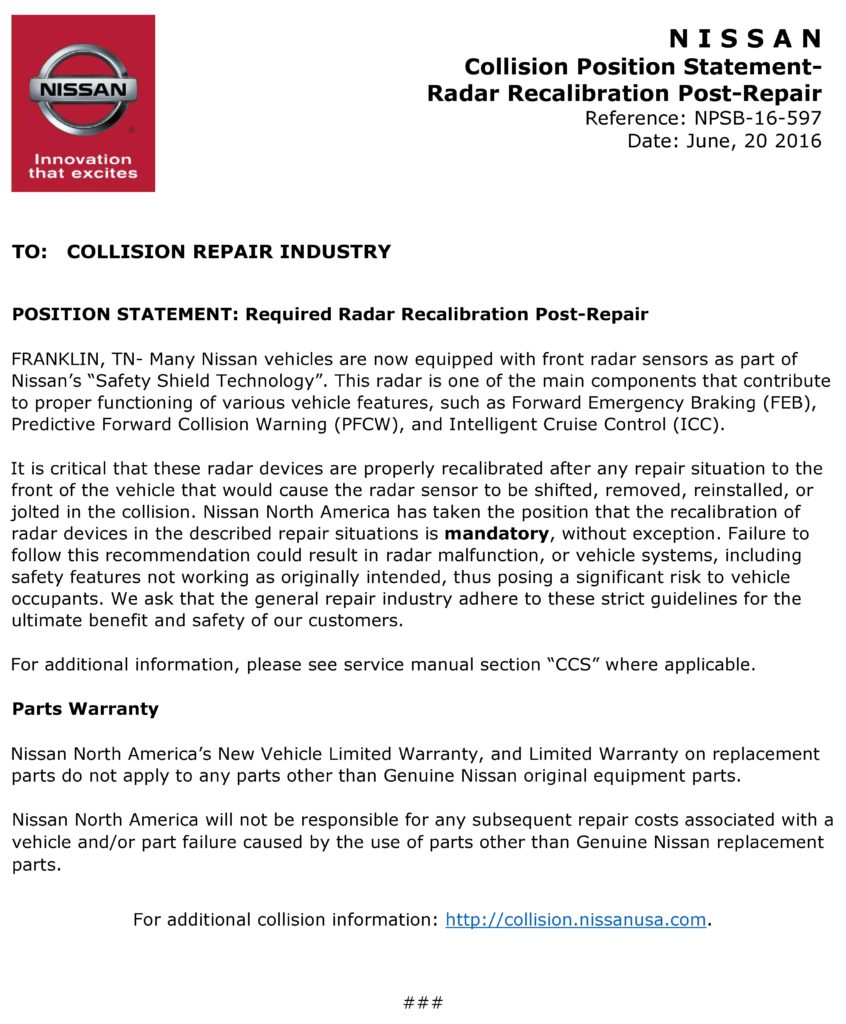 'Around View' calibration
"Many Nissan vehicles are now being equipped with Around View® Monitor systems, which incorporate the use of cameras in front, rear, and both sides of the vehicle," Nissan wrote.
"Nissan North America has taken the position that any time a camera, or camera mounting part (front grille, door mirror, or others) is removed, installed, or replaced, it is mandatory for the qualified repair professional to perform a calibration of this system.
"Failure to adhere to this calibration procedure could result in the Around View® Monitor system not functioning as originally intended." (Emphasis Nissan's.)
Steering angle reset to calibrate
"Most Nissan vehicles are now equipped with Steering Angle Sensors (SAS)," Nissan wrote. "The steering angle sensor is a critical part of the Vehicle Dynamic Control (VDC) System that measures the steering wheel position angle and rate of turn. The SAS requires a reset by scan tool to ensure proper calibration any time the alignment is adjusted for any reason.
"It is the position of Nissan North America that, any time an alignment is done on a vehicle equipped with Vehicle Dynamic Control, a reset of the steering angle sensor is mandatory. In addition, if any component of the steering or suspension system is damaged on a Nissan vehicle, or removed/installed, a reset of the SAS will be required where applicable, regardless of whether or not an indicator light is displayed on the dash." (Emphasis Nissan's.)
A Nissan representative said the position statement anthology would be provided online within the next few days. (We had received the PDF copy above from a source.)
More information:
"POSITION STATEMENT: Required Radar Recalibration Post-Repair"
"POSITION STATEMENT: Calibration of Around View® Monitor"
"POSITION STATEMENT: Steering Angle Sensor (SAS) Reset"
Nissan, June 20, 2016
Images:
This image shows the "Around View" offered on 2014 Nissan Versa Notes with the SL Tech option. (Provided by Nissan)
Collision repairs must calibrate certain Nissan technology if some common conditions are encountered, the OEM declared Monday — no exceptions. (Provided by Nissan)
Share This: