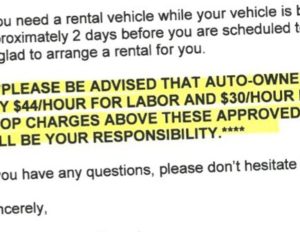 Some of our most interesting stories come from readers sending us letters, emails or other documents from insurance companies or other collision repair business partners.
Sometimes, they highlight a controversial practice the auto body industry should watch and debate. Other times, we check the documents with the corporate office of the relevant vendor and find out that a local representative was in error and detailing a stance that wasn't company policy at all, and everything's cool.
One just crossed our desk today, and the story behind it provides a great example of why we like to see these. Email info@repairerdrivennews.com or fax 866-893-2545. And you're always welcome to call us at 866-893-2544.
Auto-Owners
In the letter provided by a tipster, the Charlotte, N.C., Claims Branch of Auto-Owners Insurance notified a claimant (in caps and bold!) of what rates it'd pay auto body shops.
"****PLEASE BE ADVISED THAT AUTO-OWNERS INSURANCE COMPANY WILL ONLY PAY $44/HOUR FOR LABOR AND $30/HOUR FOR PAINT & SUPPLIES," the claims branch wrote. "IF A BODY SHOP CHARGES ABOVE THESE APPROVED LABOR RATES, THE DIFFERENCE WILL BE YOUR RESPONSIBILITY.****"
An Auto-Owners representative said Thursday the letter must have been sent out in error, and the rates specified for the area weren't a company policy.
(One minor caveat: The representative seemed to partly base this conclusion on the absence of a claim number. We suggested it might have been redacted by the tipster and offered to send the document just to ensure we were on the same page, but she said it wasn't necessary.)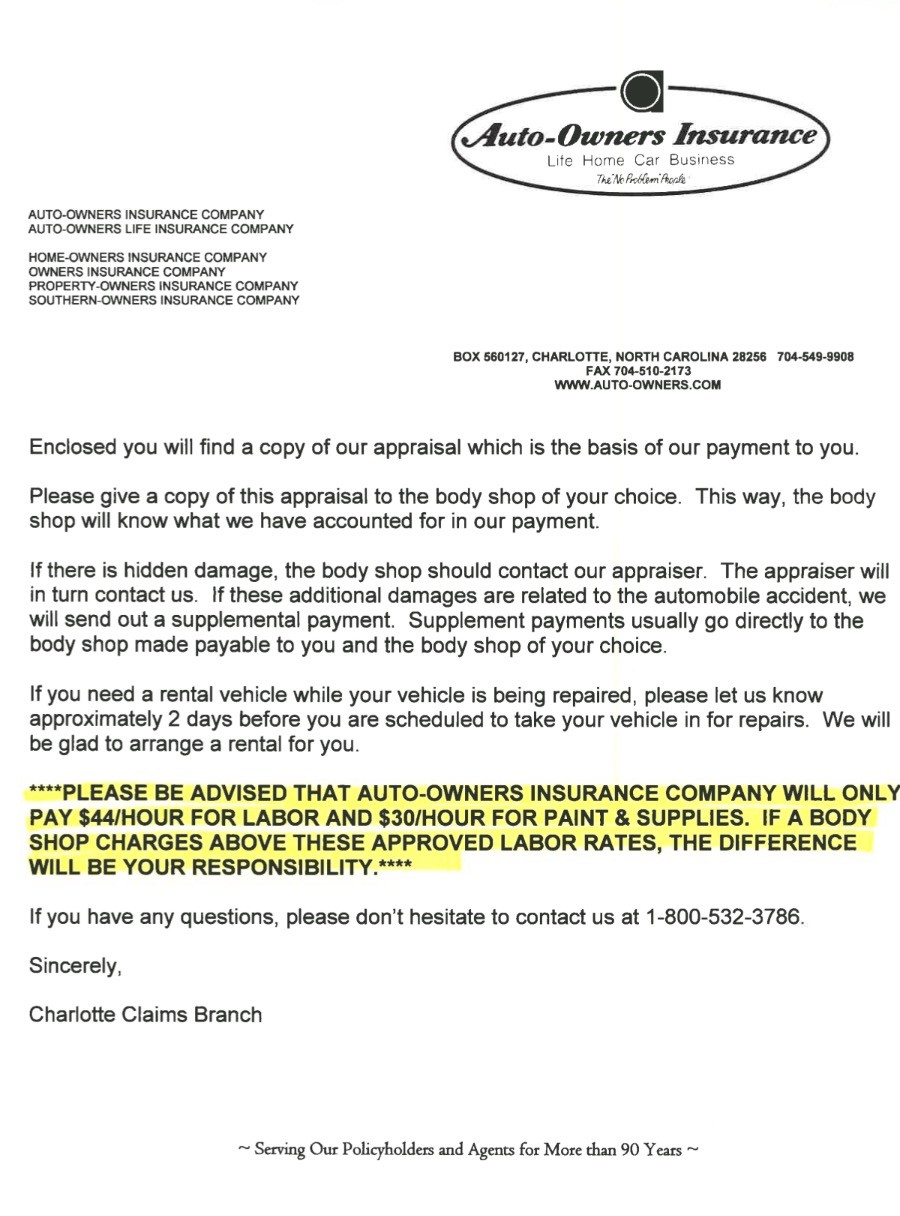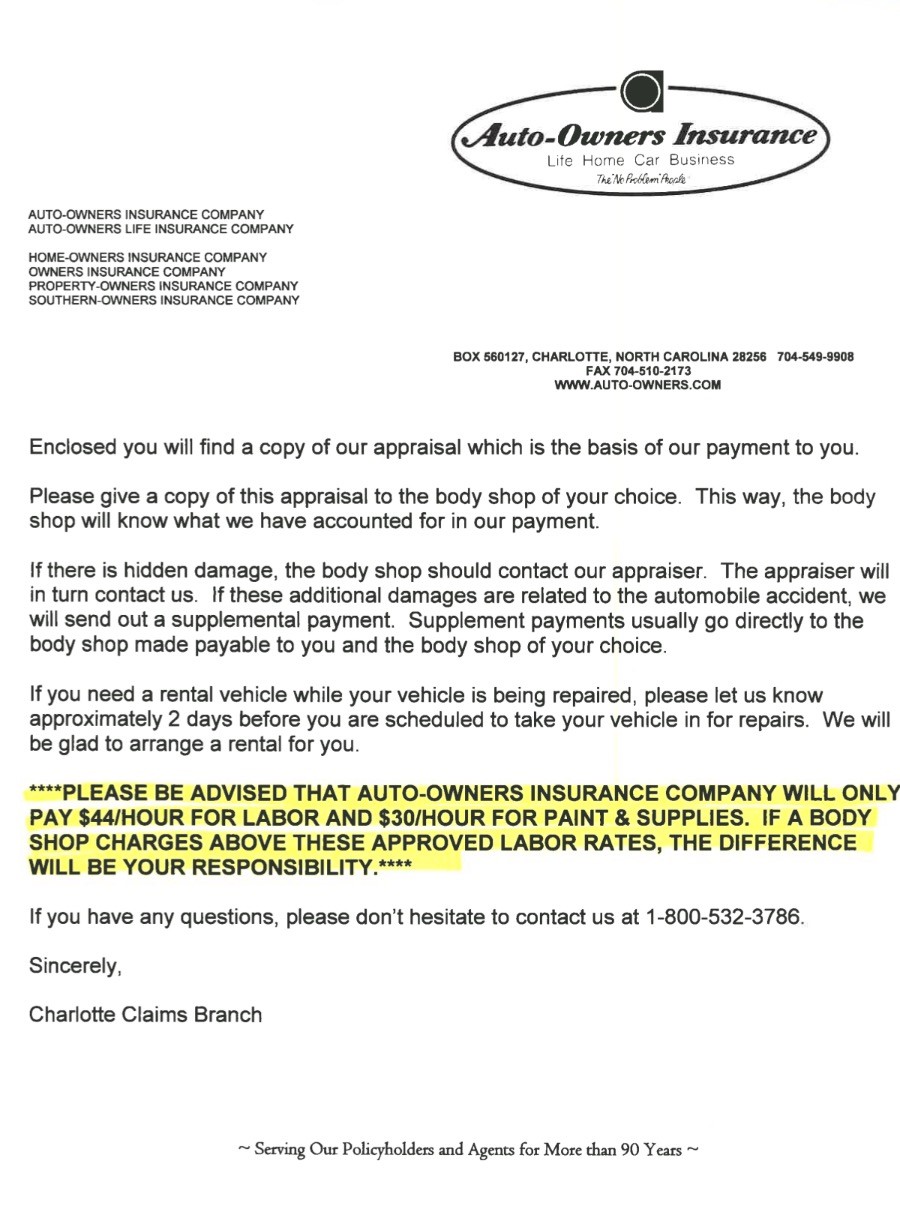 The idea that this isn't Auto-Owners' policy is great news; not shifting the bill to customers would seem to support their bragging rates as the highest 2015 insurer in J.D. Power claims satisfaction surveys. The average national body labor rate hasn't been that low since before 2010, based on CCC's 2016 "Crash Course."
A paint materials rate of $30 was above the 2015 average CCC reported but below the $34 median found by the recent "Who Pays for What?" survey and the $33.51 rate found by Mitchell during the first quarter of 2015.


And as you can see, mechanics which don't have to battle with insurers can make far more than $44/hour. (By the way, have you ever hired a professional photographer? A mover? Offer them $44 an hour and watch them laugh in your face.)
There's also the obvious point — implied in the "Who Pays for What?" survey's percentile distribution — that you'll never find an industry with a single, uniform rate. You're going to have a range of rates, as Sonoma County Superior Court Judge James Bertoli so famously observed in another collision repair case.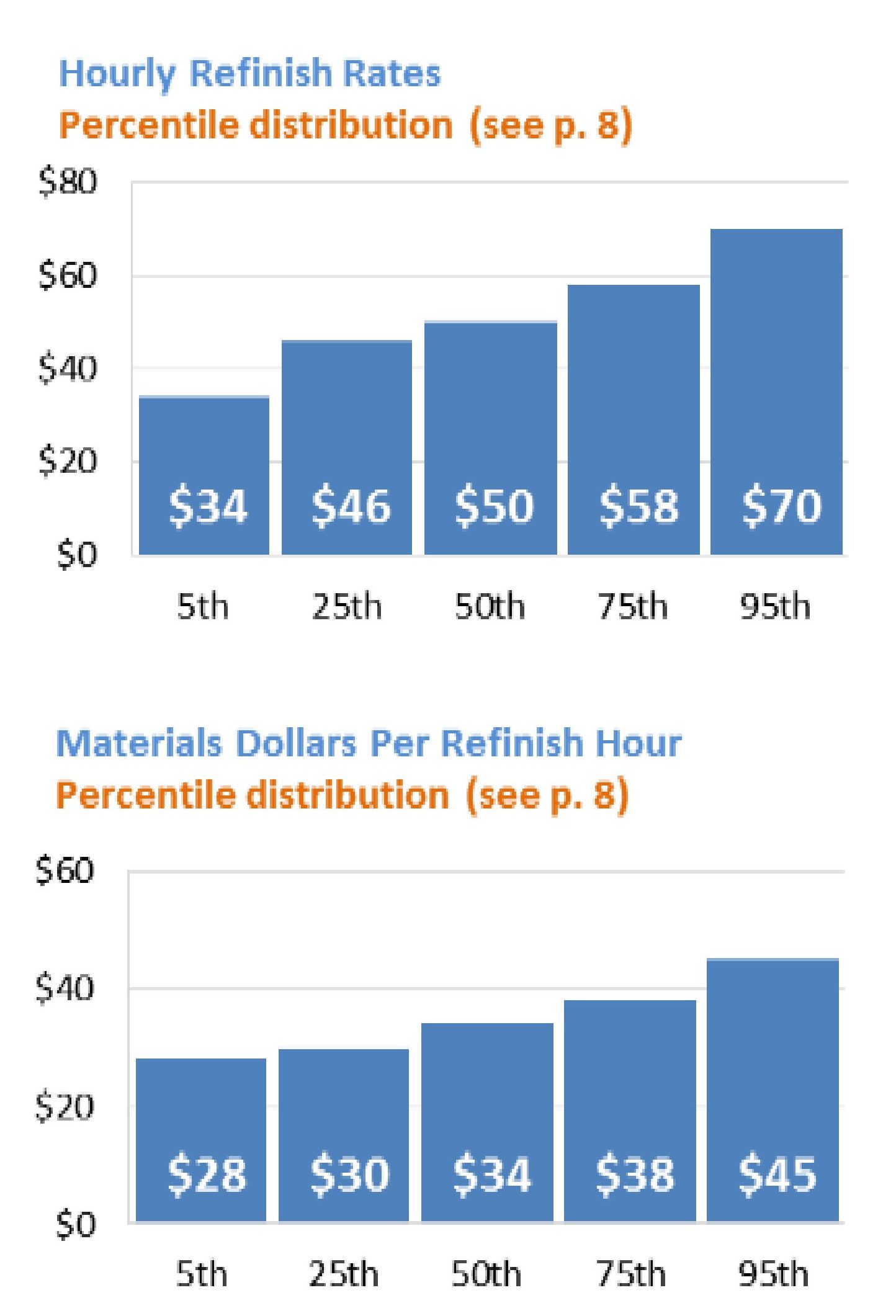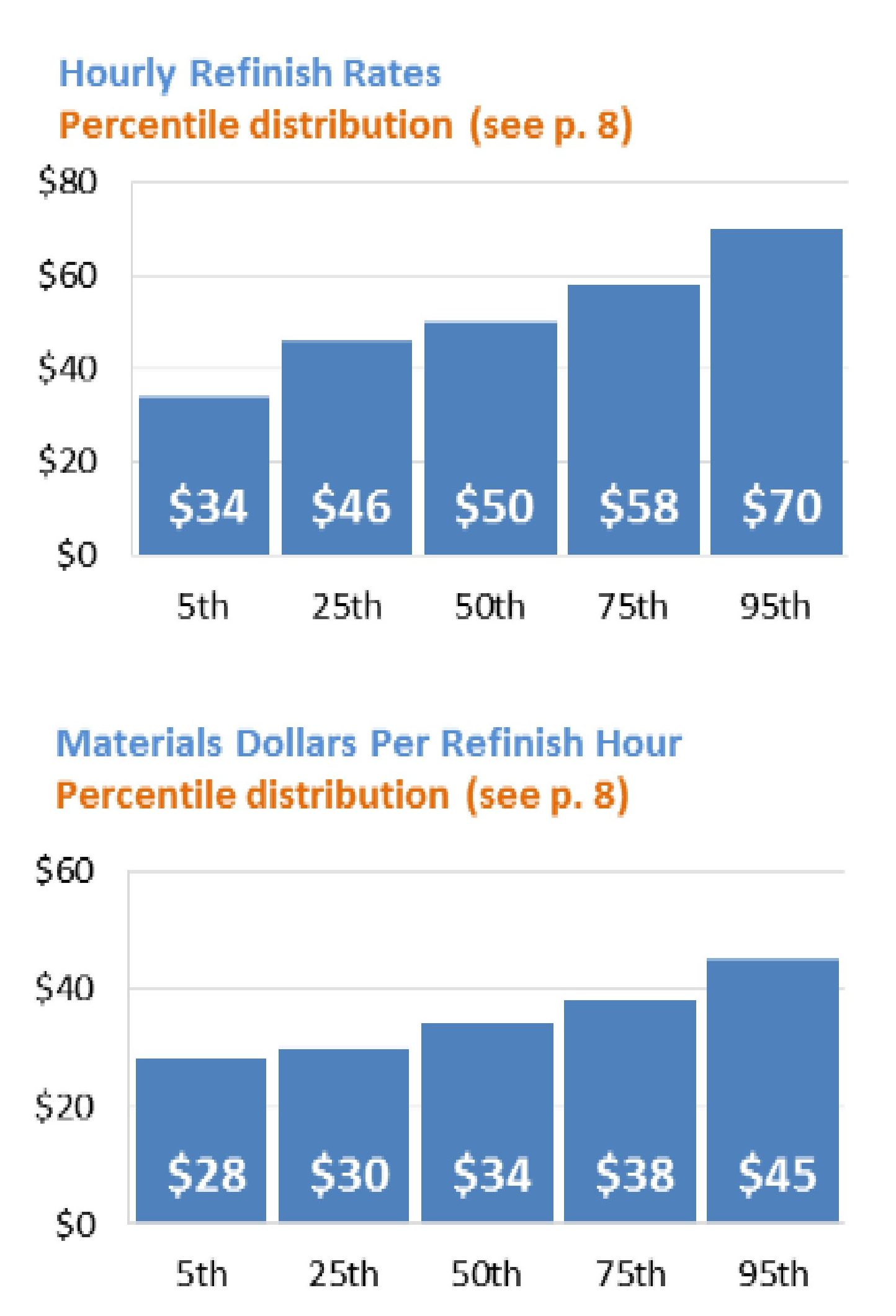 More information:
Images:
The Charlotte, N.C., Claims Branch of Auto-Owners Insurance notified a claimant of what rates it'd pay auto body shops in this letter provided by a tipster. However, the insurer said that's not company policy and must have been sent in error. (Provided to Repairer Driven News)
Some paint labor and paint materials rate data from the second-quarter 2016 "Who Pays for What?" report. (Provided by Collision Advice-CRASH Network)
In 2015, average hourly mechanical rates in collision estimates tracked by CCC was $80.48, compared to $47.31 for sheet metal body labor, $54.21 for frame labor and $47.22 for paint labor. Mechanical labor rose 2.9 percent, compared to 1.6 percent for frame labor and 1.3 percent each for the sheet metal and paint labor. (Provided by CCC)
Share This: