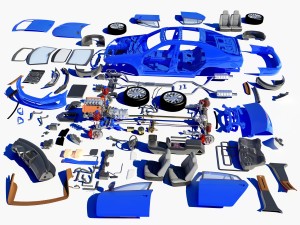 After a few snags as a new publicly traded company, aspiring auto recycling consolidator Fenix Parts reported the first quarter of 2016 contained reasons for investors to be bullish.
Net revenues grew 9 percent from the final quarter of 2015 to $32.8 million, and were up 4 percent to pro forma 1Q 2015 stats. Some of this can be linked to the "measurable benefits" from rolling out PartsTrader to all of its 16 locations in the U.S. and Canada between January and March, CEO Kent Robertson said Wednesday.
Though all the locations are equipped with PartsTrader, not all of the sales force has been active on the platform, and "we're not 100 percent participating yet," he said.
Volume on the bidding software platform — required by No. 1 State Farm in its Select Service shops and in use by "several other insurers," according to Robertson — was up 40 percent from October-December 2015, he told investors on a conference call. However, he noted the growth partly came from just from expanding usage to locations that didn't have it last year.
Robertson also reported some interest from MSOs, likely a reference to collision repair customers rather than mechanical shop chains.
"Based on our conversations, it's very clear there is a need for a strong No. 2 in the marketplace," Robertson said.
That's a reference to LKQ, the No. 1, according to Fenix's prospectus. But the company gauges LKQ holds less than 10 percent of the market, and no other competitor's share exceeds 1 percent. Which gives it plenty of room to buy stuff, it tells investors.
"The automotive recycling industry is highly fragmented, with few multi-facility operators," the prospectus states. "According to the ARA, there are an estimated 9,000 vehicle recycling facilities in the United States and Canada,"
Basically, it's the same pitch the collision repair consolidators have given private equity and public stock (Boyd) investors.
"We remain committed to driving growth by expanding the business through acquisition," Robertson said Wednesday.
The company reported a net comprehensive loss of $39.39 million; however, much of that can be attributed to having to knock off $43.4 million in previously reported "goodwill" — one of the snags, along with filing delays, a temporary burst of noncompliance with Nasdaq listing rules and a typo in Wednesday's news release, since the company's May 2015 initial public offering.
Goodwill is basically everything intangible tied to a business. You're allowed to count it as an asset for accounting purposes; after all, good luck buying Intel, Nike or Amazon for just the price of the buildings, inventory and equipment and ignoring patents, brand value or a customer list. But it's also nebulous, and Fenix Parts had to adjust its books after learning it had overestimated the line item.
Asked if the goodwill drop indicated the company was paying too much for recyclers, Robertson said no. "The market changed dramatically" — external factors like the price of scrap and Canadian exchange rate impacted its estimates, and he felt their 4-6X multiple still seemed appropriate.
However, the company still must pay down $71.8 million in accumulated debt, incurred partly as it bought recycling yards in the Northeast, and Robertson said restrictions on its credit will halt its expansion pace until at least the last three months of the year.
"We are focused on organic growth right now," Robertson said. He estimated that growing same-store sales and thus EBITDA "triggers leverage," allowing it greater credit and buying power.
He said the company projected 7-9 percent organic growth with economies of scale — coordinating buying, dismantling, and inventory redundancies — and "all those things have been happening"
CFO Scott Petit, former CFO of Internet Auto Auctions and Globe and Vistar Auto Glass, said gross margins for the company right now sat in the 37 percent range, but the company was shooting for about 40 percent.
Though it isn't planning new acquisitions for a while, the company still was receiving interest from aging salvage yard owners, Robertson said. It actually "probably added a few more companies inbound," he said.
"When they think about their exit strategy, Fenix Parts makes a lot of sense," he said. Owners are concerned with the fate of their employees, and want a stable option, he said.
Shares of Fenix Parts traded around $4.29, up 9.16 percent, early Friday afternoon. The company's May 2015 IPO sold shares at $8 and brought in a net $101.3 million.
More information:
Q1 2016 Fenix Parts Inc Earnings Conference Call
Fenix Parts, June 29, 2016
"UPDATE — Fenix Parts Announces First Quarter 2016 Results"
Fenix Parts, June 29, 2016
Fenix Parts, June 29, 2016
Featured image: Auto parts are shown in this graphic. (1971yes/iStock/Thinkstock)
Share This: