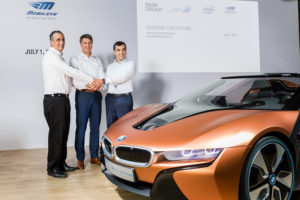 Teaming up with Mobileye to see the road and Intel to crunch the data, BMW on Friday announced it wanted to reach Level 5 autonomous vehicles — empty cars driving themselves– by 2021.
The goal is a year later but far loftier than Nissan's 2020 "intersection autonomy" target. It's an entire year ahead of the far simpler industry pledge to deliver autobraking standard by 2022.
Ironically, the annoncement came a day after Tesla announced what is believed to be the first fatal collision of an actively self-driving automobile.  An Associated Press story posted on the New York Times website Thursday identified the driver as Joshua D. Brown of Canton, Ohio, citing government records. The NHTSA would not confirm the driver's identity Friday morning.
Brown died May 7 at age 40, an obituary in the Akron Beacon-Journal cited by the Associated Press stated. Reuters reported Friday that a portable DVD player was found in a Tesla Model S involved in a May 7 Florida crash, and a tractor-trailer driver struck by the Model S told the Associated Press he heard a "Harry Potter" movie playing from the car.
The Tesla Model S Autopilot requires drivers to have their hands on the wheel and paying attention to the road at all time, though YouTube footage indicates that's certainly not always happening. On the other hand, Brown also had in the past credited a Model S' Autopilot from preventing a crash, and Autopilot so far has beat out the human average U.S. vehicle fatality rate by 40 million miles. (1 death per 130 million miles traveled in Autopilot mode versus the 1:90 million human-driver average.).
BMW, Intel and Mobileye — which Reuters reported makes the visual system used by Autopilot— plan to create a "level 3 to level 5" autonomy platform which would be offered to other OEMs and "other industries who could benefit from autonomous machines and deep machine learning," according to BMW.
"The goal of the collaboration is to develop future-proofed solutions that enable the drivers to not only take their hands off the steering wheel, but reach the so called 'eyes off' (level 3) and ultimately the 'mind off' (level 4) level transforming the driver's in-car time into leisure or work time," BMW wrote in a news release Friday. "This level of autonomy would enable the vehicle, on a technical level, to achieve the final stage of traveling 'driver off' (level 5) without a human driver inside. This establishes the opportunity for self-driving fleets by 2021 and lays the foundation for entirely new business models in a connected, mobile world."
They pledged to soon have a "highly automated driving" option and by 2017 have fleets with "extended autonomous test drives," according to BMW.
"At the BMW Group we always strive for technological leadership. This partnership underscores our Strategy Number ONE > NEXT to shape the individual mobility of the future," BMW Chairman Harald Krüger said in a statement. "Following our investment in high definition live map technology at HERE, the combined expertise of Intel, Mobileye and the BMW Group will deliver the next core building block to bring fully automated driving technology to the street. We have already showcased such groundbreaking solutions in our VISION NEXT 100 vehicle concepts. With this technological leap forward, we are offering our customers a whole new level of sheer driving pleasure whilst pioneering new concepts for premium mobility."
As the BMW, Nissan and Tesla examples all indicate, various categories of "self-driving cars" exist, and it's crucial to understand the difference between the different capabilities to intelligently discuss (and repair) the technology.
BMW recognizes 5 levels of autonomy, a spokeswoman wrote in an email. They appear to be identical to SAE International's Levels 1-5 J3016 criteria, but this could not be confirmed Friday. (The SAE also has a Level 0.)
SAE International J3016 standard descriptions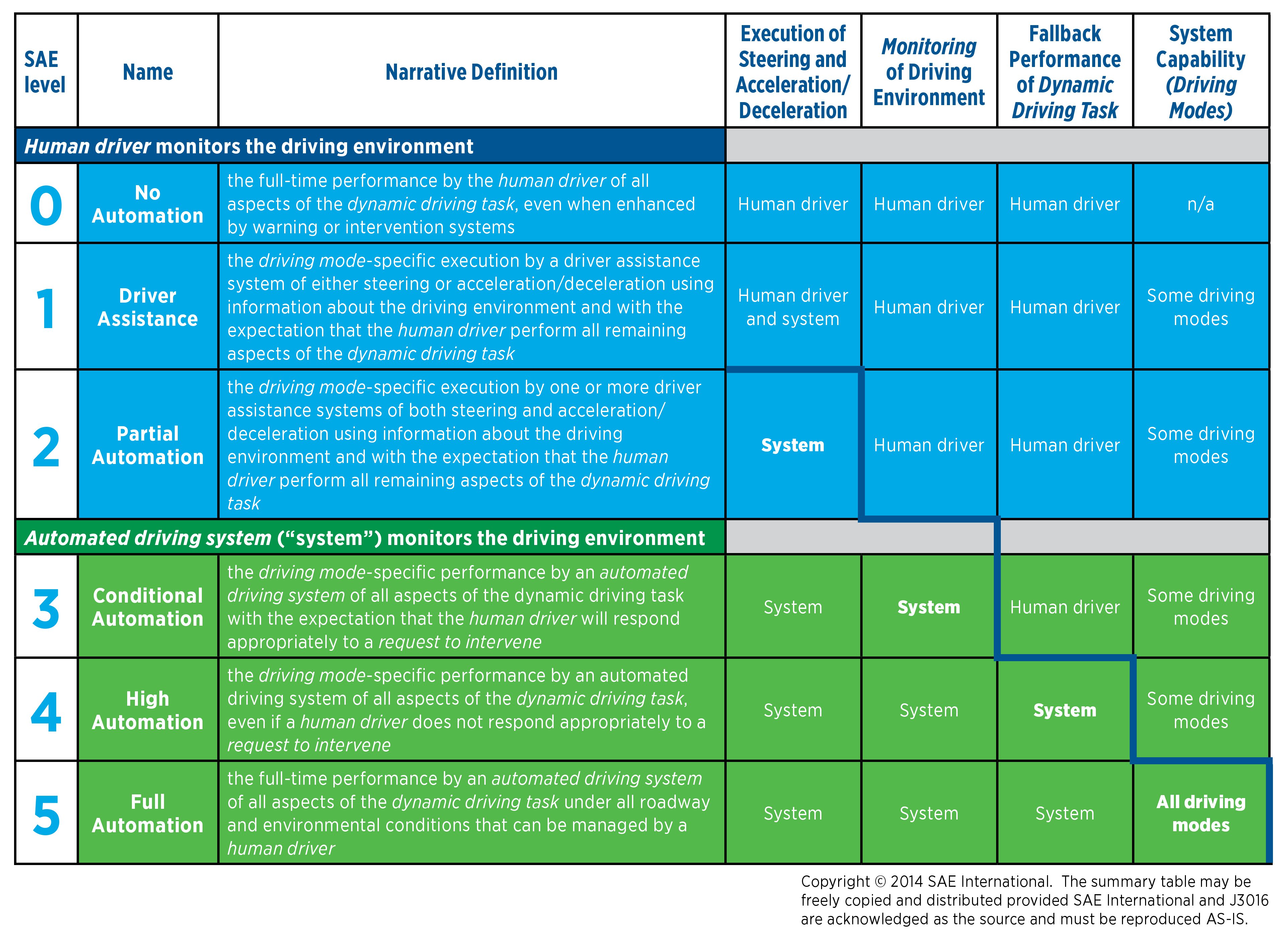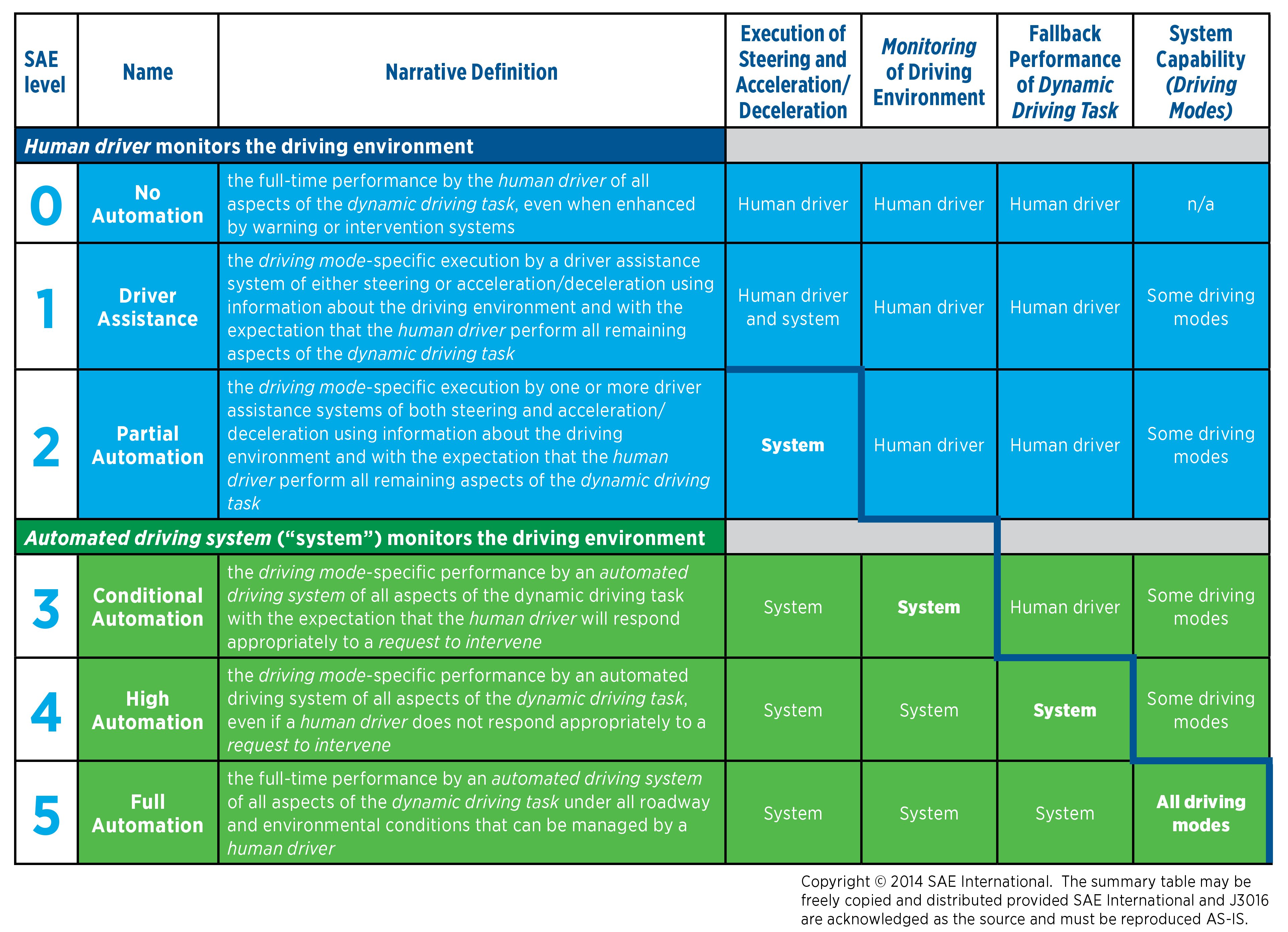 BMW descriptions (minor edits)
Assisted systems (e.g. automatic cruise control): Support the driver in linear and transverse steering.
Partially automated system (e.g. congestion assistant): Can take control of linear and transverse steering, but the driver needs to monitor the function at all times.
Highly automated: Drivers no longer need to monitor the journey continuously but they potentially need to be in a position to take over the driving function with a matter of seconds. The system takes over linear and transverse steering, recognizes the limits of the system and alerts the driver when it is necessary to take control.
Fully automated: The vehicle can carry out the driver function alone, the driver becomes a passenger and no longer needs to monitor the system.
Driverless: The vehicle takes over the drive function entirely, the driver no longer needs to be present in the vehicle.
And, to really confuse everyone, there's NHTSA Levels 0-4, released in 2013:
NHTSA descriptions
No-Automation (Level 0): The driver is in complete and sole control of the primary vehicle controls – brake, steering, throttle, and motive power – at all times.
Function-specific Automation (Level 1): Automation at this level involves one or more specific control functions. Examples include electronic stability control or pre-charged brakes, where the vehicle automatically assists with braking to enable the driver to regain control of the vehicle or stop faster than possible by acting alone.
Combined Function Automation (Level 2): This level involves automation of at least two primary control functions designed to work in unison to relieve the driver of control of those functions. An example of combined functions enabling a Level 2 system is adaptive cruise control in combination with lane centering.
Limited Self-Driving Automation (Level 3): Vehicles at this level of automation enable the driver to cede full control of all safety-critical functions under certain traffic or environmental conditions and in those conditions to rely heavily on the vehicle to monitor for changes in those conditions requiring transition back to driver control. The driver is expected to be available for occasional control, but with sufficiently comfortable transition time. The Google car is an example of limited self-driving automation.
Full Self-Driving Automation (Level 4): The vehicle is designed to perform all safety-critical driving functions and monitor roadway conditions for an entire trip. Such a design anticipates that the driver will provide destination or navigation input, but is not expected to be available for control at any time during the trip. This includes both occupied and unoccupied vehicles.
Tesla's Autopilot seems to be Level 2 under all three sets of criteria, though we've asked Tesla where it thinks it falls under both the SAE and NHTSA standards.
The quicker OEMs reliably reach higher levels of autonomy, the more collision rates will fall.
"Highly autonomous cars and everything they connect to will require powerful and reliable electronic brains to make them smart enough to navigate traffic and avoid accidents," Intel CEO Brian Krzanich said in a statement. "This partnership between BMW Group, Intel and Mobileye will help us to quickly deliver on our vision to reinvent the driving experience. We bring a broad set of in-vehicle and cloud computing, connectivity, safety and security, and machine-learning assets to this collaboration enabling a truly end to end solution.
Even at lower levels of vehicle intelligence — such as the autobraking coming standard by 2022 — crash frequency drops by double-digit percentages.
On the other hand, collision repairers will have plenty of work scanning and calibrating these things. Such procedures are already crucial now, and one would think it'd need to approach commercial aircraft levels or higher if humans are truly going to be able to be "mind off" and "driver off."
More information:
"BMW Group, Intel and Mobileye Team Up to Bring Fully Autonomous Driving to Streets by 2021"
BMW, July 1, 2016
"U.S. Department of Transportation Releases Policy on Automated Vehicle Development"
National Highway Traffic Safety Administration, May 30, 2013
"AUTOMATED DRIVING: LEVELS OF DRIVING AUTOMATION ARE DEFINED IN NEW SAE INTERNATIONAL STANDARD J3016"
SAE International, 2014
Featured image: From left, Intel CEO Brian Krzanich, BMW Chairman Harald Krüger and Mobileye Chief Technical Officer Amnon Shashua are pictured July 1, 2016 with the iVision. (Provided by BMW)
Share This: