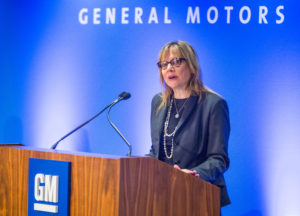 Seeking to determine whether auto body shops use OEM repair procedures and how to best deliver those instructions to the aftermarket, General Motors has asked the industry to join in a new survey released this month.
The poll, available here, can be taken by multiple parties within a shop — the owner, estimator, body technicians, etc. In fact, GM encourages this to better understand how different collision repair roles work during a repair.
For example, a tech working doing structural repairs might prefer to refer to automaker repair procedures on a tablet via ALLDATA. An estimator or owner might obtain them on a desktop computer via the OEM1Stop portal.
Or nobody's using them at all, or only on select vehicles and repair orders. That'll be harder to hear, but GM still wants to know and better understand why not.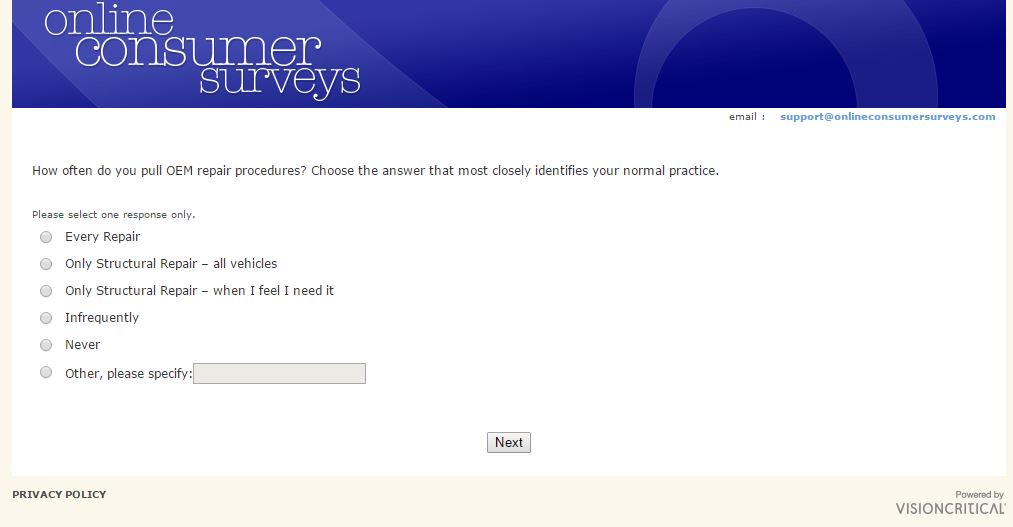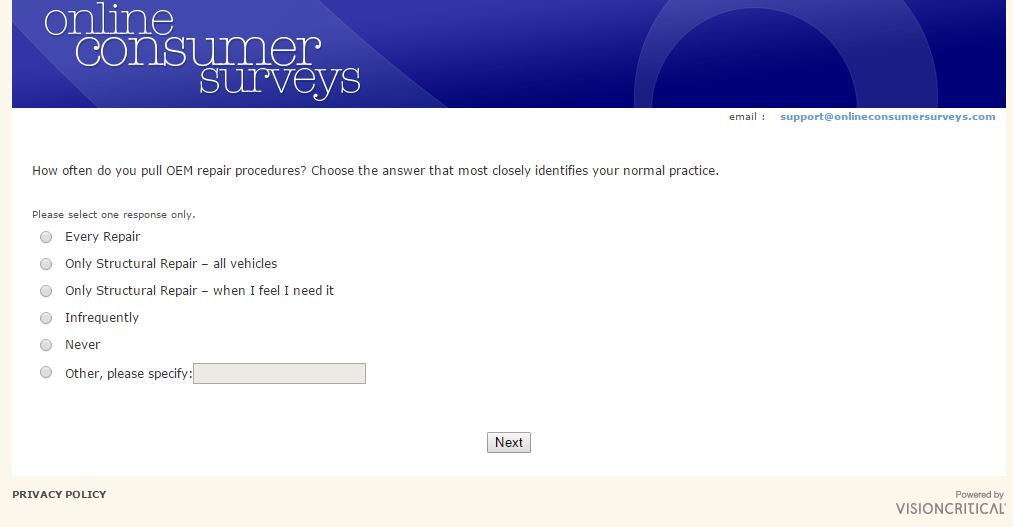 The survey also asks shop staff if they're performing pre- and post-repair scanning, why they do it, and whether they feel it's important.
Finally, it queries participating collision repair workers for their views on OEM certification, its benefits and what should be certified — the shop, the repair quality, or both.
"Aluminum, high strength and ultra-high strength steel, carbon fiber, adhesive joining, new welding techniques, crash avoidance systems and the vast array of other changes are forcing repairers to rely more on OEM procedures than ever before in order to properly repair and restore a vehicle back to a safe pre-crash condition," the OEM's Collision Team wrote in an email accompanying the survey link. "However, accessing OEM repair procedures can be challenging and GM wants to better meet the needs of today's collision technician.
"In an effort to provide the industry with the necessary OEM collision repair information in the best manner that the collision repair industry needs and uses this information, it is important to understand the current processes of how OEM repair procedures are accessed and used."
Individual respondents to all questions will be kept anonymous, though personnel who want to be used as a GM resource for follow-up opinions (and we all know the industry has opinions) may choose to provide contact information.
"Some people have great feedback," said John Eck, GM manager for the wholesale dealer channel and customer care and aftersales.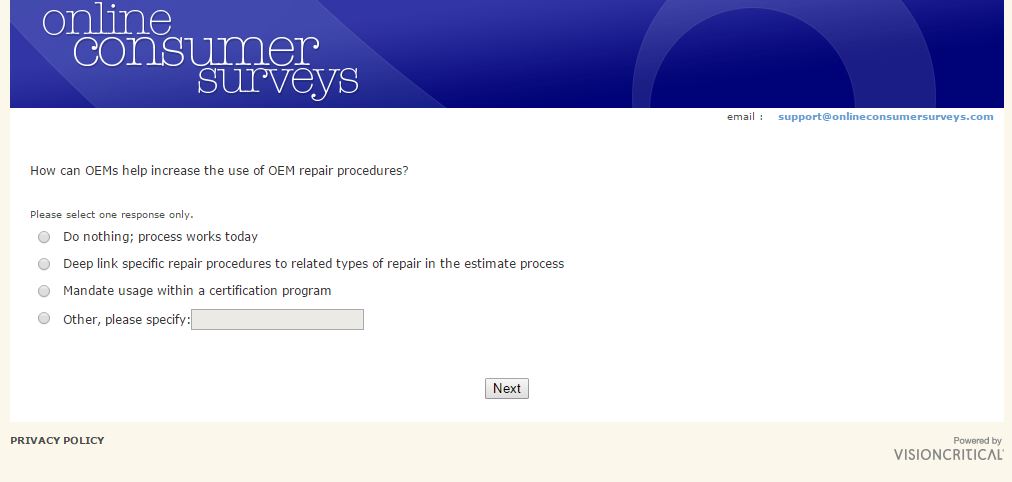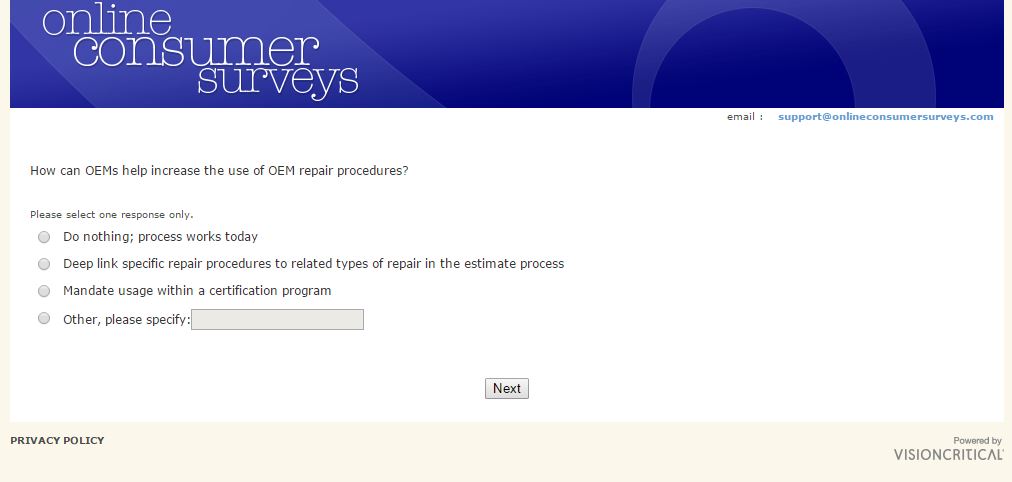 GM asks that you share the survey link within shops and to anyone else in the industry who'd be interested. It'll be available through the end of July here, and it's open to anyone performing auto body work — dealerships, unaffiliated shops, MSOs, etc.
Eck said GM would perform statistical testing on the data to ensure shops weren't just telling GM what it wanted to hear. But he indicated he didn't anticipate participants would lie.
When he recently visited a shop in Saint Louis, for example, "they were pretty clear" about how they did and didn't use OEM repair procedures.
"They were direct to my face," Eck said. "And that's fine."
Eck said while he wasn't sure at this point, GM would likely release its findings for any questions with statistically valid data.
"I don't have a reason to withhold the results," he said, though nothing that would identify a particular shop would be shared.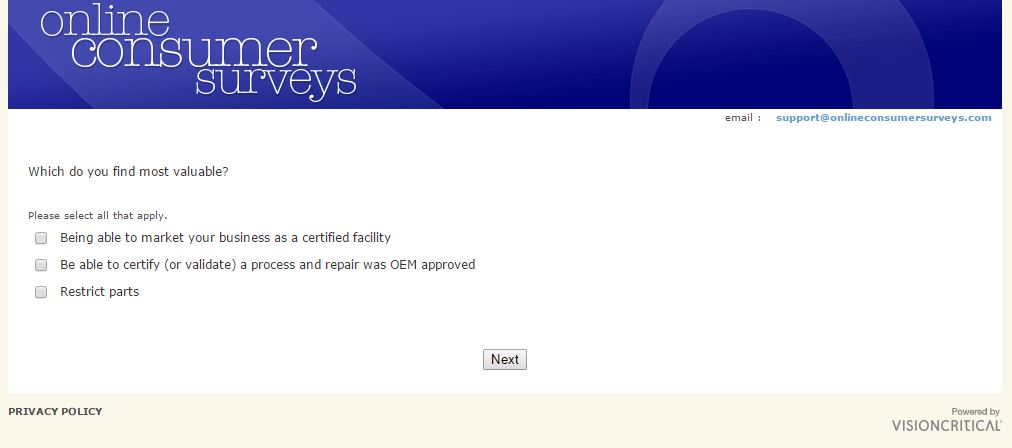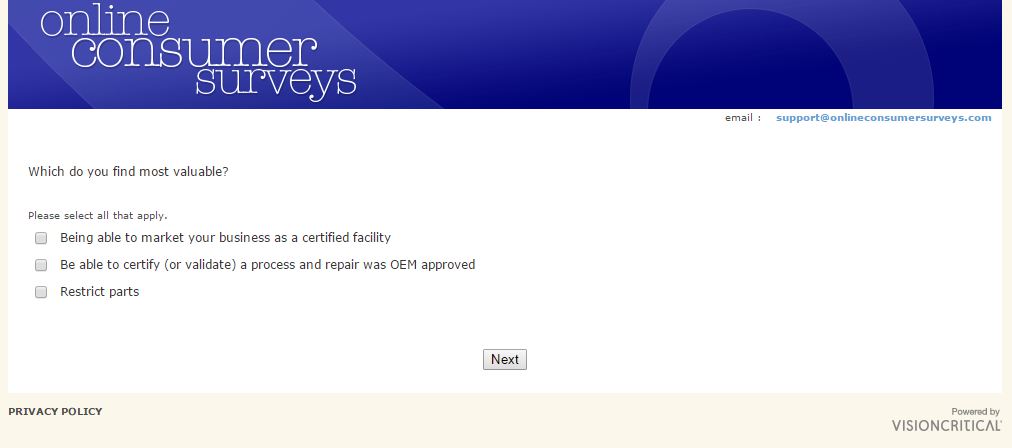 Responses would help inform GM as it considers whether to create an collision repair certification program and as to how best provide shops with OEM repair procedures, according to Eck.
"Let's be very strategic in identifying when and how shops use it," he said of OEM information.
"We want to hear from you, we are asking for collision shops to please take a few minutes to take a survey that will help us drive the improvements and changes that will ultimately help and support the industry," GM wrote in an email accompanying the survey. (Emphasis GM's.)
More information:
General Motors collision repair survey
General Motors via Online Consumer Surveys, July 2016
Images:
General Motors CEO Mary Barra leads the 2016 shareholders' meeting June 7, 2016. (Jeffrey Sauger for General Motors/Copyright GM)
Questions from General Motors' 2016 collision repair survey. (Screenshots of GM survey questions on Online Consumer Surveys, www.onlineconsumersurveys.com)
Share This: